It's a proud moment for Clapton CFC as our new five-a-side team gets ready to start their first ever league campaign.
The team has been formed from players from the weekly Tuesday open training sessions for women and non-binary people.
Our team – called the Clapton CFC 5s – has been allocated a place in the fast-growing Super 5s League based at Mabley Green, Hackney.
We're one of eight teams in the Thursday league, taking on Goal Diggers, Hackney Parrots, Islington Reds, MSA & Frenford, Sporting Club de Mundial, Todo Ciudad and Tottenham Hotsnatch..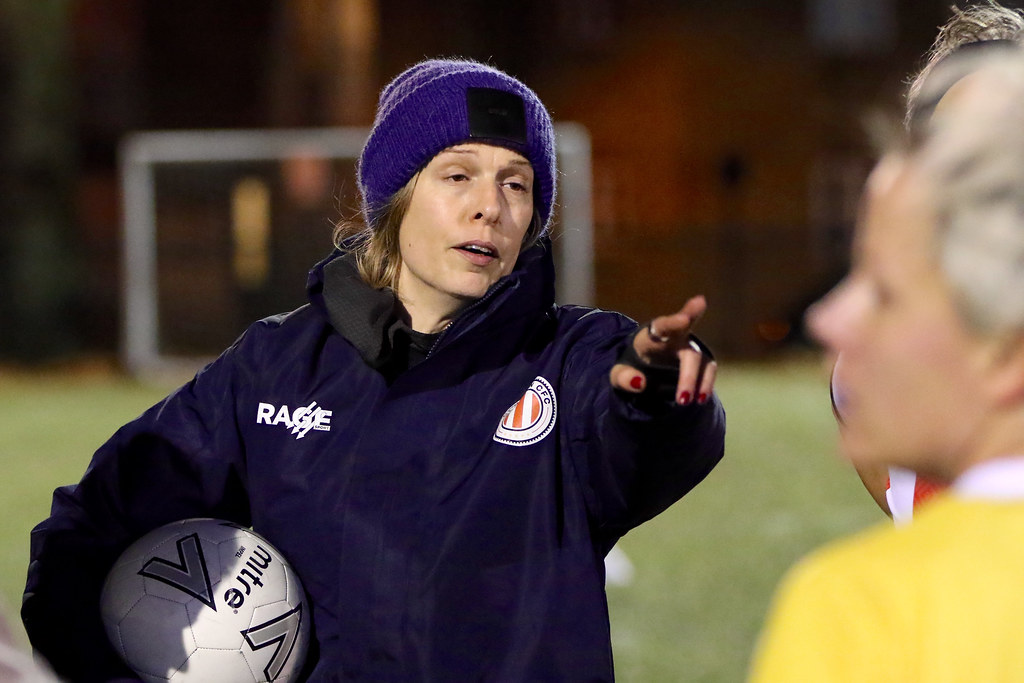 Ellie Guedalla, who runs the training and the new team, explains more.,.
"We started at the end of July with seven players. Now we have about 18 each week with the highest attendance so far being 23.
"Ages range from late twenties to 56. Most players are beginners and are developing well. Some played a bit in primary school but were never coached.
"The competitive wing – those going into the Super 5s league – have been doing extra training and came to support the Palestinian girls' visit.
"We have also tried to get a second team in the league, as there is so much interest, but we are on a wait list.
"We are also hoping to enter the FA People's Cup in March with multiple teams as so many now want to play and the league squad is full.
"We have been invited to a Super 5 tournament in Amsterdam on May 30th. The league squad are keen to go and so we are looking at ways to fundraise for them.
"Overall it has been an amazing experience to see them grow and develop.
"So many players tell me how much they love the beautiful game and how they never thought they would get the chance to try as women and football was seen as a joke for so long and still is by some.
"I think Clapton quite rightly calls itself a community club as the Clapton 5s demonstrates. The camaraderie and support is amazing."
About the league
Super 5 is an all-women grassroots football league hosted at Mabley Green in Hackney.
Starting with just 5 clubs on its founding in 2017, the new league season kicks off with 40 teams London-wide, where women and non-binary people of all abilities and ages come together to play 5-a-side matches on a weekly basis.
It's a unique space where women's football is championed and a whole new community has been born from football that is truly inclusive.
Fixtures
The league season begins on January 16th and runs until April 16th.
Games are every Thursday, kicking off at 7pm, and it's 20 minutes each way.
All games take place on one of the 3G pitches at Mabley Green, where supporters are welcome, and it's free entry.
The fixtures and results list is here.
Get involved
Why not join the weekly Tuesday open training – you might make the 5s team on Thursdays too!
Training is for all women and non-binary people every Tuesday at 7pm at Mossbourne School in Clapton.
All ages and abilities, but particularly beginners and those returning to the game.
Women in their 40s and 50s, who were never able to play at school, are especially welcome.
Mossbourne School is on Downs Park Road, Clapton, E5 8JY, Use the entrance closest to the railway bridge.
Bring trainers or astros, as it's an indoor school sports hall.
There's no cost, but donations are welcome, whatever you want.
Any queries, you can email Ellie on elliesmellie36@googlemail.com