Unfortunately the women's team game away at Luton Town Ladies Reserves is off due to a waterlogged pitch
After a couple of postponements, Clapton CFC's women's team hopefully get back to action in an early kick-off at Luton Town Ladies.
Our opponents were founded in 1997 as a girls section of Luton Borough Youth, before changing name in 1998 to AFC Luton Youth.
In 2000 they officially linked up with professional men's club Luton Town FC and called themselves Luton Town Belles. In 2006 the name was changed to the current Luton Town Ladies.
The first team play in the fifth tier of women's football, the Eastern Region Women's Football League, two steps above our own level.
The first team and reserves train and together play home games at Stockwood Park Athletic Centre.
It's set in acres of parkland made from the grounds of what was a stately home from 1740-1964 with walled gardens, a museum and a rugby club also on the site.
Luton Town Ladies Reserves team competed in division one last year, finishing seventh, but have found it tougher this season with just one point to their name.
That was an away draw at Regents Park Rangers two weeks ago at Barn Elms Playing Fields, the same scoreline when Clapton CFC visited there back in September.
The visit to Luton Town Ladies Reserves is the first time we've played a team twice this season and the first chance for a double win.
Clapton CFC got their Greater London Football League season off to a flying start with a 4-0 home demolition of LTLR.
We scored twice in the first half through Ana Holmes before Naomi Scriven got a double after the interval.
Match information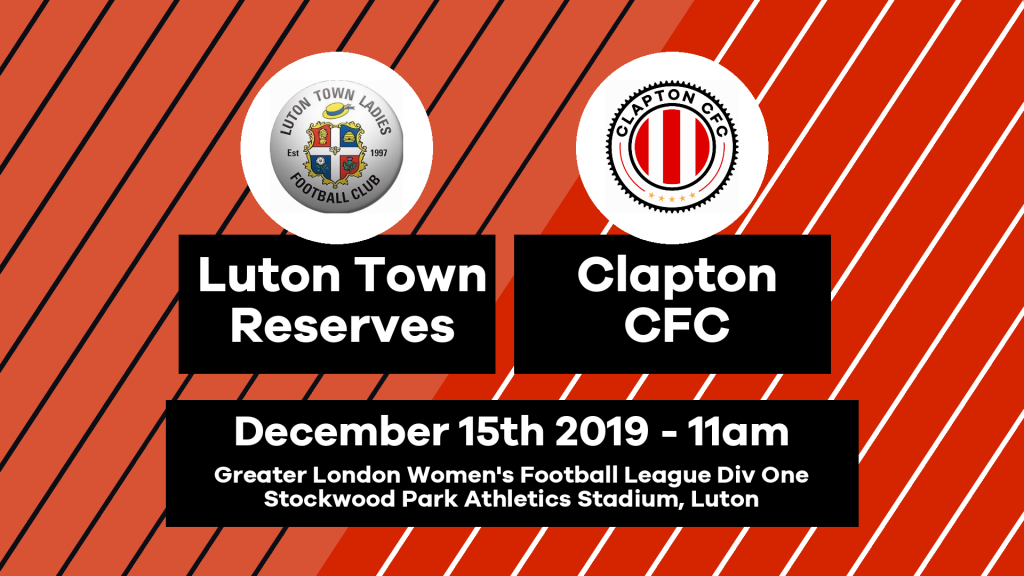 Luton Town Ladies Reserves vs Clapton CFC is at 11am on Sunday, December 15th at Stockwood Park Athletics Stadium, Farley Hill, Luton, Bedfordshire LU1 4BH
Stockwood Park is about a 30 minute walk from Luton railway station, which is a 30 minute journey from St Pancras.
There is free parking at the venue.
Any more questions? Email comms@claptoncfc.co.uk,