The Essex County FA has ruled that the BBC Essex Premier Cup fixture against Runwell Sports, which our men's team won 2-1, should be replayed.
This is due to the game taking place with roll-on-roll-off subs – the system used in both leagues that ourselves and Runwell play in, but which are not allowed in this cup.
That means the game is deemed to have been played outside of the competition rules and so the result is void. Officially, the stats from the game do not count.
The rearranged game will take place on Saturday, November 2nd at 1.30pm and once again at Runwell's home near Wickford, Essex.
This date had been due to be a free weekend for the men's team.
Full statement from CCFC's League Liaison committee
For those who may not be aware, our recent 2-1 win against Runwell Sports in the Essex Premier Saturday Cup has been declared void by the Essex County FA.
The game will be replayed at Runwell Sport's home ground on the afternoon of 2nd November.
Due to a series of errors on the day, match officials and CCFC's coaching staff mistakenly played the game under the impression that it was roll-on roll-off subs – the same system we use in league games – instead of the 'name 5 use 3' system in the competition rules.
League Liaison Committee has been in close contact with Essex County FA since to ensure that we understand fully why the result was voided, and we have accepted the replay.
We have confirmed that the game was played outside of competition rules, and understand the clear precedent – a replay is required in order for either team to advance in the competition.
We have accepted our responsibility in making the mistakes that contributed to this – it is simply a case of unfortunate human error.
We will not appeal or protest – and we appreciate the competition team at Essex County FA engaging with us in detail to ensure everything was clear.
Match information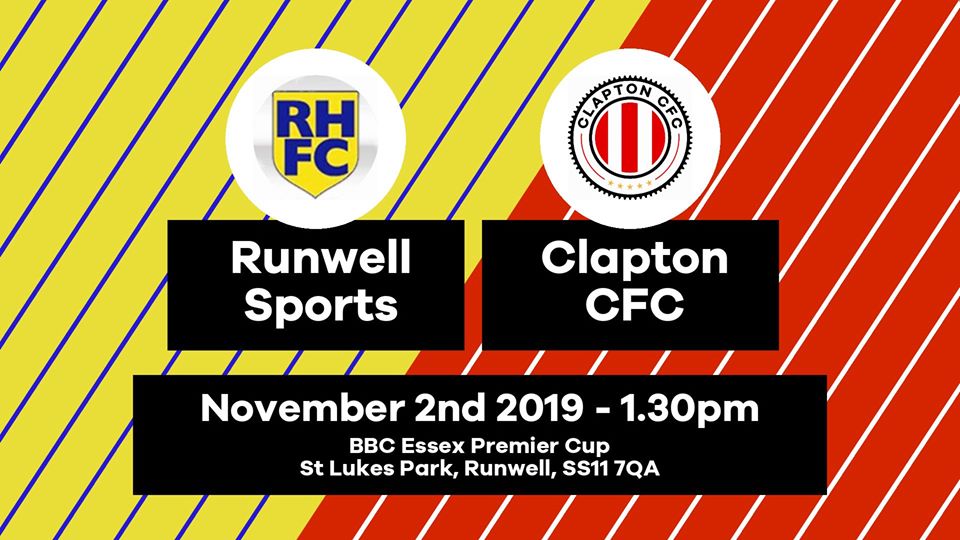 Entrance is free! Last time there was a fully licensed bar available from 10am, which also sold burgers and chips.
There will be a result on the day. If level at full-time, it will be extra-time then penalties.
Travel
The closest train station to Runwell Sports is Wickford railway station, about 30 minutes' walk away, which pass the two village pubs, the Quart pot and a Toby Carvery.
However, on Saturday there are rail replacement buses running part of the journey, from Shenfield onwards.
Runwell Sports vs Clapton CFC is at 1:30pm on Saturday, November 2nd at St Lukes's Park, Runwell, Essex, SS11 7QA. Join the Facebook event here.