August the 10th had been in many diaries since this pre-season trip was unanimously voted for at a general meeting in February. Tons fans made their way to Leipzig from across Europe in planes, trains and automobiles. It was a second chance to see CCFC's men's team in action overseas, after April's clash with CE Jupiter in Barcelona. And an entertaining game ended in a penalty shootout win for the Londoners.
But the day was about celebrating the achievements of Roter Stern, before their twentieth anniversary. The fan-owned club are a model and inspiration for what CCFC can achieve. It was a terrific honour to be selected as the opposition for this match and the whole weekend lived up to expectations.
Getting there
The Clapton team set off from London very early on Friday morning. Too early for a few members, who missed the flight and had to take an alternate route via Dortmund. And they had the kit too.
Those that made it by Friday evening were treated to the chance to see RSL in competitive action, a cup tie with SG Taucha 99. They battled hard, but went down to a 2-0 loss to opposition from the sixth tier of German football. RSL compete at one level lower down. They looked like a really tidy team, even in defeat.
On Saturday, players and fans were treated to lunch at RSL's clubhouse, in the large Teichstraße complex they will eventually develop into their main ground. Situated in the Connewitz district, there are facilities for a multitude of sports, including beach volleyball and even ten-pin bowling. They reckon it could take them another 20 years to get it all how they want it.
Then, everyone headed down to their current ground, about a half hour walk in the next area to the south.
Double header
Sportpark Dölitz is delightfully ramshackle.
As you approach the entrance, you are gawped at by a pair of emus in a garden next door. Encircled by trees, it feels like you are entering a magical forest glade. The smell of delicious (and cheap) grilled things in buns fills the air.
Also on sale are beer and t-shirts featuring celebrity fan Eric Cantona.
There are uncovered terraces on either side. A pitchside trampoline provided a backdrop of constantly boinging kids behind one of the goals.
The first game of the day was between RSL and FC St Pauli's senior teams.
After that, the main event.
Both team's supporters crammed into a terrace. Furiously waving flags. Swapping and sharing chants.
Commemorative gifts were exchanged by the managers.
With no new signings making the trip, Geoff Ocran's lineup was packed with familiar faces from last season.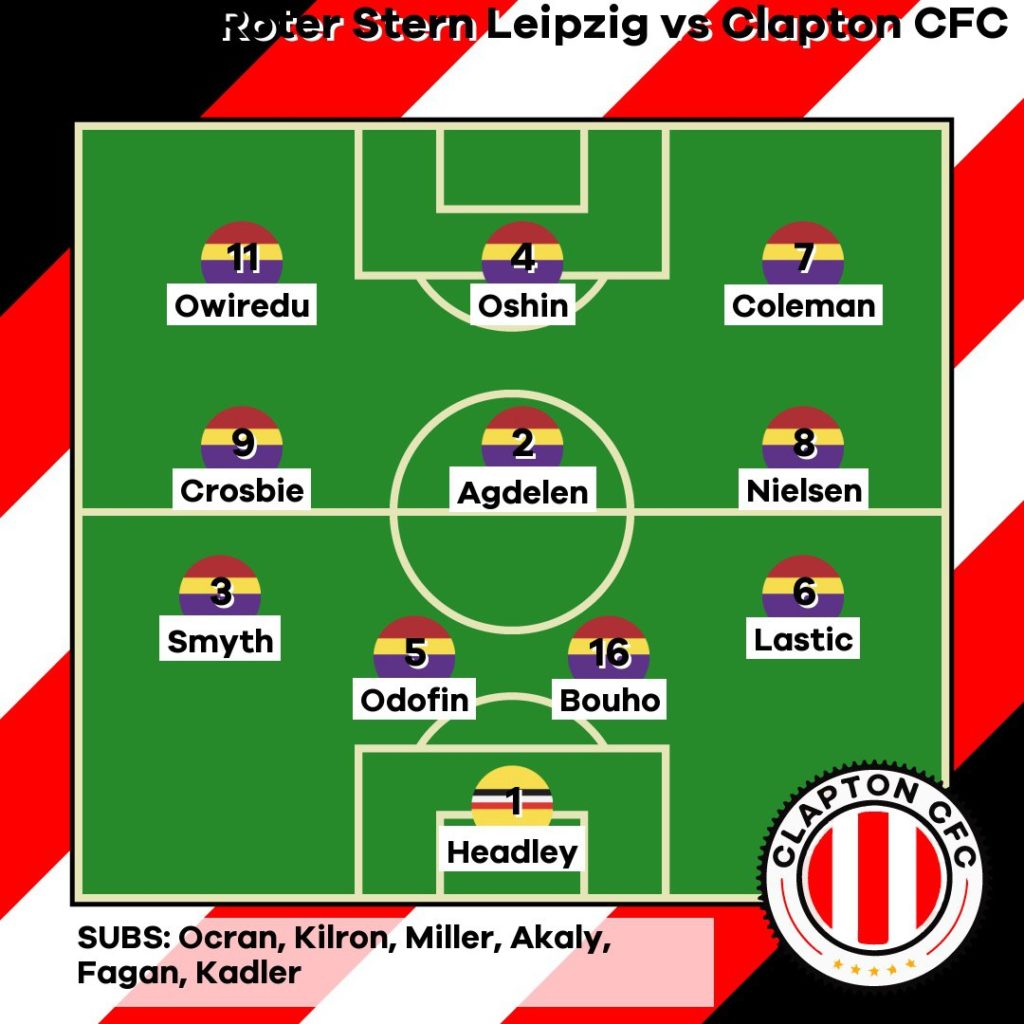 Lightning start
The RSL eleven featured many of the same players who had done a shift in the previous night's cup game. That fatigue perhaps contributed to the Tons' lightning start. Jordan Odofin headed in from close range after just a couple of minutes to give Clapton the lead.
And straight after, they carved out a hatful of chances to go further ahead. Eliot Crosbie broke free down the right. He swung in a dangerous cross. The ball broke to Stefan Nielsen on the edge of the box. The midfielder took a touch and stabbed goalwards, but the Red Star keeper acrobatically tipped over.
From the resultant corner, Nielsen spun in another dangerous cross-shot. The Red Star keeper acrobatically tipped over, again.
On 13 minutes, there were goalkeeping heroics at the other end. RSL's number 8 tried to place in the far corner from near the penalty spot. Ashley Headley brilliantly, beautifully touched it onto the post. He followed that up by tipping a speculative long range effort over the bar.
But the hosts soon beat the Clapton goalie to equalise. Their fleet-footed winger Max "Herzi" Herzog darted in on goal and fired into the corner. Just before half-time, RSL got themselves ahead.
Odofin misjudged a crossed ball. Rather than leave it or clear it, he allowed it to glance off his forehead and past a helpless Headley.
One at each end for the big centre back.
Level again
In the second half, the tricky, pacey Lewis Owiredu became the main threat for the Tons. He was the last thing a tiring RSL backline needed to deal with.
On 70 minutes, one of his forays down the left bore fruit. He fired a low ball across the face of goal from the goal line. Crosbie was in the right place to tap in.
As Ocran mentioned post-match, his side seem to be stronger after the break.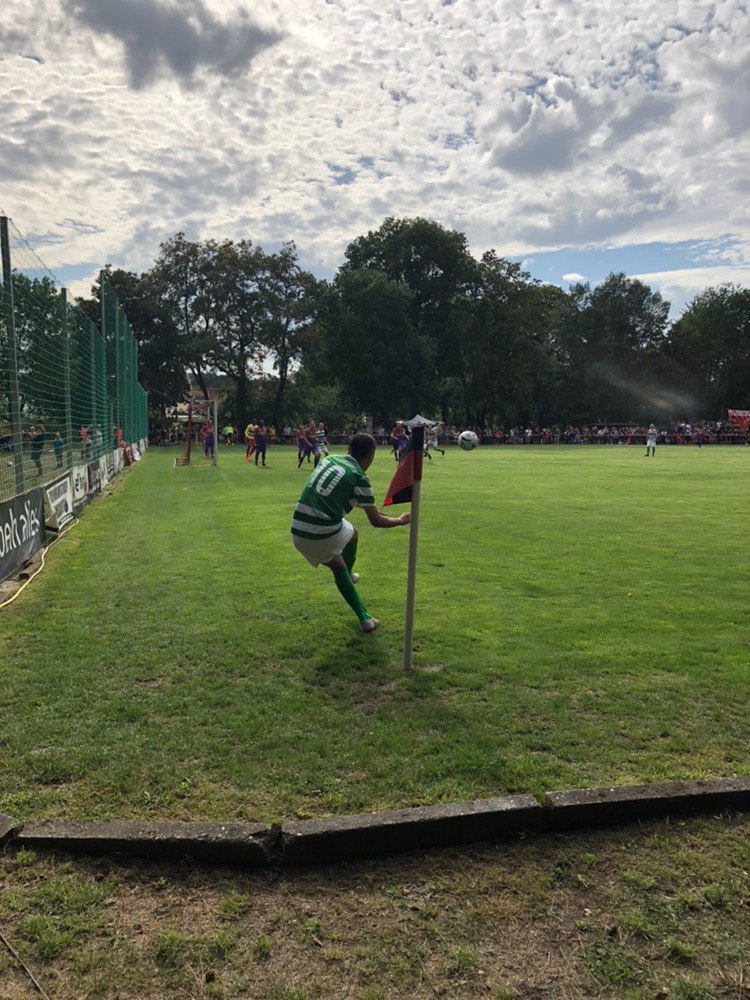 There were a couple of chances for CCFC winners in normal time.
Charlie Fagan had a shot from the edge of the box stopped by the Roter Stern keeper.
After good work on the right, Alby Miller whipped in a dangerous ball to the far post. Fellow sub Jon Akaly just couldn't steer it home.
Heroic Headley
After the final whistle, it surprisingly seemed that a penalty shootout was going to happen. CCFC are building a good record, defeating Samurai and Hilltop. And they made it a trio of successes here.
Headley was the hero, saving three. Albeit one of those was the softest-hit penalty since Pat Nevin versus Man City in 1984.
Nielsen, Cemal Agdelen and Ellick Coleman were on target for the Tons. Andrew Lastic diplomatically missed one so the hosts didn't feel too bad.
The crowd chanted 'Clapton, Roter Stern' in unison throughout the spotkicks. Friendship intact.
Celebrations
Roter Stern had erected a bandstand behind one terrace and put on punk and hip-hop acts for post match entertainment. And then it was all back to the club house for more beers.
Clapton members returned to London, hungover, but bursting with ideas of all the things their club could potentially do
Hopefully this will not be the last tie between these two teams.
Post-match reaction
We caught up with Geoff and some of the players, bathed in evening Leipzig sunshine.
Attendance
Somewhere between 600 and 900