There is only one match left at the business end of the 2018-19 Middlesex Counties Division One East and Central.
No more complicated permutations. Only one more 'if' and only one more 'but'.
If Clapton Community beat FC Roast on Saturday, they are champions. But if they don't, Stonewall FC take the title.
Simple as that.
The match is officially a Roast home game, but was switched from their usual 3G pitch in Islington to the Stray Dog to accommodate the expected crowd.
The reverse fixture back in October was another momentous occasion: it was the first league game played at CCFC's temporary home. 256 punters, mostly hiding from the drizzle under gazebos, were treated to an eight-goal thriller.
A first-half Sherwin Stanley hat-trick was not enough to secure the three points as the visitors nicked a late equaliser.
Touching distance
Whatever happens, Tons manager Geoff Ocran can be proud of his efforts in bringing the team to the brink of the title. He told us:
From our season opener away to Ealing in September, it all comes down to this last league game of the season. If we were offered this scenario back then, we would of taken it both hands.
Naturally we are disappointed with the defeat, but we were beaten by an experienced side, which was the deciding factor in the end. We learn from it and we move on. We are back training on Wednesday so any cup final hangovers will be left behind as we prepare for what could be another historic day for our newly-formed club.
As for this weekend's opposition, Ocran had the following to say:
When we played Roast earlier in the season, we struggled slightly with the movement of their forwards, but we have matured so much as a team since then. Our usual fast start will be in order and then it will be about managing the game. One thing we can guarantee is that the boys will be fired up and raring to go come Saturday 3pm!
Fighting talk
Roast currently sit ninth out of eleven in the division. But they are only two points behind Eastfield FC, so are still in with a chance of improving their final position with a win.
We caught up with defender Stephen "Boo" Hargadon, who reflected on how their season has gone:
Disappointed how it ended after a positive start. We were under-prepared for the amount of games we had and didn't go into it with enough players signed. On a positive note, we stuck to our principles and kept to our brand of football.
Of the 4-4 draw last Autumn he said:
We felt we dominated the last game, but are expecting a much better Clapton this time out. Their results in the second half of the season show the improvement from them and the massive crowd expected will be to their advantage. Along with the referees and linesmen clearly on the Clapton payroll, based on the Samurai game.*
Looking forward to next season, Boo added:
We have learned from our mistakes this year and will be looking to sign a much bigger squad. And once we beat Clapton this weekend, we will beat them to the title next season! #ForzaRoast
* We want to stress that no match officials are on the CCFC payroll. FC Roast are wind-up merchants.
Match information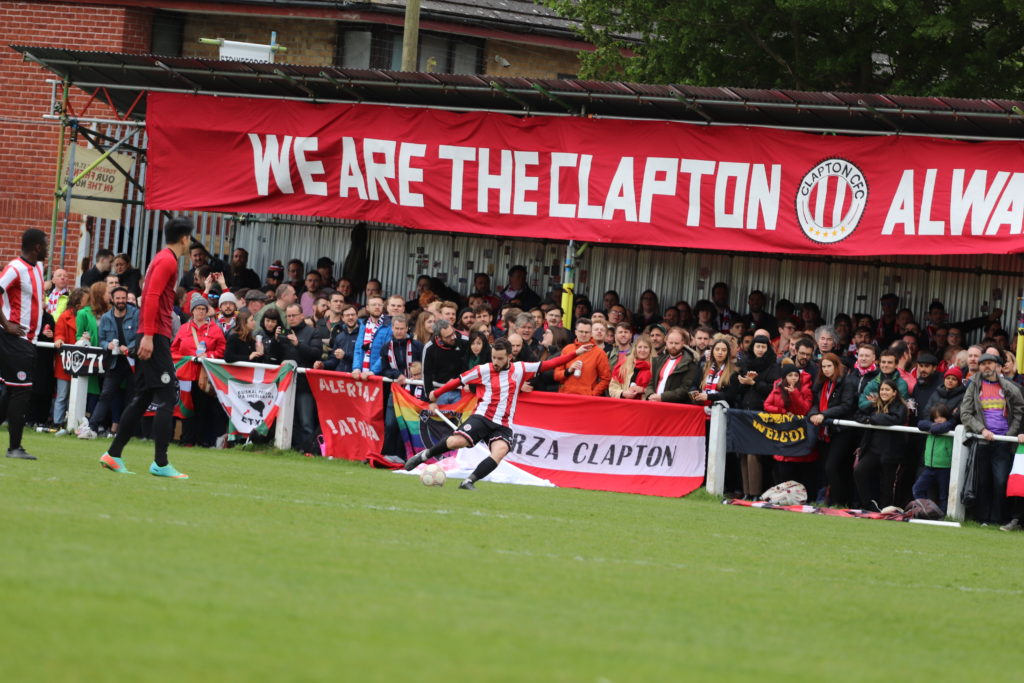 The Stray Dog is about 20 minutes walk from Walthamstow Central station. Turn onto Hoe Street and follow the road all the way along (past the junction with The Bell pub) until Chingford Lane. Continue past Sir George Monoux 6th Form College and take the first right onto Brookscroft Road then left onto Kitchener Road.
You can catch a bus along that route too. The 357, 34, 97, 215 will all take you to the top of Brookscroft Road from Walthamstow Central. It will take about 12 minutes.
There's also plenty of car parking space available at the ground.
As this is technically an away game, we won't have any programmes for sale.
Entry will still be free, but we welcome donations to cover match costs such as officials' fees and food for both sets of players. We suggest £3 for waged adults.
Fusion Foods will be there, serving delicious hot food at the entrance. They will have meat, veggie and vegan options and accept cards or cash.
Merch for both teams will be available.
We're on the pitch just left as you enter the Wadham Lodge car park. Look out for the Stray Dog sign.
There's a pitchside bar selling cans of lager. The toilets and full bar – selling a fuller range of draft beers and more – are in the main building in the car park.
FC Roast vs Clapton CFC is on Saturday, May 11th 2019 at 3pm, at 'The Stray Dog', Wadham Lodge Sports Ground, Kitchener Road, Walthamstow, E17 4JP. Join the Facebook event here.