This weekend Clapton CFC will be taking part in three games, in two countries in a 72-hour footballing fiesta. A home fixture against U.E. Sant Miquel is followed the next day by a trip to Barcelona to face C.E. Jupiter in a pair of friendlies that will be another season highlight for the Tons.
Firstly, Clapton will be taking care of league business with an away game at Hereford Palace.
Before you dash out to buy your train tickets to the West Midlands, hold up. The team are based in West London, playing their games at Wormwood Scrubs (the nearby park, not the prison).
The reason for the name? Just because they like the sound of it, which is as good of a reason as any.
If you are only reading this on Saturday having stepped off the train in Hereford. Well, you might as well go see the Mappa Mundi in the Cathedral. It's a fascinating piece of cartographical history.
Best of the rest?
A thrilling midweek encounter against North West London saw Clapton snatch a draw, and an all-important league point, at the death. The result almost certainly puts an end to the Tons title chase. However, second and third spots in the league are still very much up for grabs.
Gaffer Geoff Ocran told us how important it is for his side to keep up their momentum down the home straight after Wednesday's dropped points:
Having been two up, we are slightly disappointed not to see the game out. But the lads kept on fighting to the end and could of nearly nicked it at the death. The league itself has been out of our hands for a while now so the draw doesn't change much. All we can do is get maximum points from the fixtures we have left and finish as high as we can. We also want to go into the cup finals high on confidence and the road to Uxbridge starts this Saturday with win.
Cricket scores
Palace have had a difficult first year in the Middlesex County Football League. Their only points this season have come courtesy of being awarded a win on a technicality earlier on in the season. Scorelines this season have frequently reached the double figures, leaving the team with a goal difference of -120 from 16 games.
Chairman Kamran Ahmed told us:
Palace have had a rough start to footballing life, but the whole season is one big lesson for us and we've learnt the level required to compete in a league of this standard. Going forward, we're looking to finish the season off strong and then go back to the drawing board and see what's next.
The two sides met at the Stray Dog back in November on a day that saw the Tons hit 11. The biggest win by a Clapton side in over a hundred years. There was some small consolation for Palace on the day as they put a spectacular volley past Vlad Bendovskyy. That was one of only eight goals they've scored so far this season.
Looking back on that occasion, Ahmed added:
Highlight of the season has to be playing against Clapton with the 400-odd spectators. The players loved playing in front of the crowd, despite the result. It's not something you see often at this level and it's great for the sport.
Goal difference
While this fixture may seem like a gentle run out, it could still have a massive impact in a tight race for the second spot. Top half rivals Stonewall FC, NW London and The Curve all have goal differences of +23, +25 and +26 respectively. While this currently looks impressive against Clapton's +13, they have all played both of their fixtures against the league whipping boys.
If Clapton can pile on the goals this Saturday, then they will go a long way to overturning this deficit on the other clubs. In a battle where goal difference could potentially decide places 2-5 there is a huge incentive for Geoff and his men to keep their foot on the gas for the full 90 minutes.
Will Clapton get the big double figure win they need? Will we see some new faces getting a run out in Tons colours? Will the inmates at The Scrubs sing a song for us?
Only one way to find out. See you all on Saturday.
Match information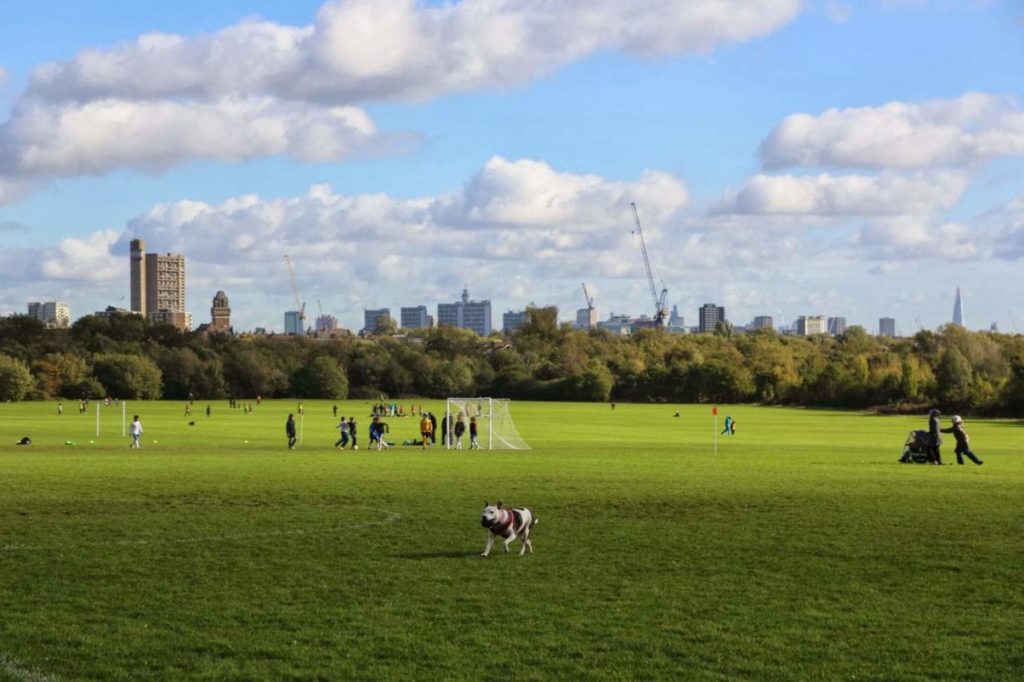 We are not expecting the most sophisticated facilities – it's just a field.
But it's free. And it's B.Y.O.E. (Bring Your Own Everything).
The closest station is East Acton on the Central Line. Or you can do a bit of a hike from Wood Lane on the Hammersmith and City Line.
Just note that the Central is suspended between Woodford/Loughton and Bethnal Green this Saturday (although there will be replacement buses).
Hereford Palace FC vs Clapton CFC is on Saturday, April 6th at 3pm, at Wormwood Scrubs, Du Cane Road, Shepherd's Bush, W12 0DF.