Clapton CFC are hosting our first ever international friendly as UE Sant Miquel visit to mark their 40th anniversary.
To celebrate this milestone they decided to play a match abroad and they chose London. Then they started looking for opponents, came across Clapton CFC and loved our values.
So they approached us for a game and – after waiting for clearance from the FA – we were delighted to accept.
UE St. Miquel are based in the village of St. Miquel de Campmajor, which has a population below 200, about 25km from Girona.
Despite its small size, the village is proud to have a team playing in the fourth Catalan division, the eighth level of the Spanish football pyramid.
The club was started 40 years ago by a group of young friends in a field, with goals consisting of two oak trees with a log placed between them.
They've built up the club from those modest roots, through various pitches in the area, both sand and grass, before moving to their current ground 16 years ago.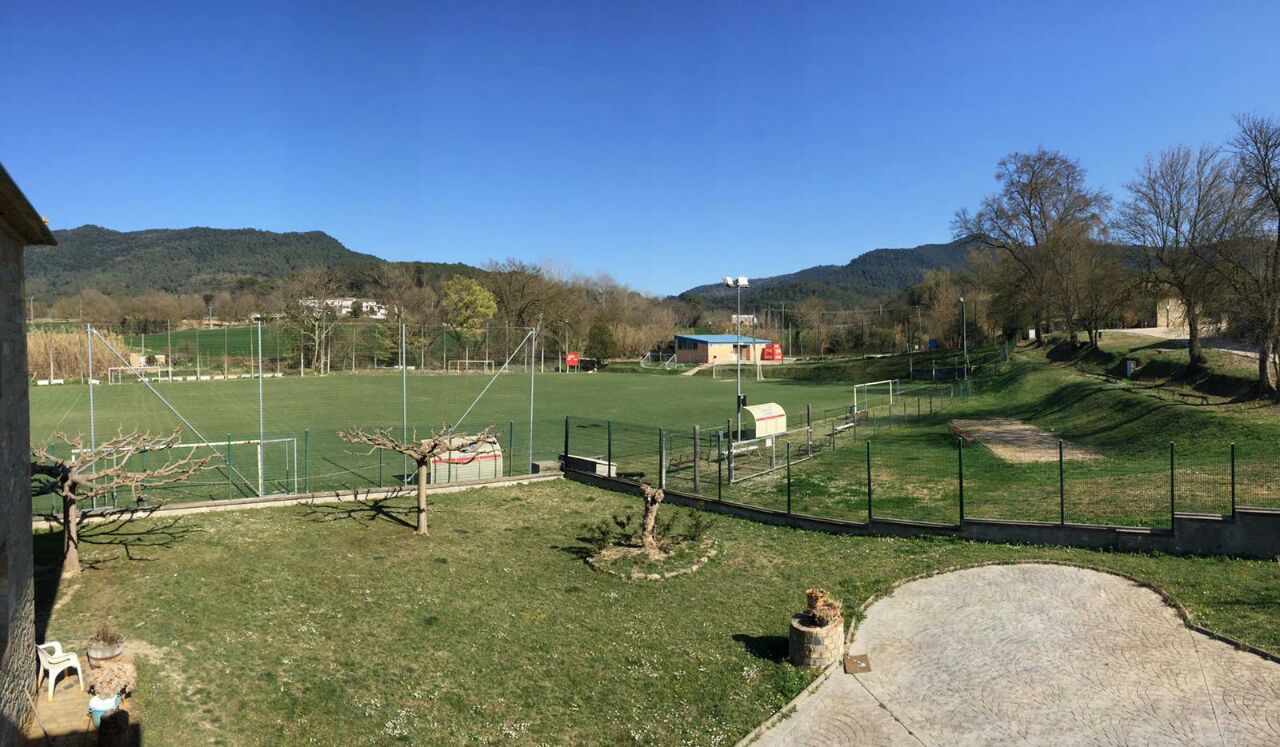 Not many young people live in the village nowadays so they draw most of their players from the surrounding area, including the nearby town of Banyoles.
There are five other clubs in the Banyoles area so they have to make their club the most welcoming with social events, taking the players out for dinner, and now their trip to London.
The fact that the village has a team playing against much bigger towns makes the residents very proud. Not many people watch the matches but those that do, well… we know how cool is to support your local team and the relationships that arise.
31 people have come to London for the weekend, including manager Ferran Darné and president Joan Monells.
They wanted to come here, meet us, spend time together enjoying what unite us, amateur football. And they've even made a commemorative scarf for the occasion!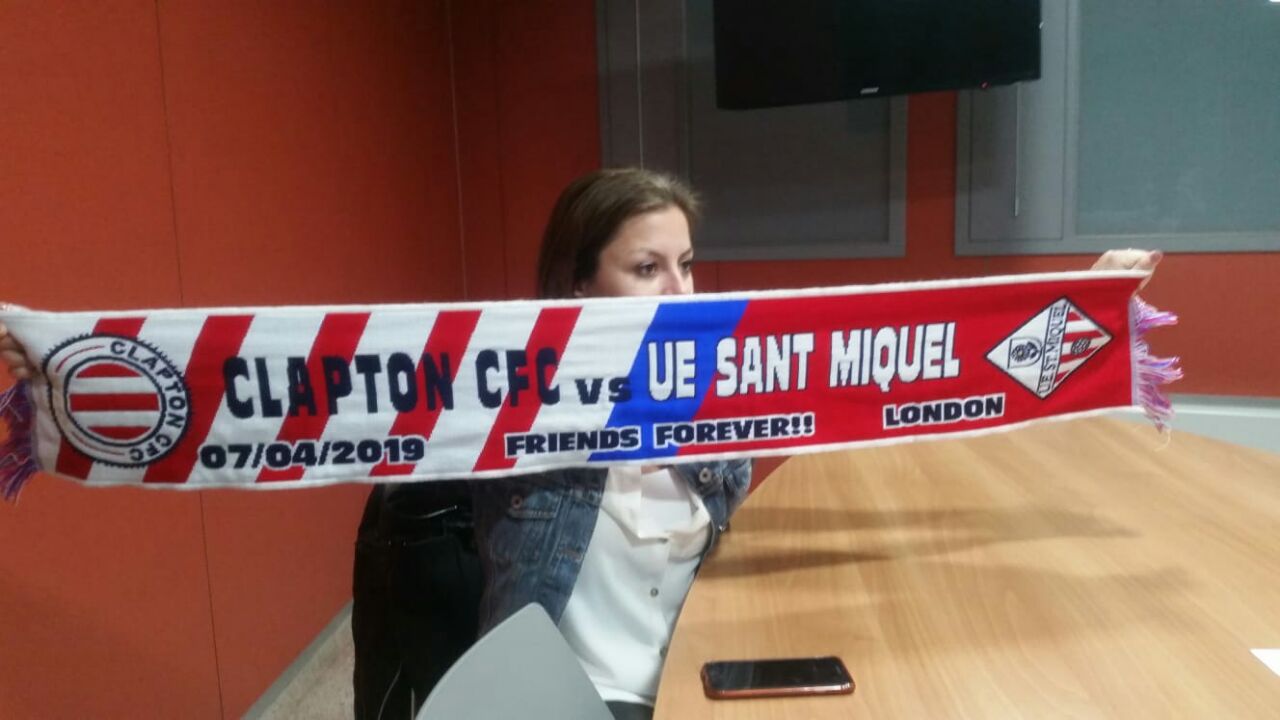 It's on a Sunday as we already have a game on Saturday at Hereford Palace. The early kick-off time is because our opponents are booked on a flight later that day.
Some of the Tons squad are also flying to Barcelona later on too for our second friendly – away at CE Jupiter.
So this is the only available date and time during their weekend in London.
Match information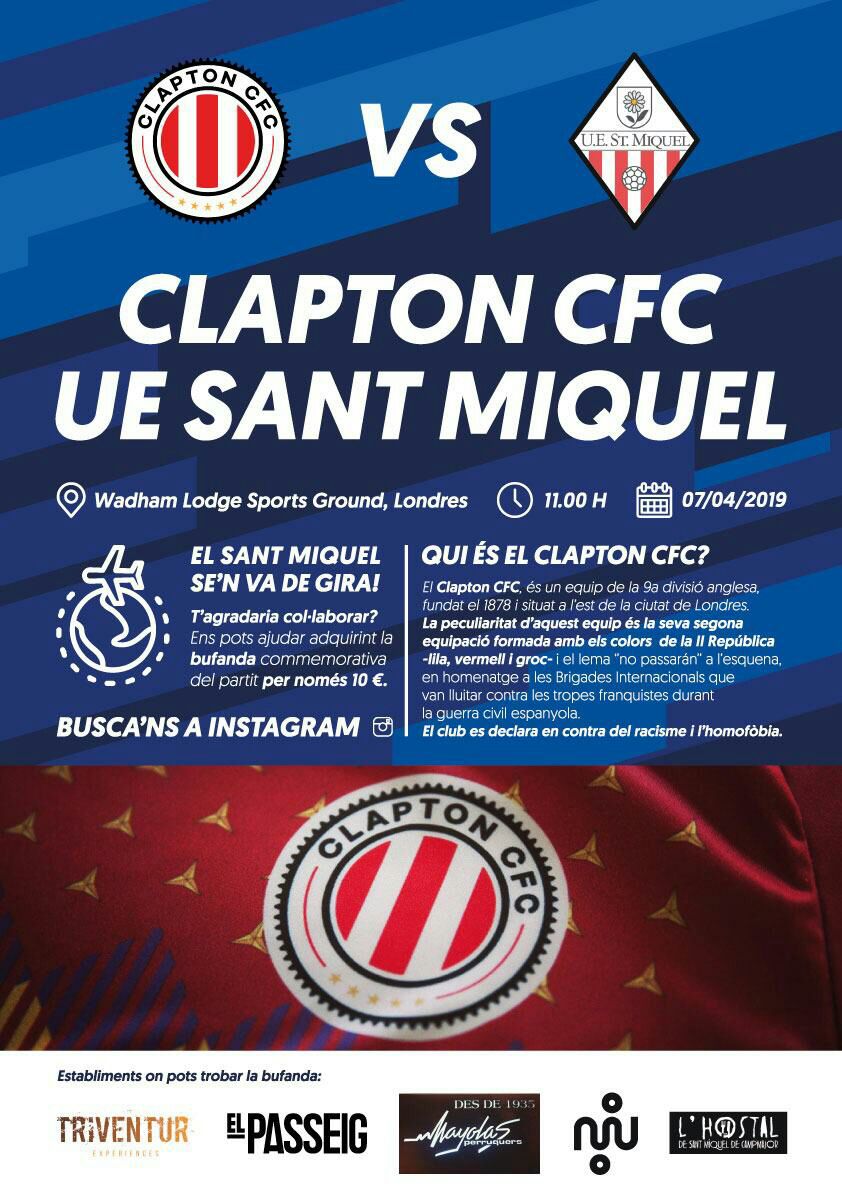 Our temporary home, The Stray Dog, is about 20 minutes walk from Walthamstow Central station.
Turn onto Hoe Street and follow the road all the way along (past the junction with The Bell pub) until Chingford Lane. Continue past Sir George Monoux 6th Form College and take the first right onto Brookscroft Road then left onto Kitchener Road.
You can catch a bus along that route too. The 357, 34, 97, 215 will all take you to the top of Brookscroft Road from Walthamstow Central (approx 12 minutes). Sunday service might be less regular than usual.
There's also plenty of free car parking space available at the ground. Postcode for your satnav is E17 4LL.
We're on the pitch just to the left as you enter the Wadham Lodge car park. The toilets are in the main building.
Entry to the game is free. There will be a 4-page programme available for sale for £1.
Clapton CFC vs UE Sant Miquel is on Sunday, April 7th at 11am,  at 'The Stray Dog', Wadham Lodge Sports Ground, Kitchener Road, Walthamstow, E17 4JP. You can join the Facebook event here.