Given fans have spent two soggy Saturdays under gazebos at a rainy Stray Dog, it was inevitable that a game under the sheltered stands of Walthamstow FC would feature scorching temperatures more than ten degrees above average.
The friendly fixture held the oddity of being possibly the most local derby in football; the Tons taking just a leisurely 30 second stroll across the car park, to the gates of Wadham Lodge.
Clapton CFC made nine changes to the team that drew 4-4 against FC Roast last Saturday, with only Vlad Bendovskyy and Stefan Neilsen remaining in the starting 11, Stefan moving up to partner Tashan Benjamin in attack.
Today's line-up for the friendly at @walthamstowfc pic.twitter.com/jMhFSf06VS

— Clapton CFC (@ClaptonCFC) October 12, 2018
Player/manager and veteran Ryan Maxwell started for Walthamstow, alongside a number of first-team players, showing how seriously they coveted the local bragging rights.
Clapton were no slouches either, fighting hard throughout the first half to keep Walthamstow, who play three steps above, without any clear-cut chances to speak of.
Even Essex Senior League goal machine James Peagram – with 12 goals to his name this season – was reduced to taking half chances where he could.
#placesyoucanknit
A bit of a departure tonight- in #walthamstow with @laurabelom watching @claptoncfc of #nopassaran shirt fame play. We thought they needed a couple of Sandiknittas… #notofascism https://t.co/Ju5yEoiw3e pic.twitter.com/myV7NTkCad

— jane lithgow (@probablyjane) October 12, 2018
As the half wore on Clapton didn't have much of a look at goal themselves, but an assured Tons defence meant they kept pace with Walthamstow and both teams went in at halftime without conceding.
Keeper Vlad Bendovskyy came off at half-time with a clean sheet and began immediately moonlighting as a Capo, leading the chants in the away end.
Keeper Vlad Bendovskyy came off at half-time after a clean sheet and is now leading the chants in the away end pic.twitter.com/3DPnr1Bcoo

— Clapton CFC (@ClaptonCFC) October 12, 2018
In the second half however, Walthamstow began to assert dominance on the game.
Ryan Maxwell, a youth player at Chelsea before moving onto Crystal Palace, Reading (and 33 other clubs) bossed the midfield as Walthamstow kept the ball for longer and longer spells, but still couldn't convert.
In the end, the final oddity of the game was its sole goal.  After a series of errors in and around the Tons box, the ball bounced in off a Clapton player.  
There were strong cries of offside in the build-up, but the away fans were soon distracted by the Walthamstow Rabble's pièce de résistance.  A blue and silver glitter cannon was fired into the sky, shimmering in the floodlights as Walthamstow's players celebrated.
The Rabble soon regretted exploding the cannon again after a second Walthamstow goal – when it was disallowed for offside. All that glitters, is not goal-d.
In the final stretches, the game opened up.  There were a couple of penalty shouts for Walthamstow waved away by the ref, as well as two Clapton chances in the last ten minutes, pulled wide but close enough to draw gasps and groans from fans behind the goal.
Though Clapton lost 1-0, the management and team were smiling at the final whistle, having put in a very convincing shift against a quality team many leagues above.
The Tons had massively improved stability in defence, a key area, having conceded an average of four goals per game in recent results.
Debutant players like Jordan Odofin and fit-again Yacine Rabia may well give Geoff a selection headache for the cup game against Epping Town this Saturday.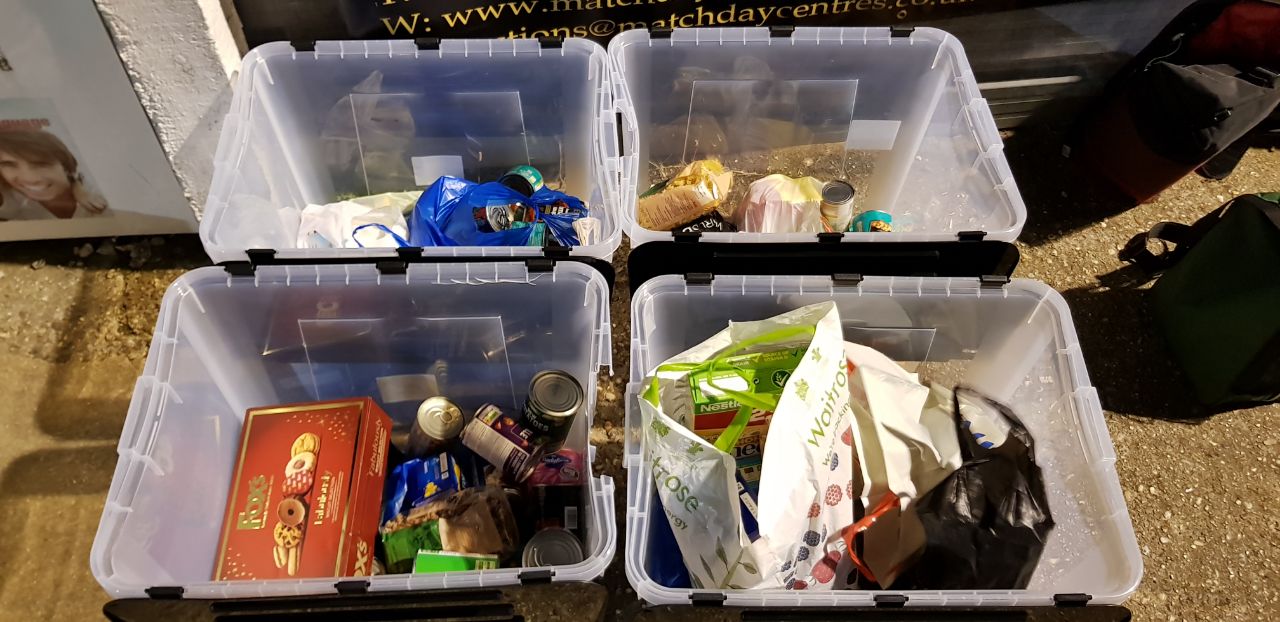 There were other reasons to be cheerful off the pitch.  The friendly raised £673.40 for the Newham Bookshop crowdfunding appeal,  and also foodbank donations for Waltham Forest's Foodbank Eat or Heat.  
Lastly Clapton's newly minted scarves went down well.
After the final whistle, the CCFC fans and the Walthamstow Rabble applauded each other's teams and support, on a mild October night when good neighbours, became good friends.
https://www.instagram.com/p/Bo8_jmLBThpgvlNEfG6YXxYA1CC7WtYupc6Xv40/
Walthamstow superfan in the Clapton end tonight 👏👏👏 pic.twitter.com/wNa6HiBPPh

— Clapton CFC (@ClaptonCFC) October 12, 2018
After-match reaction
We're here with Stu Purcell, Yacine Rabia and Geoff Ocran after our 1-0 loss to Walthamstow FC in a wonderful Friday Night Football friendly.

Posted by Clapton CFC on Friday, October 12, 2018
Attendance
290.