In a season of firsts, Clapton Community FC face the unusual prospect of playing a side for the second time when Epping Town come to town in the Anagram Records Trophy first round.
The competition – sponsored by the punk record label – is for clubs from various leagues across London and the South East who aren't able to enter the FA Vase.
There are similarities between Clapton CFC and Epping Town, two ambitious clubs who want to rise from low down in the league pyramid.
The clubs have met once already, a typically exciting 4-4 draw in a pre-season friendly over in Epping, with Eliot Crosbie scoring twice along with goals from Louis Rene and Joshua Adejokun.
Epping manager Billy Cove told us: "I was really pleased when the draw was made and I've been looking forward to the game ever since, I have huge respect for you guys.
"We're in a similar position as yourselves as we are a completely new squad playing in a league that's new to me and we're trying to bring some glory back to the club and to get the local community behind us.
"I'm expecting a very tough game, just like we had when we met in pre season."
In the early 1980s Epping disappeared due to financial problems, despite the team reaching the Isthmian League, basking in their best ever FA Cup and FA Vase runs and playing the likes of West Ham and Spurs in friendlies.
The reformed Epping FC have competed in the Essex Olympian League on and off since 1999 but showed few signs of progress, while much of their once tidy Stonards Hill ground had to be dismantled for safety reasons.
However, this summer has seen a massive injection of ambition into the club – now back to the historic Epping Town name – under new chairman Chris Ottaway and director of football, former Clapton player Asa Pamplin.
Ex-Ilford manager Cove bought into the vision and is speaking openly about promotion – and dreaming of a return to the ESL and eventually the Isthmian League.
While Epping play in Essex Olympian Division 4 (Step 11, 3 below Clapton CFC) they have been revitalised this summer with Cove bringing in a team of Step 5 standard players for a tilt at promotion.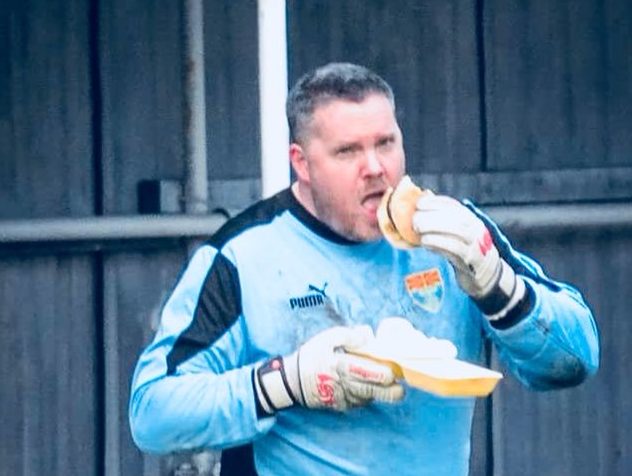 He told us: "Chris Ottaway has dedicated a lot of time to the club, as have the rest of the committee, so we will be looking to reward them with trophies and promotion this season.
"If we all stay together, and every one of us stays committed to the cause, I do not see any reason why we couldn't get the club as high as Bostik (Isthmian) football.
"Obviously, we'd need our own ground if we managed that, so we are hoping that the local community and council really get behind us."
An ambitious target certainly, but the new club set-up has made a strong start reaching out to the local community, some impressive player recruitment and eye-catching friendly results.
One new Epping signing in particular will be familiar to CCFC fans – defender Eamon Payne, who has had several spells at Clapton FC along with other Essex Senior League sides.
In the league they've won 2 of their first 3 games. scoring 9 goals in one game and five in another, while they've also won four cup ties already.
Cove said: "The season has started well, 6 wins out of 7 is really pleasing. We are two points behind the team in top spot, but we have two games in hand and we're through to the next round in two cup competitions, so I couldn't have wished for a better start."
Saturday's game will have particular significance, as Cove explained: "Clapton is, and always will be a club close to the hearts of Asa and I, Asa is an ex player and so is his late father Bobby.
"Unfortunately, I never got to play for Clapton, but I always enjoyed playing against you, and had a horrible habit of scoring."
The winners will face an away trip on November 10th to Letchworth Garden City Eagles, who finished second in the Herts Senior County League (Step 7) last season.
The Anagram Records Trophy is one of three cup competitions Clapton CFC have entered this season.
The Tons lost 5-4 in the BBC Essex Saturday Premier Cup at home to Hutton FC but are still in the Jim Rogers President's Cup, having beaten South Kilburn Reserves in the first round.
Match information
Our temporary home, The Stray Dog, is about 20 minutes walk from Walthamstow Central station, going past at least 5 pubs along the way.
Turn onto Hoe Street and follow the road all the way along (past the junction with The Bell pub) until Chingford Lane. Continue past Sir George Monoux 6th Form College and take the first right onto Brookscroft Road then left onto Kitchener Road.
You can catch a bus along that route too. The 357, 34, 97, 215 will all take you to the top of Brookscroft Road from Walthamstow Central (approx 12 minutes).
There's also plenty of car parking space available at the ground. Postcode for your satnav E17 4LL.
The toilets and bar – selling draft and canned beers and more – are in the main building in the car park. We're on the pitch just left as you enter the car park. Look out for the Stray Dog sign!
Entry to the game is completely free (but we welcome donations, suggested £3 for waged adults), We'll also have our brilliant programme for sale at £2. There is no food bank collection for this game, we're planning alternate home games.
Kick off is 2.30pm – not 3pm as first advertised. If the game is level at 90 minutes, we will play extra time and then penalties if needed. So there will be a result on the day.
Clapton CFC vs Epping Town is at 2.30pm on Saturday, October 20th at 'The Stray Dog', Wadham Lodge Sports Ground, Kitchener Road, Walthamstow, E17 4JP.  Join the Facebook event here.