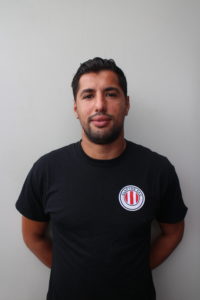 Name

Yacine Rabia

Position

Defender

Height

6ft (1.8m)

Age

37
Clapton CFC player/first team coach
Previous clubs (as player): Leyton County FC, Leyton All Stars, West Green United and LOASS 
Previous clubs (as coach): Leyton Orient Community Sports Programme, Leyton Orient Advanced Soccer School , West Green United FC, Precision Sports FC, West Ham United Foundation.
Qualifications: UEFA B license coach and Futsal coach.
Twitter: @y4cineR
Q&A
Full Name: Yacine Rabia
Where you live: Leyton
Day job: Sports Development Officer
All time favourite player: the one and only Zinedine Zidane
Favourite team, apart from Clapton CFC: Chelsea FC
Biggest high in football: Winning the double with Clapton CFC
Lowest point in football: My West Green United manager passing away due to a serious illness was the lowest point for me.
Likes and hobbies:  My favourite thing to do are Clapton, playing/coaching football, going to the gym, cycling, snowboarding and spending time with family and friends.
Dislikes: Brexit, Boris Johnson and Donald Trump
Favourite country visited: My absolute favourite place in the whole world is stunning Croatia.
Favourite food: Italian cuisine
Favourite film: This might surprise a few but my favourite film is The Notebook
Favourite music: I like a verity of music genres from rap, pop to grime and classical music it depends what mood I'm in.
Favourite TV: My favourite tv show is Hunted on channel 4
Footballing ambition: I would like to coach a team at a major international football event.
Person you'd most like to meet: There are a few people id like to meet but right now I'd say someone inspirational like Nelson Mandela.
| Date | Home | Results | Away | Time |
| --- | --- | --- | --- | --- |
| 2019-10-19 14:00:54October 19, 2019 | Runwell Sports | 1 - 2 | Clapton CFC men's first team | 14:00:542:00 pm |
| 2019-09-28 15:00:20September 28, 2019 | Indian Gymkhana FC | 5 - 4 | Clapton CFC men's first team | 15:00:203:00 pm |
| 2019-09-21 15:00:28September 21, 2019 | Hilltop FC | 2 - 2 | Clapton CFC men's first team | 15:00:283:00 pm |
| 2019-09-14 14:00:12September 14, 2019 | Clapton CFC men's first team | 3 - 0 | Eastfield FC | 14:00:122:00 pm |
| 2019-08-24 15:00:11August 24, 2019 | Pitshanger Dynamo | 2 - 0 | Clapton CFC men's first team | 15:00:113:00 pm |
| 2019-05-11 15:00:27May 11, 2019 | FC Roast | 0 - 3 | Clapton CFC men's first team | 15:00:273:00 pm |
| 2019-05-04 13:00:18May 4, 2019 | Catholic United | 5 - 1 | Clapton CFC men's first team | 13:00:181:00 pm |
| 2019-04-27 15:00:12April 27, 2019 | Clapton CFC men's first team | 3 - 2 | London Samurai Rovers | 15:00:123:00 pm |
| 2019-04-20 15:00:08April 20, 2019 | Clapton CFC men's first team | 6 - 5 | The Curve FC | 15:00:083:00 pm |
| 2019-04-13 19:45:25April 13, 2019 | Hilltop FC | 2 - 2 | Clapton CFC men's first team | 19:45:257:45 pm |
| 2019-04-08 19:30:41April 8, 2019 | CE Júpiter | 5 - 0 | Clapton CFC men's first team | 19:30:417:30 pm |
| 2019-04-07 11:00:40April 7, 2019 | Clapton CFC men's first team | 2 - 6 | U.E. Sant Miquel | 11:00:4011:00 am |
| 2019-03-30 14:00:35March 30, 2019 | Eastfield FC | 4 - 6 | Clapton CFC men's first team | 14:00:352:00 pm |
| 2019-03-23 15:00:07March 23, 2019 | Ware Sports | 1 - 3 | Clapton CFC men's first team | 15:00:073:00 pm |
| 2019-03-16 14:00:25March 16, 2019 | FC Star London | 1 - 3 | Clapton CFC men's first team | 14:00:252:00 pm |
| 2019-03-09 14:00:33March 9, 2019 | The Wilberforce Wanderers AFC | 0 - 2 | Clapton CFC men's first team | 14:00:332:00 pm |
| 2019-03-02 14:00:59March 2, 2019 | The Wilberforce Wanderers AFC | 1 - 4 | Clapton CFC men's first team | 14:00:592:00 pm |
| 2019-02-23 14:15:36February 23, 2019 | Clapton CFC men's first team | 3 - 0 | Chipperfield Corinthians | 14:15:362:15 pm |
| 2019-02-16 14:00:19February 16, 2019 | Clapton CFC men's first team | 5 - 1 | Stonewall FC | 14:00:192:00 pm |
| 2019-02-09 12:15:33February 9, 2019 | NW London FC | 2 - 1 | Clapton CFC men's first team | 12:15:3312:15 pm |
| 2019-02-02 14:00:37February 2, 2019 | Clapton CFC men's first team | 6 - 1 | The Wilberforce Wanderers AFC | 14:00:372:00 pm |
| 2019-01-19 13:30:18January 19, 2019 | Clapton CFC men's first team | 1 - 1 | London Samurai Rovers | 13:30:181:30 pm |
| 2019-01-12 14:00:08January 12, 2019 | Stonewall FC | 4 - 0 | Clapton CFC men's first team | 14:00:082:00 pm |
| 2019-01-05 14:00:33January 5, 2019 | Clapton CFC men's first team | 1 - 3 | FC Star London | 14:00:332:00 pm |
| 2018-07-21 15:30:26July 21, 2018 | Holland FC | 5 - 0 | Clapton CFC men's first team | 15:30:263:30 pm |