It's another milestone day as Clapton Community FC play their first league game at our temporary home.
The Tons come into the game off the back of away wins at Ealing Town and South Kilburn Reserves sandwiching a nail-biting defeat at a damp Stray Dog in the cup against Hutton FC a fortnight ago.
Our opponents, FC Roast, are another new team to the Middlesex County Football League. The club,  for Irish people living in London, has grown quickly since forming three years.
Player-manager James Carty told us. "We moved from 5 a side to 7 a side to 11 a side astro leagues as we wanted to play at a higher standard.
"We decided to become affiliated and we aim to build further from here. We're very much an Irish team but we have players from all sorts of backgrounds."
FC Roast has received assistance from both grassroots grants from the FA and their sponsors Pizetta to help them reach the stage they are at today.
Tons fans should keep an eye out for experienced striker Bradley Barraclough, who has played in the Football League with Lincoln City, before moving on to the likes of Bradford Park Avenue, Buxton, Spalding United and Gainsborough Trinity.
Carty also picked out fellow striker Max Tagliapietra and fullback Stephen "Boo" Hargadon as ones to watch.
Roast, who also have perhaps the coolest logo in English football, will arrive at The Stray Dog to start what is only their third competitive game of the season.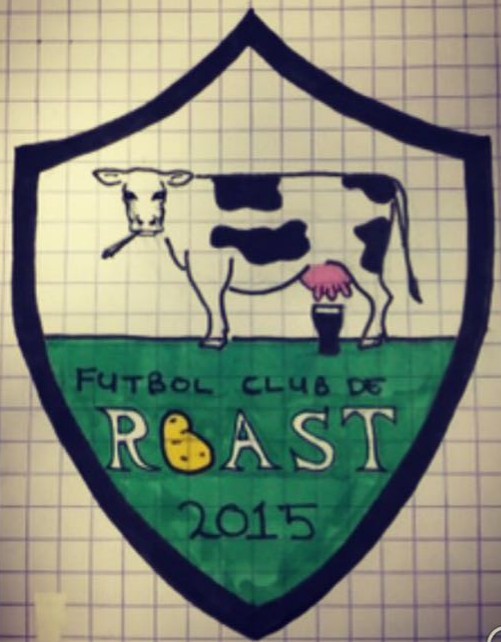 They opened up with a London Junior Cup win against Imperial College – with the above mentioned Barraclough getting a hat-trick – while their first taste of MCFL football left them on the wrong side of a 3-0 scoreline against Stonewall FC.
The result has given the squad some pause for thought but also a determination to continue to develop and be competitive.
"We did many things right except the most important thing, to put the ball in the back of the net. And we got punished for it. So plenty of lessons to be learned." Carty told us.
The uneven distribution of games so far in the season makes it difficult to place the two squads yet.
Clapton CFC player-manager Geoff Ocran said: "We want to build on the Ealing Town game, where we came back to take all three points.
"I think most, if not all, title contenders at any level, base their title campaigns on very strong home form. We will look to be no different.
"Despite the neutrals loving the goal-fests at CCFC games recently, conceding 7 goals in 2 games is never ideal for a manager."
League leaders NW London already have a goal difference of +19 so there is incentive for both teams to keep their foot on the gas right to the final whistle.
So grab a Guinness and join us for what's sure to be some great craic this Saturday.
Match information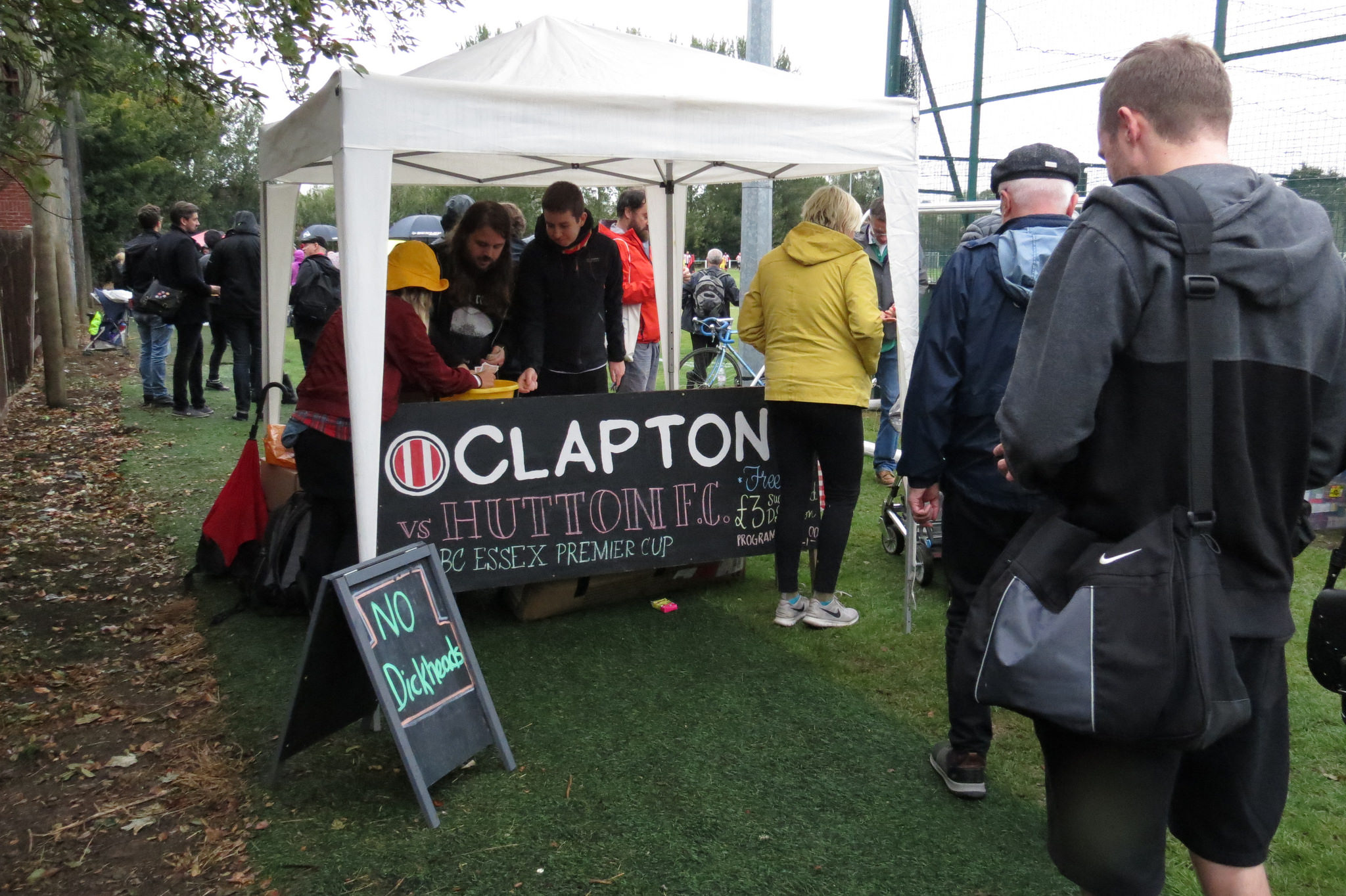 Our temporary home, The Stray Dog, is about 20 minutes walk from Walthamstow Central station, going past at least 5 pubs along the way.
Turn onto Hoe Street and follow the road all the way along (past the junction with The Bell pub) until Chingford Lane. Continue past Sir George Monoux 6th Form College and take the first right onto Brookscroft Road then left onto Kitchener Road.
You can catch a bus along that route too. The 357, 34, 97, 215 will all take you to the top of Brookscroft Road from Walthamstow Central (approx 12 minutes).
There's also plenty of car parking space available at the ground. Postcode for your satnav E17 4JP.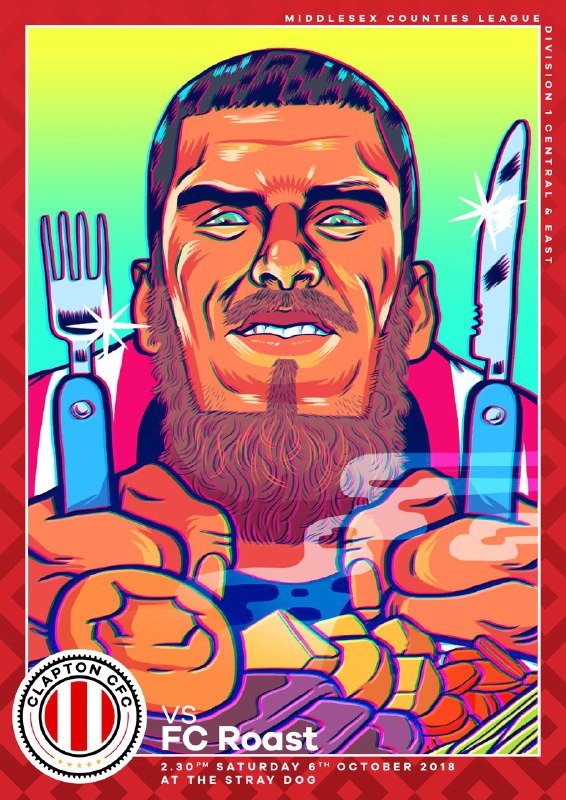 The toilets and bar – selling draft and canned beers and more – are in the main building in the car park. We're on the pitch just left as you enter the car park. Everything will be signposted.
At the entrance to the ground we'll have the programme (£2). This edition's amazing front cover is designed by Dan Evans – follow him on Insta here.
Entry to the game is completely free (but feel free to donate, suggested £3 for waged adults),.
Clapton CFC vs FC Roast is on Saturday, 6th September at 2.30pm at 'The Stray Dog', Wadham Lodge Sports Ground, Kitchener Road, Walthamstow, E17 4JP. Join the Facebook event.