Eliot Crosbie smashed home Clapton CFC's first ever goal to put the Tons on their way to a hugely impressive victory in the East London sunshine.
After games at much higher opposition Holland FC and West Essex, player-manager Geoff Ocran had earmarked this as the first chance to properly gauge how his newly-formed team would fare in the relative unknown of the Middlesex County Football League.
And his side raced into a 4-0 lead against a near full-strength Sporting Hackney that finished in the top half of the Middlesex Premier last season, one division higher than where CCFC will begin their league campaign next month.
In front of an excellent pre-season friendly crowd of 125 at Mabley Green, the Tons gave debuts to former Clapton stalwart Dean Bouho and livewire midfielder Prince Kwakye in a 4-4-1-1 formation as follows: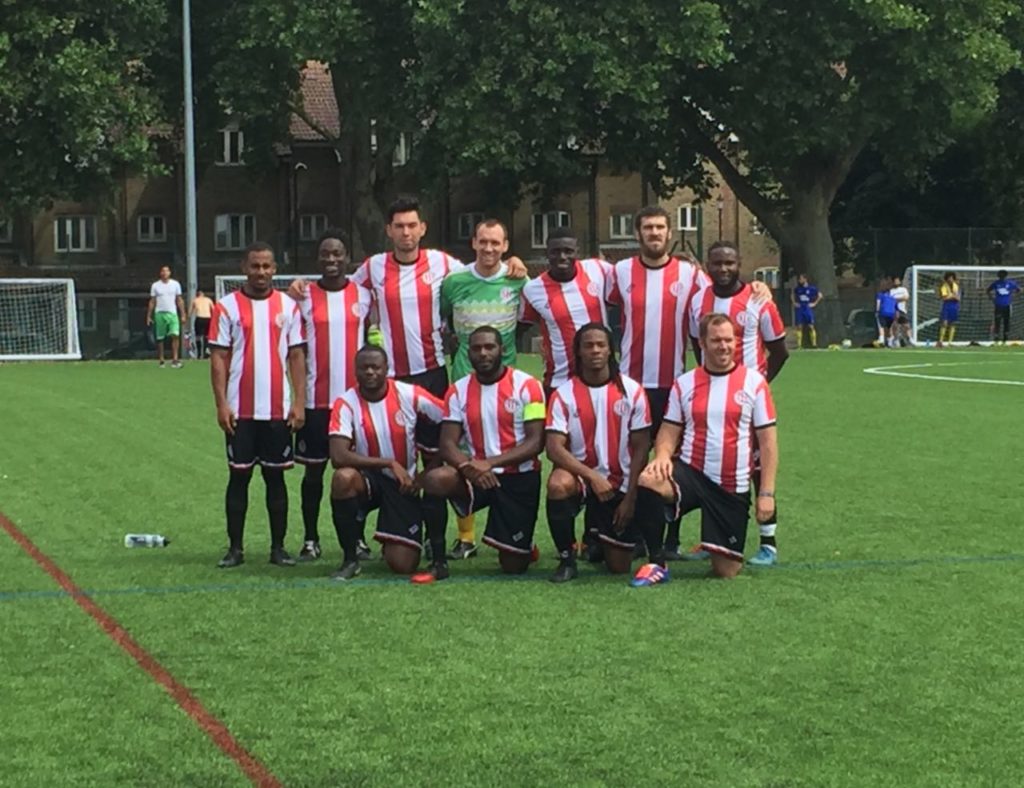 Dan Anfossy: Ellick Coleman, Liam Smyth, Dean Bouho, Andrew Lastic; Geoff Ocran, Prince Kwakye, Phil Blakesley, Joshua Adejokun; Eliot Crosbie; Tony Cookey. Subs: Vlad Bendovskyy, Romelle Pile, Stefan Kilron, Ashley Headley, Liam Headley, Bradley O'Donovan.
Hackney started well but the best chance was fashioned by Tony Cookey, who almost set up a superb goal with a mazy dribble around several defenders.
However, Tons fans didn't have much longer to wait for that elusive first goal when Crosbie tucked home from close range in the 12th minute through a crowd of legs.
Joshua Adejokun soon added a second with a close-range header before Crosbie scored his second to make it 3-0 as Clapton were rampant before half-time.
A more even second half saw sub Romelle Pile put the visitors 4-0 up in the sun before two late goals for Hackney – including a penalty which proved to be the last kick of the game.
The Hackney side were rightly applauded off after a spirited contest and the Tons players celebrated that first win with the visiting support…
The Clapton players celebrating yesterday's 4-2 win against Sporting Hackney FC with the travelling fans pic.twitter.com/aapCM1qdu8

— Clapton CFC (@ClaptonCFC) August 5, 2018
Afterwards, Crosbie said: "To go and get the first goal is massive for me and massive for Clapton.
"It was a hot day out there so we just had to try and keep the ball, move the ball and create patterns, which we did well and we were 3-0 up within quick time. After that it was just game management."
Ocran added: "Today, no complaints from me as a manager. I knew from the talent that we've got that a lot of our players can play higher.
"It really was a good test. For the first 10 or 15 minutes they were popping around us, but we knew we had to keep our shape and not leave any gaps and to hit them when we could."
We're speaking to player-manager Geoff Ocran and our first ever goalscorer Eliot Crosbie after the 4-2 win over Sporting Hackney FC

Posted by Clapton CFC on Saturday, August 4, 2018
In further good news, £350 was donated at the gate by supporters to Sporting Hackney's Mind project, which delivers top class football training to people of all ages and backgrounds from the City, Hackney and Waltham Forest.
Attendance
125.