We're into the final straight now with just eight more league games – and a cup final, of course.
The second from top Tons take on third from bottom Indian Gymkhana on Saturday, kick off 2.30pm – and arguably our visitors are the favourites.
They have won all three previous meetings between the teams, and kept two clean sheets in the last two.
We need a win to keep our outside hopes of the title and promotion alive. So can we end the Gymkhana Jinx?
Gymkana also beat the rest of the top three – FC Soma, Brentham and NW London – although the latter win was overturned due to playing an ineligible player.
They have one of the best defensive records as well, so it's a bit of a puzzle how they find themselves fighting relegation.
Indian Gymkhana is a combined cricket, football and hockey club. Established in 1916, it is the largest and longest-standing multiracial sports club in the UK.
The football section was created in the 1980s and now has men's, women's, boys' and girls' teams.
It was the first Asian football club in Britain to set up a girls' team and they are determined to see girls and boys get the same opportunities.
The football section also runs a health and fitness programme, open to anyone that's interested in keeping fit as their primary goal.
Match information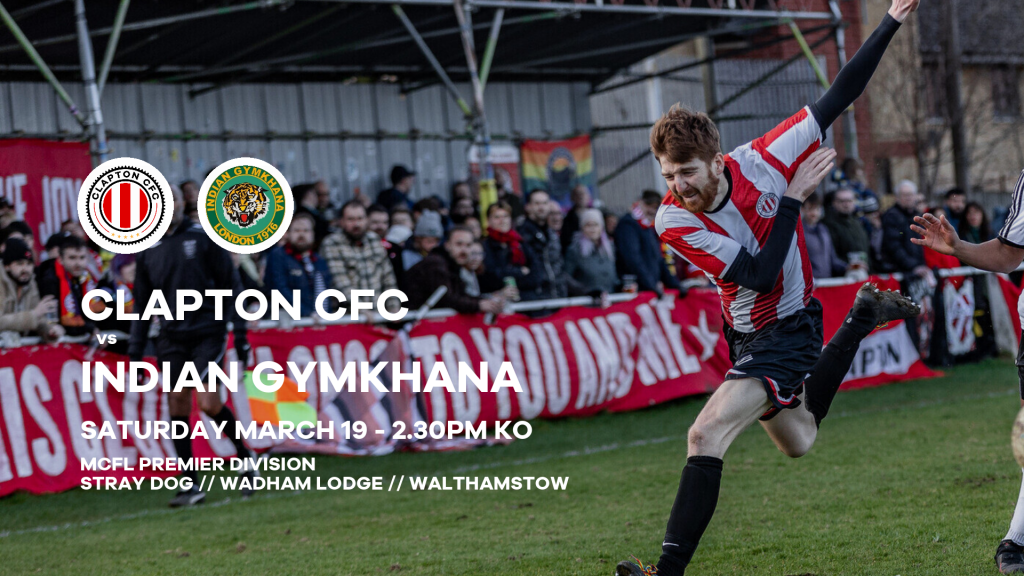 Clapton CFC vs Indian Gymkhana is on Saturday, March 19 2022 at 2.30pm at the Stray Dog, Wadham Lodge, Kitchener Road, Walthamstow.
Advanced tickets are not needed, you can just turn up. Entry as usual is free but with donations welcome, with a suggested £3 for waged adults.
We will have a mini programme available at the entrance, pick one up for free, donations welcome.
Fusion Foods will be selling hot and cold meat, veggie and vegan options and accept cards or cash. The Matchday Centres bar will be open.
Don't forget the hygiene bank collection for our charity partners Magpie Project. You can donate toothbrushes, toothpaste, shower gel, sanitary towels and deodorant at the entrance.
Directions
Wadham Lodge is about 20 minutes walk from Walthamstow Central station. Turn onto Hoe Street and follow the road all the way along (past the junction with The Bell pub) until Chingford Lane. Continue past Sir George Monoux 6th Form College and take the first right onto Brookscroft Road then left onto Kitchener Road.
You can catch a bus along that route too. The 357, 34, 97, 215 will all take you to the top of Brookscroft Road from Walthamstow Central. It will take about 12 minutes.
There's also car parking space available at the ground but it may be better to park on a street nearby.
An important note
Matchday Centres have asked us to ensure that there is no more use of pyro, flares, smoke etc on their property.
This has caused damage to their facilities and complaints from staff, officials and neighbours.
They have also banned glass bottles after a serious incident during a game not involving Clapton.
We have a good working relationship with MDC, who have played an invaluable role in helping us establish the club.
They have said that a failure to observe these rules will lead to sanctions that would be damaging for the club, including but not limited to requiring us to play behind closed doors.
We ask all our fans to respect MDC's requests in solidarity with our teams and everyone who works hard to run the club.