The Clapton CFC women's first team have proved to be giant-killing specialists this season but we'll need to be on top of our game again here.
After beating Sutton United U23s away on penalties in the last round, our reward is a home tie against their high-flying first team.
Sutton United are the highest-placed team in the Capital Women's Cup, sat in second place in the division above us but with five games in hand.
They're the promotion favourites, the meanest defence and the highest scorers in the division above. Olivia Watson on 19 goals is the division's leading scorer with Mika Keen not far behind on 12.
Sutton United Women formed in 2016 but have quickly risen up the levels and also now have U23s and U21s teams in the women's football pyramid.
The Capital Women's Cup is a prestigious competition for teams at our level and one higher across the counties in and around Greater London.
Prior to the U23s victory, we beat Regents Park Rangers after a walkover win over Whyteleafe Development.
Sutton United in turn have beaten AFC Acorns, Abbey Rangers and AFC Wimbledon U23s and were given a walkover win over Enfield Development,
In the other semi-final, Islington Borough, top of our league, play Dorking Wanderers, third in the division above.
We'll go straight to penalties if the scores are level at 90 minutes.
Match information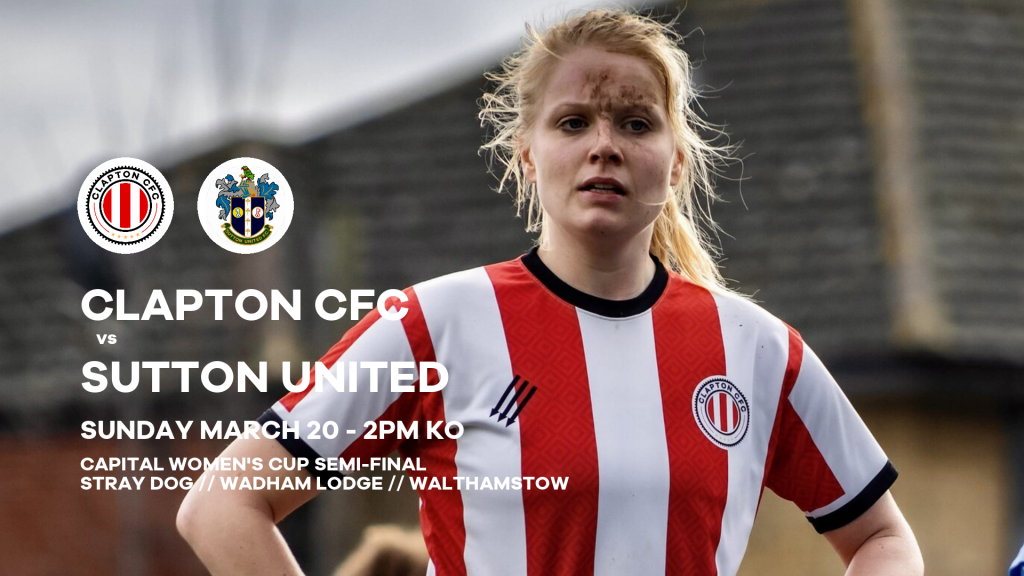 Clapton CFC vs Sutton United is on Sunday, March 20 2022 at 2pm at the Stray Dog, Wadham Lodge, Kitchener Road, Walthamstow.
Advanced tickets are not needed, you can just turn up. Entry as usual is free but with donations welcome, with a suggested £3 for waged adults.
We will have a mini programme available at the entrance, pick one up for free, donations welcome.
Fusion Foods will be selling hot and cold meat, veggie and vegan options and accept cards or cash. The Matchday Centres bar will be open.
Don't forget the hygiene bank collection for our charity partners Magpie Project. You can donate toothbrushes, toothpaste, shower gel, sanitary towels and deodorant at the entrance.
Directions
Wadham Lodge is about 20 minutes walk from Walthamstow Central station. Turn onto Hoe Street and follow the road all the way along (past the junction with The Bell pub) until Chingford Lane. Continue past Sir George Monoux 6th Form College and take the first right onto Brookscroft Road then left onto Kitchener Road.
You can catch a bus along that route too. The 357, 34, 97, 215 will all take you to the top of Brookscroft Road from Walthamstow Central. It will take 12-25 minutes.
There's also car parking space available at the ground but it may be better to park on a street nearby.
An important note
Matchday Centres have asked us to ensure that there is no more use of pyro, flares, smoke etc on their property.
This has caused damage to their facilities and complaints from staff, officials and neighbours.
They have also banned glass bottles after a serious incident during a game not involving Clapton.
We have a good working relationship with MDC, who have played an invaluable role in helping us establish the club.
They have said that a failure to observe these rules will lead to sanctions that would be damaging for the club, including but not limited to requiring us to play behind closed doors.
We ask all our fans to respect MDC's requests in solidarity with our teams and everyone who works hard to run the club.