Saturday sees the first ever meeting with Kensington Dragons in our third season in the same league after Covid-19 and bad weather got in the way before.
The Tons will be looking to put Saturday's disappointing loss at Indian Gymkhana behind them, which brought an end to an 11-game winning away run, and knocked us off top spot.
Kensington Dragons are in the bottom half but mainly as they've drawn more games than anyone else, including against new leaders FC Soma, third placed Brentham and fourth placed Larkspur Rovers.
The club started in 2001 with local children and parents having a regular kick around in the Kensington Memorial Park.
The youngsters wanted to play regular football matches and after hard work from parents and players, Kensington Dragons was formed.
The club has expanded over the years to now have eight boys' teams, five girls' teams and three men's teams.
It is a registered charity and run by the trustees and a committee made up of club officers, managers and coaches.
The charity's objects are "to promote community participation of, primarily, children and young people regardless of race, sex, creed, financial means or social and economic circumstances."
Their home ground is Linford Christie Stadium, the athletics ground at Wormwood Scrubs, right by the prison.
Some CCFC fans may remember it as being next to where we played Hereford Palace in Division One in 2018/19 on the way to promotion.
Championship side Queen's Park Rangers have lodged plans to move there and turn it into a 30,000 capacity stadium.
Match information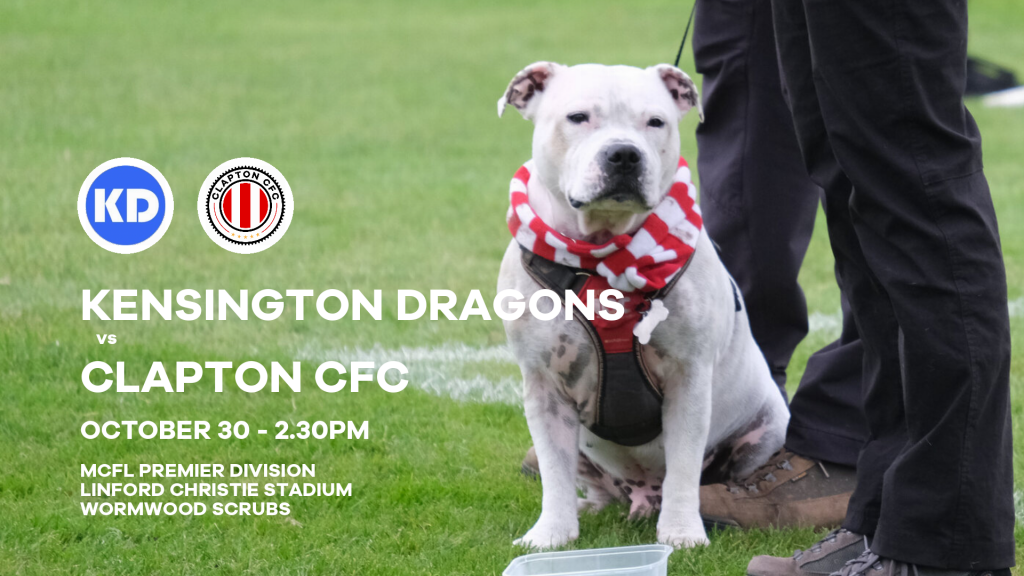 Kensington Dragons vs Clapton CFC is at 2.30pm on Saturday, October 30 at Linford Christie Stadium, Artillery Lane, off Du Cane Road W12 0DF
Entry is free. There is no bar or clubhouse open so bring your own food/drink, although sometimes there is a burger van in the car park.
Although some of Kensington Dragons' games take place on outlying pitches, we're told this one is in the stadium itself. There's a large stand so come along whatever the weather.
Travel wise, it is one of the easiest away grounds to get to from East London. It's about a 10 minute walk from East Acton in Zone 2 on the Central Line, or about 20 minutes from Wood Lane on both the Hammersmith and City and Circle lines.