We've had yet another strange season, but we've also had a lot of great footballing moments to celebrate. 
Our Women's First Team finished third in the Greater London Women's Football League, and the Men's First Team were unbeaten runners-up in the Middlesex Super 6 League.
We've also seen the creation of both women's and men's development teams, a second team in the Women's Super 5 League, and a Women's Beginner 11s team. 
So after our final first team friendly of the season – a 2-2 draw against New London Lionesses Development at the Stray Dog – we handed out the player of the season awards to all teams.
The awards were voted for by fans, management and the players.
Beginners 5s
Management's Player of the Year – Ria Hampshire-Oakes
Management's Most Improved Player – Becky Harrison
Management's Unsung Hero – Amy Morgan
Players' Player of the Year – Norna Yau
Flexi 5s
Management's Player of the Year – Rhianne Wright
Management's Most Improved Player – Sinead Gunning
Management's Unsung Hero – Johanna Kousa
Players' Player of the Year – Lauren Ryan
Women's Beginners 11s
Players' Player of the Year – Lauren Ryan
Men's Development Team
Management's Player of the Year – Bailey Pryce
Management's Most Improved Player – Troy Cleghorn
Management's Unsung Hero – Dan Anfossy
Players' Player of the Year – Bailey Pryce
Women's Development Team
Management's Player of the Year – Annie Bartkowski
Management's Most Improved Player – Allana Scoble
Management's Unsung Hero – Sophia Axelsson
Players' Player of the Year – Teju Callisto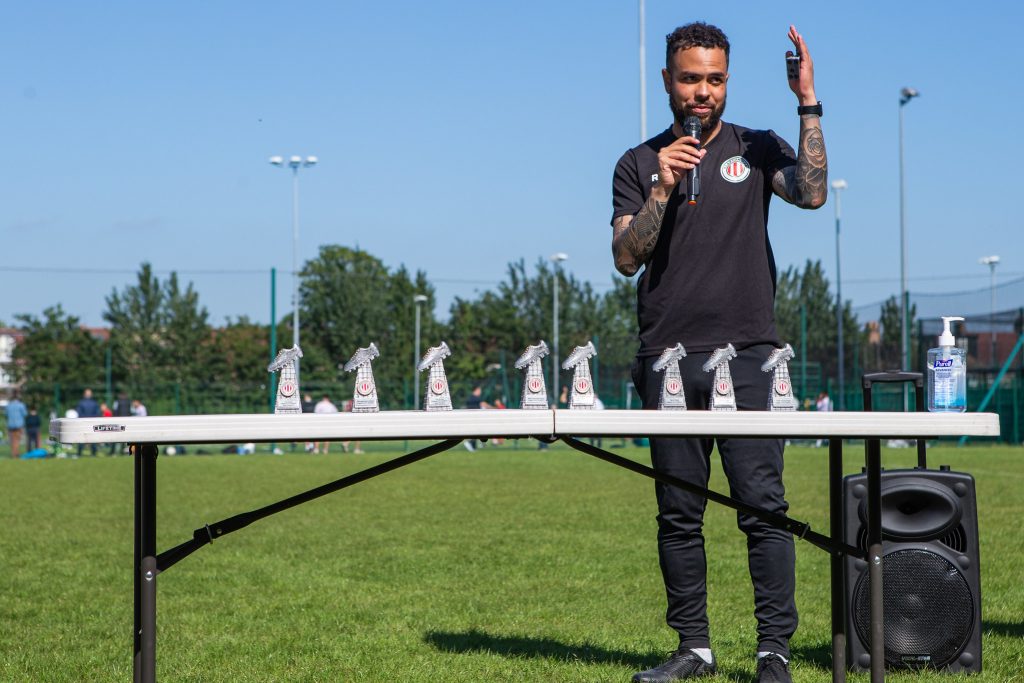 Men's First Team
Fans' Player of the Year – Jack Francis (pictured above)
Fans' Young Player of the Year – Noah Adejokun
Management's Player of the Year – Tafari Nicholas
Management's Most Improved Player – Noah Adejokun
Management's Unsung Hero – Prince Kwakye
Players' Player of the Year – Jake Stevens
Most Player of the Match Awards – Jake Stevens
Most Assists – Jack Francis
Top Goalscorer – Jake Stevens & Noah Adejokun
Women's First Team
Fans' Player of the Year – Polly Adams (pictured at top of the page)
Fans' Young Player of the Year – Larissa Vieira
Management's Player of the Year – Larissa Vieira
Management's Most Improved Player – Bethia Green
Management's Unsung Hero – Maria Mendonca
Players' Player of the Year – Annie Lyons
Most Player of the Match Awards – Larissa Vieira
Most Assists – Emily Link & Larissa Vieira
Top Goalscorer – Emily Link

Here are the results in full for the four awards voted for by members…
Women's First Team Fans' Player of the Year
1 Polly Adams
2 Larissa Vieira
3 Emily Link
4 Marta Boiro
5 Lucy Spours
Women's First Team Fans' Young Player of the Year
1 Larissa Vieira
2 Chelsie Osborne
3 Zhane Amoaten
4 Bethia Green
5 Teju Callisto
Men's First Team Fans' Player of the Year
1 Jack Francis
2 Jake Stevens
3 Joshua Adejokun
4 Julian Austin
5 Geoff Ocran
Men's First Team Fans' Young Player of the Year
1 Noah Adejokun
2 Samba Badjana
3 Fama Sangare
4 Reece Bartholomew
5 Gabriel Bazzarelli Dos Santos
Photos