It's fair to say many Clapton CFC members and players are buzzing for the first game in front of a crowd in 2021 – for 161 days, to be exact – and the largest capacity for well over a year.
There's also a chance we can cheer the team on to lift some more silverware. The maths are simple – if Clapton CFC win, they clinch the Middlesex Super 6 League title. A draw or defeat would leave us with just a small chance, depending on the results of the final game between AEK London vs Sporting Hackney next week.
All 500 home and 25 away fans tickets have been snapped up – though watch out for last minute returns – so it should be a thrilling finale to another stop-start season.
Full match guidelines are below, but a few key pointers first: arrive early; have your ticket reference ready; bring foodbank items if you can; we're bucket shaking for Medical Aid for Palestinians; it's a cash only can bar.
This will be our fifth meeting, but only second competitive match, with Sporting Hackney, with the Tons winning 3 to 1 so far.

The Parrots have been a fixture on the famous Hackney Marshes since 1986 and are the borough's most senior football club.

However, they are soon to be leaving Hackney – just like Hackney Wick did before them – to groundshare at Barking FC's newly revamped Mayesbrook Park and its 3G pitch.

Sporting Hackney will be second tenants, alongside Romford FC, so are likely to play home games on a Friday night, which should be a treat for Tons fans, or perhaps early on Saturdays.

Pre-CCFC Tons fans might recall The Parrots' manager Pete Harrington and assistant Dan Portsmouth from their spell at the Old Spotted Dog, working with then Clapton FC manager, Mike Walther.
They publicly have their minds focused on a promotion next season – and to burst our bubble in this Middlesex Super 6 clash.
Those who have watched our live streams will have seen it's been a different Tons team in this tournament missing some of the big names including Julian Austin (working in Africa), Sherwin Stanley (playing cricket), Jordan Odofin, Lewis Owiredu, Eliot Crosbie and Paul Oshin.
That's given youngsters Noah Adejokun, Fama Sangare and Samba Badjana, plus new signings Arthur Wright and Musa Manneh, more match time, and they've impressed.
Player-manager Geoff Ocran said:
Whenever you participate in a mini-league, the margins for error are very small and having drawn the first game, we knew that anything less than a 100 percent record from then on would leave it out of our hands.

The new players have settled in really well adding a real intensity to our play and it's great to see the development of our younger players who have really stepped up and taken on board the advice from management.

Sporting Hackney are still in contention for the title too so they will have an extra incentive to spoil the party and pursue their own league-winning aspirations. Therefore we need to match them in every department and hopefully our quality should come through on the day.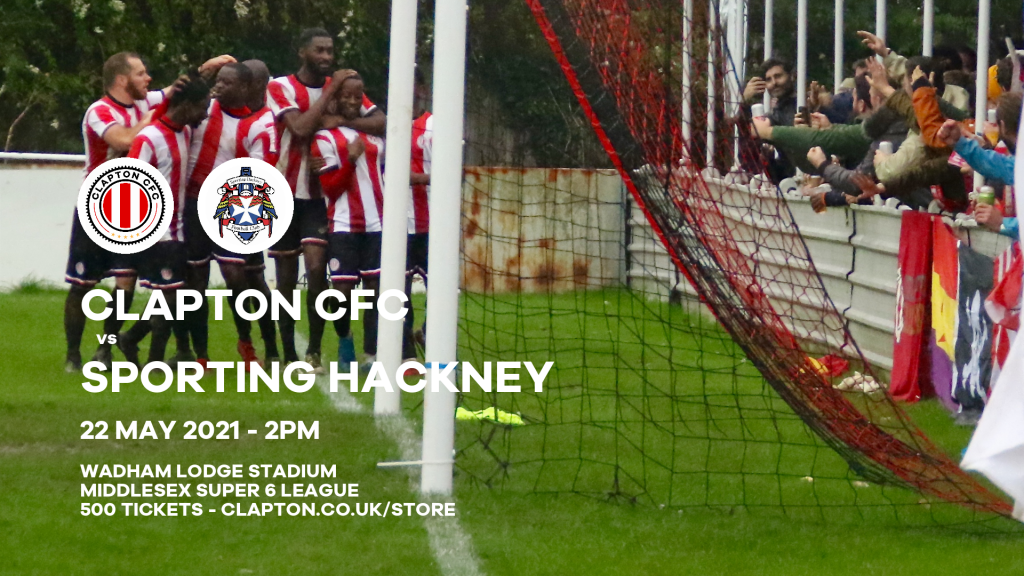 Clapton CFC vs Sporting Hackney is on Saturday, 22 May 2021 at 2pm at Wadham Lodge Stadium, Walthamstow.
Due to ongoing Covid-19 restrictions and our efforts to keep games as safe as possible for everyone present, the match is advance ticket only, with 500 released for home fans and 25 for away fans.
If you're coming, you need to follow our Covid-19 guidelines.
Before the day
Entry is only by advanced ticket from claptoncfc.co.uk/store
There will be a maximum of 500 tickets available for home fans, with a maximum of four per person.
All tickets have been snapped up so far, but watch out for returns being relisted on the store.
The details entered when booking tickets will only be used, if necessary, for NHS Track and Trace.
Entry as usual is free, but with donations welcome. If you wish to donate, you can do so when you book.
Please only book tickets if you are definitely attending the game. If circumstances change and you can't make it, contact us merch@claptoncfc.co.uk for a refund and so we can resell the ticket to someone else.
On the day
Do not attend if you have Covid-19 symptoms
Follow all guidance on travelling and social distancing in getting to Wadham Lodge
Mask up on public transport and ideally at the match too, particularly when passing other spectators and if singing
Kick off is at 2pm but we need you to come as early as possible, any time after 1pm. Remember that entry will take longer.
Please have your ticket order number ready (a print-out, on your phone or memorised) so we can tick you off the list quickly.
We will do a no-contact digital thermometer check when you arrive. Please sanitise your hands there too.
There are QR codes at Wadham Lodge for those with the NHS Covid-19 app to check in.
If you didn't donate when you booked the ticket, you are welcome to chuck a few quid in a bucket at the entrance
We are also raising cash for Medical Aid for Palestinians
We are collecting donations at the entrance for the Magpie Project foodbank, helping mums and under fives in temporary accommodation
There will be a mini matchday programme which is free, but donations welcome
Please make sure you space out 2 metres as much as you can. If you're closer, we strongly encourage you to wear a face mask
You may find it easier to guarantee 2m distance in the open areas rather than the terraces (weather permitting)
The Matchday Centre bar won't be open but their outdoor can bar is in operation – cash only.
There is no ban on singing, flag waving etc.
The toilets can be accessed by the side door in the car park – look out for the signs. If you have access issues, you can go up the ramp into the reception instead. You'll need a mask when indoors.
Please follow the signs and instructions from Clapton CFC matchday volunteers on the day. It's a thankless task and your cooperation will be appreciated.
If circumstances change and you or one of your party can't make it, please contact us at merch@claptoncfc.co.uk for a refund and so we can release another ticket for sale. Even on the day of the game.
The Comms committee will be looking to live stream the game on YouTube for those that can't make it.
Directions
Wadham Lodge is about 20 minutes walk from Walthamstow Central station. Turn onto Hoe Street and follow the road all the way along (past the junction with The Bell pub) until Chingford Lane. Continue past Sir George Monoux 6th Form College and take the first right onto Brookscroft Road then left onto Kitchener Road.
You can catch a bus along that route too. The 357, 34, 97, 215 will all take you to the top of Brookscroft Road from Walthamstow Central. It will take about 12 minutes.
There's also plenty of car parking space available at the ground.