Another great step forward for women's football in east London is being developed by the Super5s League and Clapton CFC are very much part of it.
An 11-aside Clapton team of women's beginners footballers drew an exciting friendly on Sunday ahead of the upcoming launch of a new league.
Our side was drawn from the two 5-a-side teams that play in the midweek Super5League in Mabley Green.
The team were coached by Ellie Guedalla, with fellow coach Julie Leaffy going in goal.

This game against MSA & Frenford FC at the Frenford Club's home ground at The Jack Carter Centre in Ilford was also being filmed by drones for a future promotional video for the up-coming 11-aside league.

Despite the fun and frivolity of the teams running out to aerial surveillance, there was a football match to be played here.

The two sides know each other well from the Flexi-League 5-a side games that have been keenly fought.
Clapton now have two victories to Frenford's one, and CCFC pipped the MSA to the Flexi-league title last season.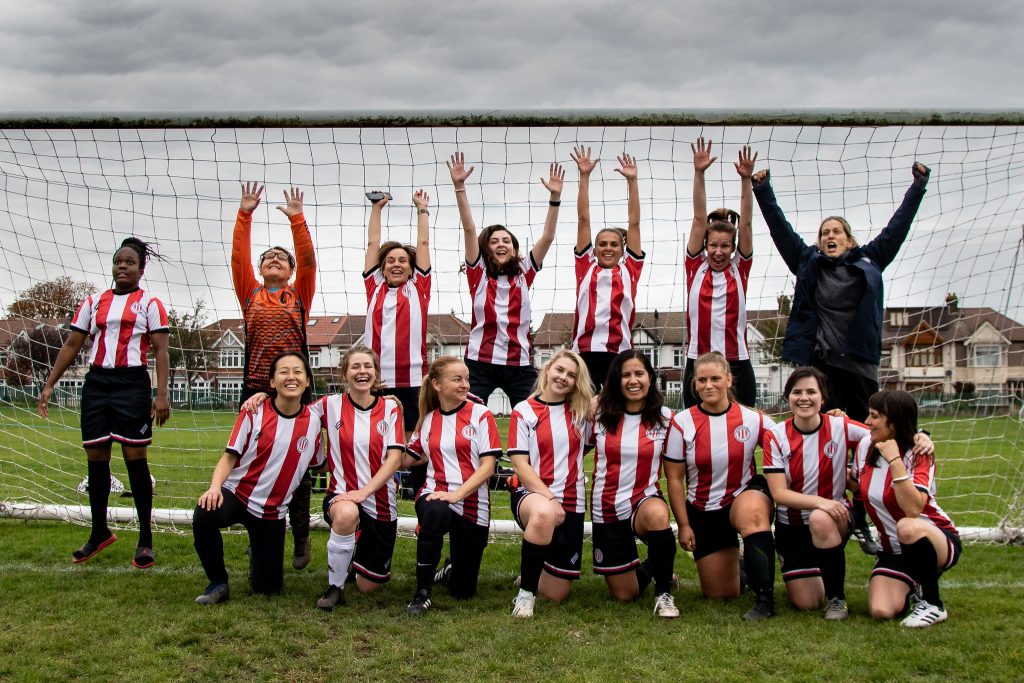 Both teams adapted well to the extra space afforded by the full sized pitch and Frenford threatened first and took advantage of miscommunication in the Clapton defence to take an early first half lead.

A typically inspirational half-time team-talk from Ellie did the trick and Clapton CFC's recent hat-trick scoring Sinead Gunning put the teams level just after the restart.

Pressure from both teams were being successfully repelled until Frenford finally broke through with a looping shot leaving Julie with no chance in the Ton's goal.

But Clapton did not give up and even as the referee indicated a minute left on his watch, Tons/ goal machine Sinead came to the rescue to equalise with the last kick of the game.

A fair result was followed by players being interviewed for the video which will be released in the next couple of weeks.

These two teams will meet again in the new Beginners 11-a-side League. We look forward to many more tussles with our hosts.
Photos