Clapton CFC's online store has now reopened for replica shirts and some other merch.
Please be patient as we're all volunteers and having to take extra precautions to safely fulfil orders.
For more details, and to order, go to the Clapton CFC online store
About the away shirt
Our away shirt story has been a phenomenon that none of us could have predicted.
We were overwhelmed by the support people have shown for the club and our shared values.
In the summer of 2018, the story of our Spanish Republic-inspired away shirt somehow spread around the world.
Over 2,500 men and women from Britain and Ireland travelled to fight with the International Brigades, with more than 500 dying for the cause.
Friends and comrades, particularly in Spain and Britain, started ordering faster than our non-profit manufacturer Rage Sport could make them.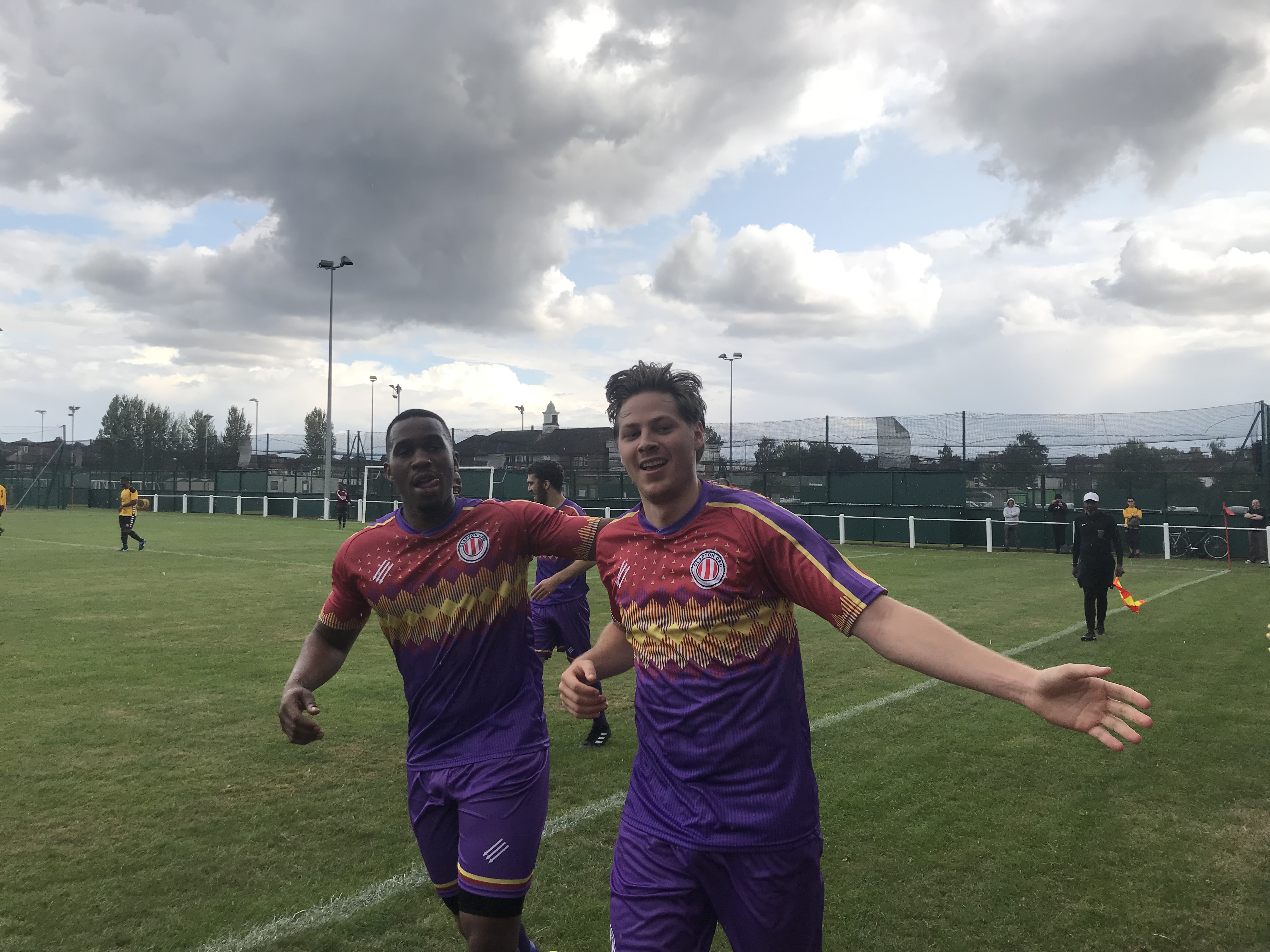 Our unexpected spot in the limelight meant lots of frantic planning, working out how on earth we could process and deliver so many orders.
So we had to shut the online shop for three months while we coped with the first wave of orders.
We also had to rush to register for VAT – we never expected our income to be high enough to need to do so – which forced a £5 rise in price from £25 to £30.
A small core of tired volunteers worked with our manufacturer Rage Sport to fulfil all the orders – and responded to thousands of messages.
Eventually, by January 2019, we had caught our breath and were able to reopen the shop for a short two-month spell.
Many thanks to Rage Sport for bringing our fan-designed, fan-chosen kit to life and fulfilling all these orders.
We have been humbled to hear so many personal stories about the Spanish Republic and the International Brigades. There have been some wonderful links formed through our adopted away colours.
"We're delighted that the shirt highlights the sacrifice made by those who joined the International Brigades, and we are excited that some of the income from the shirts will enable us to work with Clapton CFC on education and memorial initiatives here in the UK," says Jim Jump, National Secretary of the International Brigade Memorial Trust.
The IBMT counts actress Maxine Peake and musician Christy Moore among its patrons.
A huge thank you to the thousands who have bought a shirt, become a member, followed us on social media, or sent us a message.
We hope Clapton CFC can do these colours proud. No pasaran!
Are kits available to buy in person?
Yes, when football returns. You will be able to buy home and away shirts on men's and women's team matchdays only at our temporary home, Wadham Lodge in Walthamstow, East London.
If you live outside of London but have a friend or relative here, you could ask them to come to a game and buy one for you.
How many shirts have Clapton CFC sold?
We've sold over 13,000 now – nearly 1000 home shirts, and over 12,000 away shirts.
This is completely nuts given we only expected to sell around 250 in total.
Around 5,500 shirts were sold online to Spain and 4,500 within the UK.
What will you do with the profit generated?
We will use some of the money to help with the running of the club, which is a community benefit society entirely run by its members, all volunteers. Any significant spending must be approved by a members' vote.
At our last Annual General Meeting, members voted to earmark £4,000 to help the International Brigade Memorial Trust, who work to keep the memory of those who travelled to Spain to fight alive.
We are in discussions with the IBMT and local authorities on a memorial to David Marshall and other British and Irish volunteers who fought with the International Brigades in Spain.
Who are Rage Sport?
They are an ethical company who make all their kits in Italy using responsibly sourced material and make sure all workers in the supply chain are paid properly fairly.
Is there any other way of supporting the club?
Of course – become a member! Then it's your club as much as anyone else's.
All members have a full and equal say on how the club is run, with volunteer committees overseeing day-to-day business. It costs £5 for concessions and £10 waged for a year. You get a members-only pin badge too.
Also – come to our games when they come back. Here's our fixture list.
I have another question
Email merch@claptoncfc.co.uk.