It is with great sadness that we learned of the passing of Iain Hollowell, former committee member and life member of Clapton FC / Clapton CFC.
Iain was a regular at Clapton home and away games rain or shine for many decades, from the late 1960s onwards.
He could be seen standing behind the goal, wearing a Leicester Tigers rugby shirt, with his two young sons, bellowing "Come on you Tons".
Over the next few decades he fulfilled many roles: vice president, reserve team matchday secretary, and club historian to name just a few.
He could often be found at the Old Spotted Dog Ground, marking the pitch, sweeping the dressing rooms, making the tea, plus any odd jobs he could find.
Iain worked for the Docklands Light Railway and even managed to persuade them to become Clapton's shirt sponsor in the late 1980s.
More recently, as one of the three surviving Life Members of Clapton FC, he signed a mandate authorising the re-establishment of the original members club which ultimately led to the formation of Clapton CFC.
In recent months, he handed over his records and statistics to Clapton CFC so that it may be included in the archives housed in the Bishopsgate Institute.
Among the many fascinating Tons memorabilia Iain deposited was the second illuminated scroll, from 1978, marking 100 years of Clapton.
This is still a scorch mark on the scroll from where it survived a fire at the Old Spotted Dog Ground in the 1990s.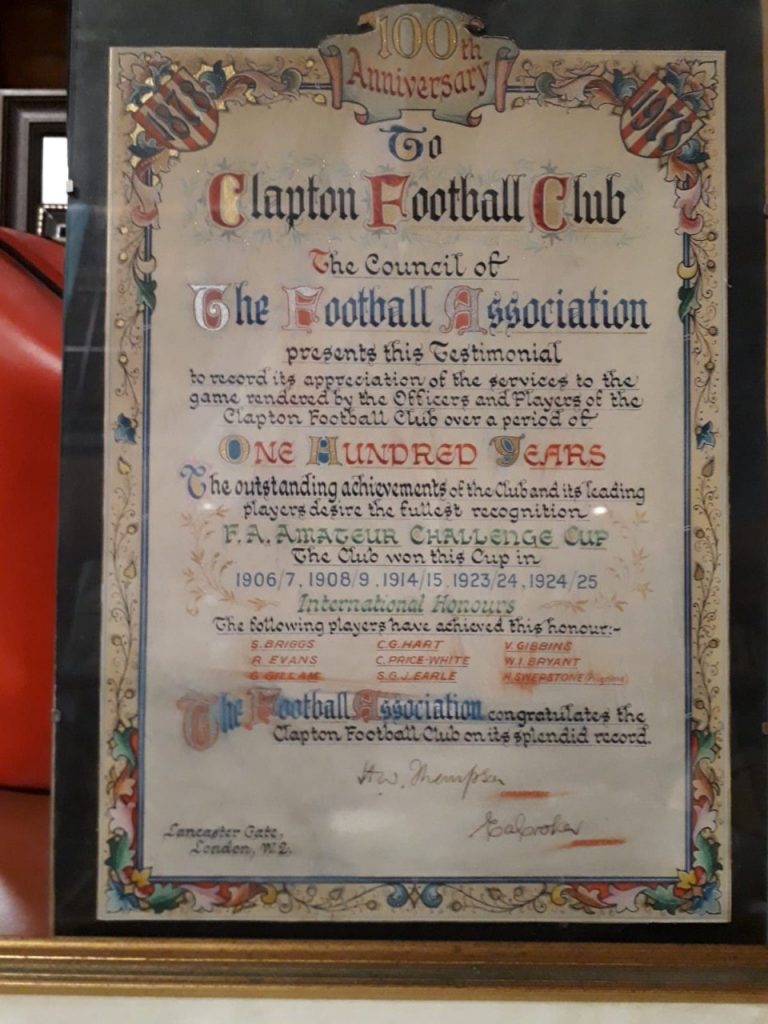 Other items include framed photos, programmes and club administration paperwork, plus his personal scrapbooks.
He was a great Clapton stalwart, fiercely loyal and gave many hours of his time in helping the club through some very hard times.
We could have done with a lot more like Iain and he will live on in our memories.
Our thoughts are with his wife Evie and his family.
Iain will be cremated and has asked that there is no funeral. That was pretty typical of Iain: "No fuss, let's get on with it."
There will be a celebration of Iain's life in due course, when circumstances allow. Clapton people old and new will no doubt want to mark his passing.