Mundial could smell blood.  After two thumping victories over CCFC5s in pre-season friendlies, SCDM may have thought they had this in the bag. They would be mistaken. 
Between those windswept defeats in Autumn 2019 and this icy winter night in late January 2020, much work had been done. 
Coaches Ellie, Julie and Byron had been working tirelessly with the 5s on fitness, positioning, goalkeeping, attacking and avoiding the dreaded foul throw. 
Team spirit was high, after last week's 1-0 victory over Tottenham Hotsnatch (the league's best team name, undoubtedly) the belief had set in – a new cohesiveness and all round tighter play had developed. 
We weren't going to take this lying down. We were out there to give it our best shot.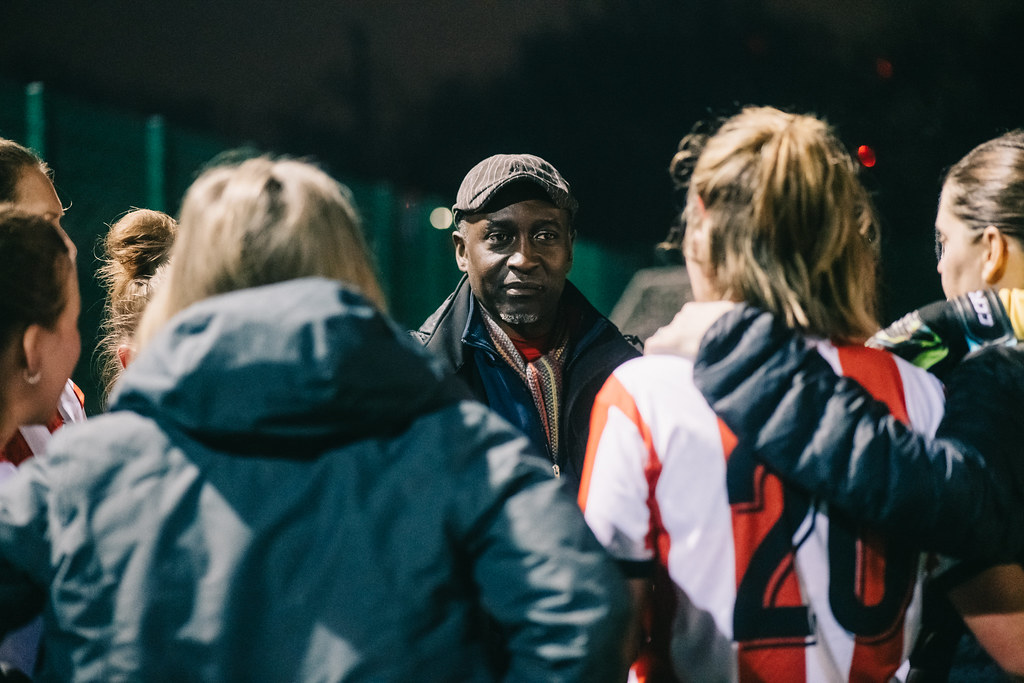 From the first whistle, the Tons dominated play. With captain and goalkeeper Chelsie Sparks commanding from the back and making sure the Tons stayed focussed, we were a team transformed. 
Within 2 minutes, Jess Loughnan had scored our first goal, a close range strike through a mass of bodies. Mundial were shook. 
The Tons continued to push, with our super striker Hana Frances bursting forward and her quick feet evading the opposition, it was only a matter of time before we scored again.
Our defending was tight, with Gabi Monasso and Nadine Croucamp making decisive tackles and runs.
Make no mistake – Mundial weren't going to give this up and forced Chelsie Sparks into some fine saves. Some say she's De Gea in disguise. 
It was down to our Australian Enforcer Jess Loughnan to summon her inner Sam Kerr and smash home an absolute peach of a volley into Mundial's net in the 10th minute.
She defends, she runs down the wings, she holds the ball up in midfield, she scores worldies.  This, is total football.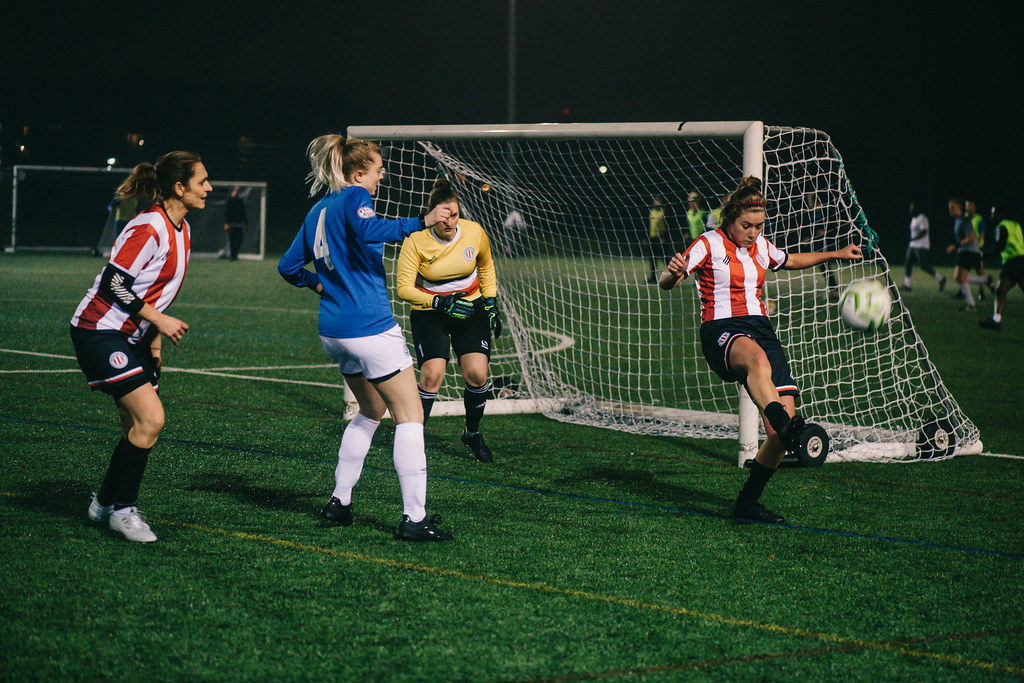 Half time beckoned but there was no slowing down, with keepers being tested at both ends of the pitch.
In the second half, Maylea Ma came on for Hana Frances, in her first run out of the season.
Slipping into wingback position she defended well, particularly when Mundial were given a dangerous free kick just outside of the box.
Our opponents were much more organised in the second half and had a flurry of attacks, but Chelsie played a blinder in goal, and kept Mundial from getting back into the game.
Our last sub, Lucy Rankin, came on for Nadine and immediately set to work firing shots at the Mundial goal, there was no way she was leaving the pitch without scoring tonight.
Dutch Destroyer Gabi Monasso seemed to have rockets in her boots chasing Mundial up the wings and making some superb tackles, keeping us in the game and making sure the ball found its way to Lucy's feet.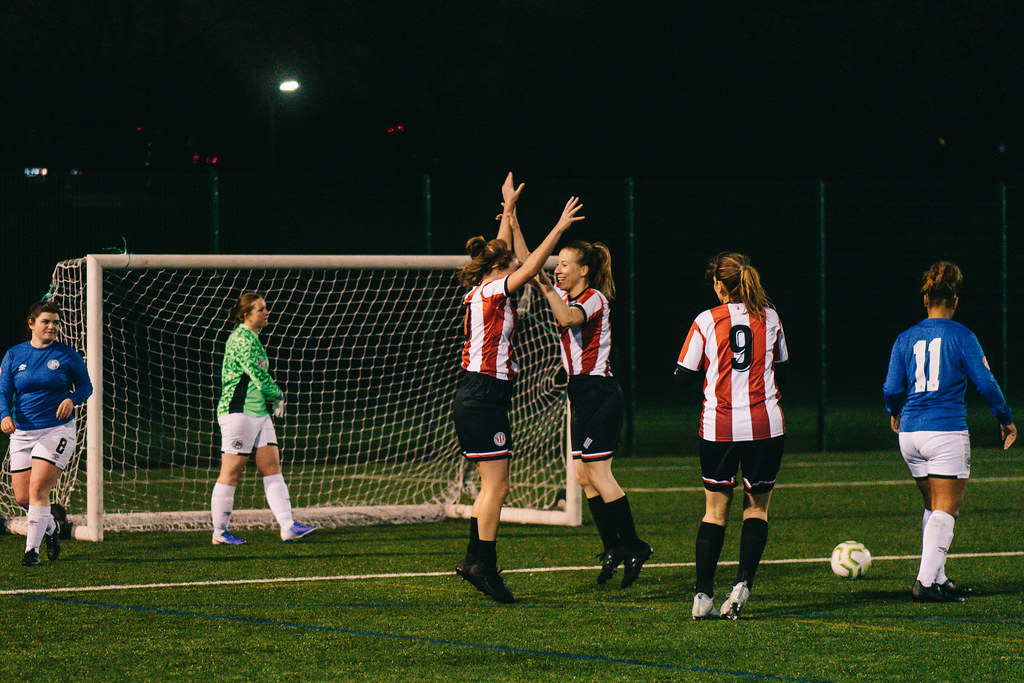 After a few shots on goal, the stars aligned and Lucy was clean through with just the keeper to beat, moments later a stinging right-footed strike was smashed home to bring our score to 3-0. Collective happiness, radical joy.
Mundial fought back, and their hard work paid off as they hit home a consolation goal late on.
We remained focussed defensively and continued to attack until the match was ended prematurely, deep into the second half, due to a Mundial player sadly suffering an awful knee injury – no other player was involved.
Our hearts truly go out to her, no one wants to see this and everyone at CCFC wishes her a speedy recovery. 
Photos
Flick gallery of photos by Annabel Staff.
League table
Super 5 Women's League winter/spring 2019/20 table
| Pos | Club | P | W | D | L | F | A | GD | Pts |
| --- | --- | --- | --- | --- | --- | --- | --- | --- | --- |
| 1 | Clapton CFC 5s | 14 | 9 | 3 | 2 | 37 | 18 | 19 | 30 |
| 2 | Frenford & MSA Women | 14 | 7 | 5 | 2 | 44 | 30 | 14 | 26 |
| 3 | Sporting Club de Mundial | 14 | 7 | 4 | 3 | 39 | 22 | 17 | 25 |
| 4 | Islington United | 14 | 7 | 4 | 3 | 43 | 27 | 16 | 25 |
| 5 | Tottenham Hotsnatch | 14 | 5 | 4 | 5 | 34 | 31 | 3 | 19 |
| 6 | Todo Ciudad | 14 | 4 | 5 | 5 | 22 | 25 | -3 | 17 |
| 7 | Goal Diggers FC | 14 | 2 | 2 | 10 | 13 | 39 | -26 | 8 |
| 8 | Hackney Parrots | 14 | 1 | 1 | 12 | 13 | 53 | -40 | 4 |