Unfortunately the men's team's game against London Samurai Rovers has been postponed. The pitch is declared waterlogged after a 9:30 inspection.
Clapton welcome London Samurai Rovers, arguably the promotion favourites, to the Wadham Lodge Stadium for a crunch league clash.
2020 has started off with a pair of unsatisfactory 2-2 draws Unfortunately the men's team's game against London Samurai Rovers has been postponed. The pitch is declared waterlogged after a 9:30 inspection.for the Tons. This Saturday will see them try to get back to winning ways, against familiar but formidable opposition.
Promotees making a mark
This will be the sixth time that the two teams have met, having battled it out for the title last season. The Tons eventually sealed top spot on the last day of the season, but Samurai would have romped home were it not for a heavy points deduction.
The record between the teams so far is three wins for CCFC, one for Samurai and one draw, with an even nine goals apiece.
At our last meeting, in November, the Tons grabbed a 3-1 win to inflict Samurai's first defeat this term. After scoring early, Clapton controlled the game in what was probably their top performance of the season so far.
Since then, Samurai have beaten CB Hounslow United Reserves and drawn with Yeading Town in the league.
The Japanese-heritage side, who play their home games at Northwood FC's stadium near Ruislip, currently sit third in the MCFL Premier League.
The two teams will meet again in the semi-final of the Alec Smith Premier Division Cup in March.
Manager Masakatsu Shibasaki enjoyed the experience – if not the result – in November. He's expecting another hotly-contested match this Saturday.
"The last game against Clapton was a good one and the atmosphere created by the supporters was awesome. We believe that both Clapton and Samurai are making this league more exciting" he told us.
With no competitive games scheduled over recent weeks, Samurai have been keeping themselves sharp with a couple of friendlies. They drew 2-2 away to London Tigers and beat Chelsea Rovers 6-3, both away.
Match information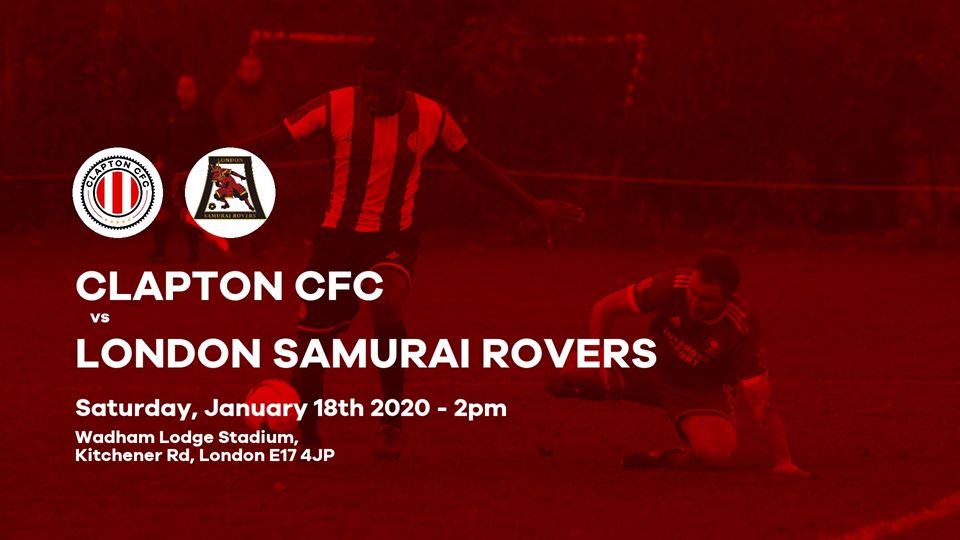 The game is scheduled for 2pm Saturday January 18th 2020. But please note that with the weather forecast looking decidedly dodgy, there is a chance of postponement.
Please check our Twitter for confirmation one way or the other before travelling. That will likely be posted before 10am.
The Wadham Lodge Stadium has covered seating and both covered and uncovered standing.
Entry is free, but we welcome donations, with a suggested £3 for waged adults.
We have a range of merch on sale at all home games, including shirts, scarves, mugs, stickers and the newly-available training tops.
Our full-colour matchday programme will be on sale for £2. There's a different cover artist each time.
Fusion Foods will be selling hot food at the entrance. They will have meat, veggie and vegan options and accept cards or cash.
Our landlords Matchday Centres run an outside can bar and a full bar inside.
Magpie Project collection
At each game we collect food and toiletries for our charity partner, the Magpie Project. They support mums and young children who live in temporary and emergency accommodation.
If you have any of these to spare, please bring them to our collection point at the entrance:
● Toothpaste ● Toothbrushes ● Shower gel ● Shampoo ● Soap ● Deodorant ● Bags of rice ● Bags of pasta ● Breakfast cereals ● Washing powder
Directions
Wadham Lodge Stadium is about 20 minutes walk from Walthamstow Central station. Turn onto Hoe Street and follow the road all the way along (past the junction with The Bell pub) until Chingford Lane. Continue past Sir George Monoux 6th Form College and take the first right onto Brookscroft Road then left onto Kitchener Road.
You can catch a bus along that route too. The 357, 34, 97, 215 will all take you to the top of Brookscroft Road from Walthamstow Central. It will take about 12 minutes.
There's also plenty of car parking space available at the ground.
Any more questions? Email comms@claptoncfc.co.uk.