Unfortunately, the game has been postponed after a pitch inspection on Saturday.
Our women's team make the shortest trip of the season to Islington Borough Ladies looking for quick revenge for the 4-3 defeat just three weeks earlier.
The Stray Dog clash was a muddy battle of attrition enlivened by two superb free-kicks of midfielder Ciara Monahan and the return from injury for Emily Link.
Islington play their home games at St Aloysius Playing Fields, part of the college less than five minutes' walk from Highgate station.
They are familiar opponents to our team from back in their AFC Stoke Newington days.
The IB women's team played in the GLWFL Division 2 North during 2017/18 and were promoted after a successful season.
A mid-table finish last season (18/19) shows the strength and depth they have as a squad at this level.
Islington Borough now sit comfortably in third place in Division One so it will be a big task to take the points.
However, a 6-1 defeat at home by Dulwich Hamlet Reserves shows they are beatable.
Match information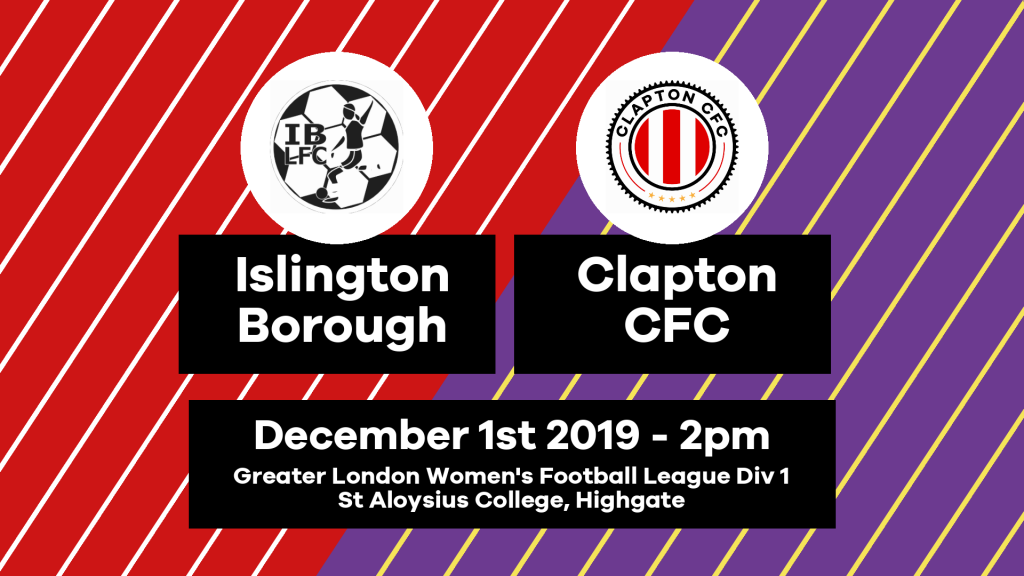 Islington Borough vs Clapton CFC is at 2pm on Sunday, December 1st at St Aloysius Playing Fields, Hurst Avenue, Highgate, N6 5TX
The venue is part of St Aloysius College, which is less than five minutes' walk from Highgate station, Zone 3 on the Northern Line.
Other details to follow.
Any more questions? Email comms@claptoncfc.co.uk, Join the Facebook event here.