The Tons men's team play only their second Saturday home league game of the season against CB Hounslow United Reserves on October 26th.
After two wins in a row – including that amazing 5-2 comeback against Stonewall FC in front of 909 people for Non-League Day – Geoff Ocran's team are looking to put a run together
Our visitors, known as The Dragons, have 32 teams starting at Under 6 level right through to their first team who play in the Combined Counties Football League Division 1.
They also reach out to the wider community with netball, basketball, archery, cycling and running clubs all using their site at their newly-built ground, Green Lane.
Their first team joined the Middlesex County Football League in 1994 and progressed through the divisions and beyond to reach the Combined Counties League Premier, Step Five on the football pyramid.
Meanwhile their reserve team has been in MCFL for 20 years too and in the Premier Division since 2014.
Typically finishing mid-table, last season CB Reserves had a very good showing, finishing in fourth place.
Having lost several of their players – the usual fate for a successful reserve side – this season has been tougher.
The club currently are just below CCFC on goal difference with two wins so far came against PFC Victoria and Lampton Park.
And the CB? That stands for Cater Bank, a company owned by their former chairman's dad. It's stuck ever since.
Ocran said:
Two wins on the bounce and confidence in the camp is high.

As we are unbeaten at home I think we need to continue that run considering how many away games we have had already.

The league is still relatively tight so if we can put a run together, then we should comfortably climb into the top half and close the gap on the top teams.
Match information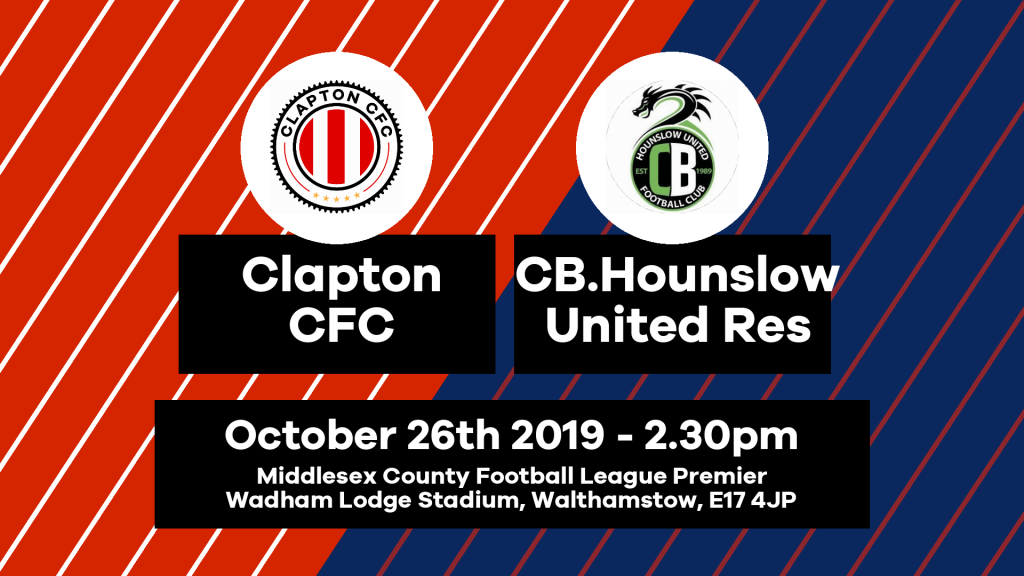 The game takes place on Saturday, October 26th 2019 at 2.30pm at Wadham Lodge Stadium, Kitchener Road, Walthamstow, E17 4JP.
There's covered seating and both covered and uncovered standing.
Entry as always is free, but we welcome donations, with a suggested £3 for waged adults.
We have a range of merch on sale at all home games, including our away shirts.
Our full-colour matchday programme will be on sale for £2. There's a different cover artist each time.
Fusion Foods will be selling hot food at the entrance. They will have meat, veggie and vegan options and accept cards or cash.
Our landlords Matchday Centres run an outside can bar and a full bar inside.
Magpie Project collection
At each game we collect food and toiletries for our charity partner, the Magpie Project. They support mums and young children who live in temporary and emergency accommodation.
If you have any of these to spare, please bring them to our collection point at the entrance:
● Toothpaste ● Toothbrushes ● Shower gel ● Shampoo ● Soap ● Deodorant ● Bags of rice ● Bags of pasta ● Breakfast cereals ● Washing powder
Directions
Wadham Lodge Stadium is about 20 minutes walk from Walthamstow Central station. Turn onto Hoe Street and follow the road all the way along (past the junction with The Bell pub) until Chingford Lane. Continue past Sir George Monoux 6th Form College and take the first right onto Brookscroft Road then left onto Kitchener Road.
You can catch a bus along that route too. The 357, 34, 97, 215 will all take you to the top of Brookscroft Road from Walthamstow Central. It will take about 12 minutes.
There's also plenty of car parking space available at the ground.
Any more questions? Email comms@claptoncfc.co.uk.