Clapton Community FC are honoured to be the opponents for Barkingside FC's 120th season anniversary match.
Barkingside formed in 1888 and played in local leagues for the first few decades before moving post-war to the London League, the Spartan South Midlands League and the Essex Senior League.
Along the way they've won the London Senior Cup, the London League Cup, the Gordon Brasted Trophy and the Essex Senior League Cup, twice. Their record attendance is 957 vs Arsenal Reserves.
In 2012/3 they reached the Ryman League One North, Step 4, for the first time ever, staying there for three seasons before relegation back to the ESL.
This of course will be the first meeting between Barkingside and Clapton CFC – and amazingly, Barkingside and Clapton FC never actually met in a league game until 2006, when they were finally in the ESL at the same time.
However, many Tons fans will have fond memories of visits to their current home, the Cricklefield Stadium, in recent years.
'Side's chairman Jimmy Flanagan was always a strong supporter of the Clapton Ultras, both publicly and privately.. In turn, the Tons fans turned up in numbers with crowds of 323 and 273 in the last two seasons.
This season, Barkingside are deep in the ESL relegation mire with five games left to play. They currently sit bottom of the table, 13 points off third-from-bottom Southend Manor. However, the 'Side are only a point behind Leyton Athletic, and finishing second bottom may be enough to save them.
Former Tons manager Mike Walther started the season in charge of our hosts, before moving one step up the pyramid to Basildon United and now over to FC Romania, two more clubs many Tons fans know well.
New manager Alex Goldstone is also the director of football of Bostik League side Romford and has brought in a whole new squad in a bid to dig the 'Side out of trouble.
The game will take place under the floodlights at Cricklefield, which was built in 1925 as an athletics ground. It still has its track but is now more well known for football. Ilford moved into it in 1993 and Barkingside followed in 2014.
CCFC player-manager Geoff Ocran said: "We would like to thank Barkingside side for inviting us to celebrate their 120th anniversary.
"For any club at any level to reach such a milestone is a great achievement. Hopefully it's not too long before this could be a league fixture. "
Match information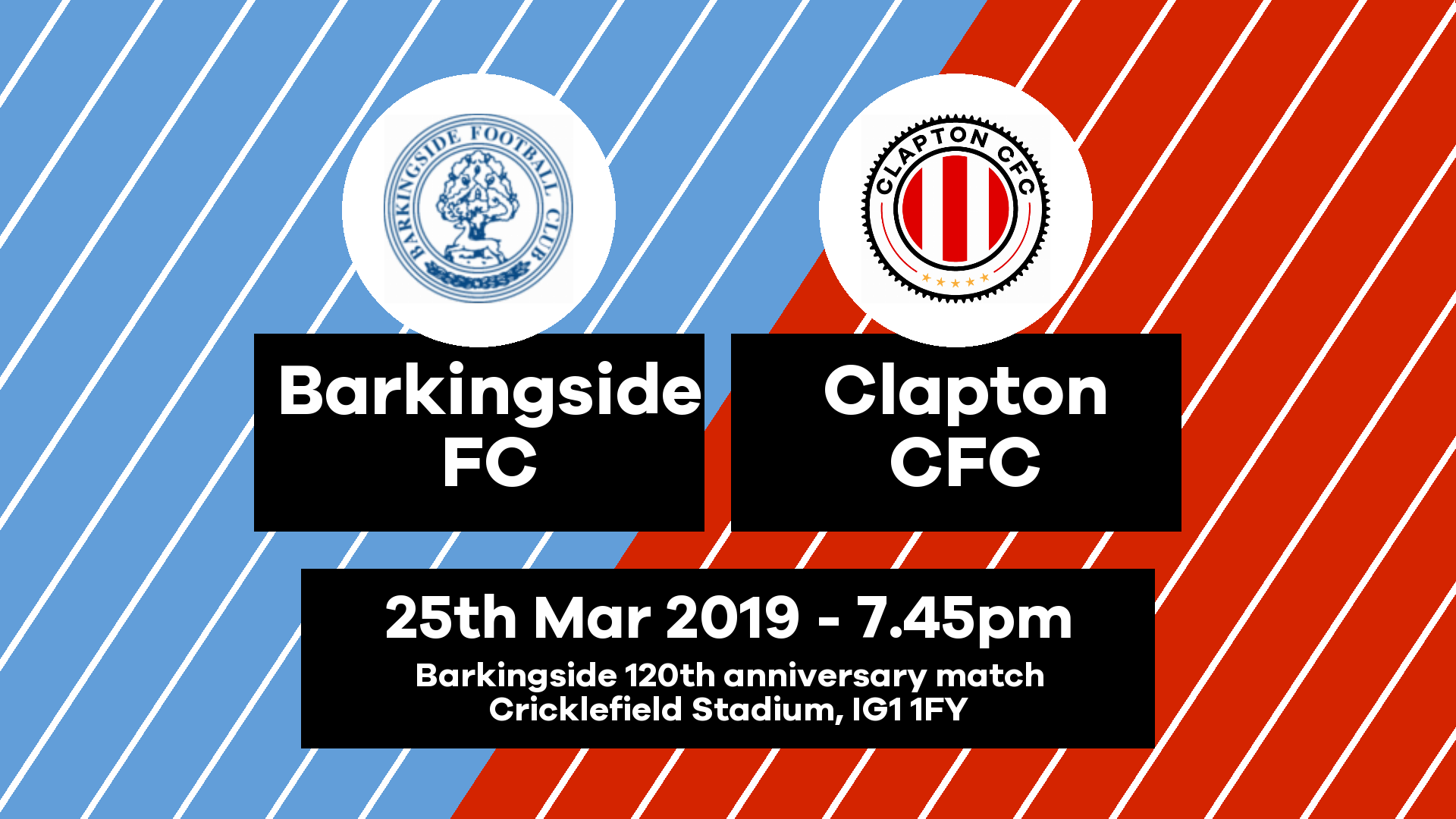 It's £5 admission. A special matchday programme is being issued, priced at £1.50.
Cricklefields Stadium is found on Ilford High Road, opposite the Cauliflower pub (unfortunately that's currently closed again due to a fire).
The nearest station is Seven Kings, less than ten minutes' walk away. It's on the Liverpool Street-Shenfield overground line, with direct services from Forest Gate and Stratford too.
There is free parking at the ground in the car park. Postcode for your satnav is IG1 1UD.
Barkingside FC vs Clapton CFC is on Monday, March 25th at 7.45pm, at Cricklefield, Admission is £5. Programme will be available for £1.50. Join the Facebook event here.