Fancy lacing up your boots…and taking to the pitch in our famous purple, red and yellow jersey?
We are looking for members who would like to represent CCFC in a fan tournament in celebration of International Women's Day.
The event is organised by Girls United and Peckham Town for the 10th of March, in the Menace Arena, Dulwich.
Drop info@claptoncfc.co.uk an email if you'd like to play. We'd love to field both a women's and a men's 5-a-side team.
It's all about having fun, so players of any ability level would be welcome!
Aside from the football, there will be activities to keep the kids occupied while the games are taking place.
The Menace Cafe and Bar will be open all day, selling food as well as soft and alcoholic drinks. Beers from the local Brick Brewery will be available.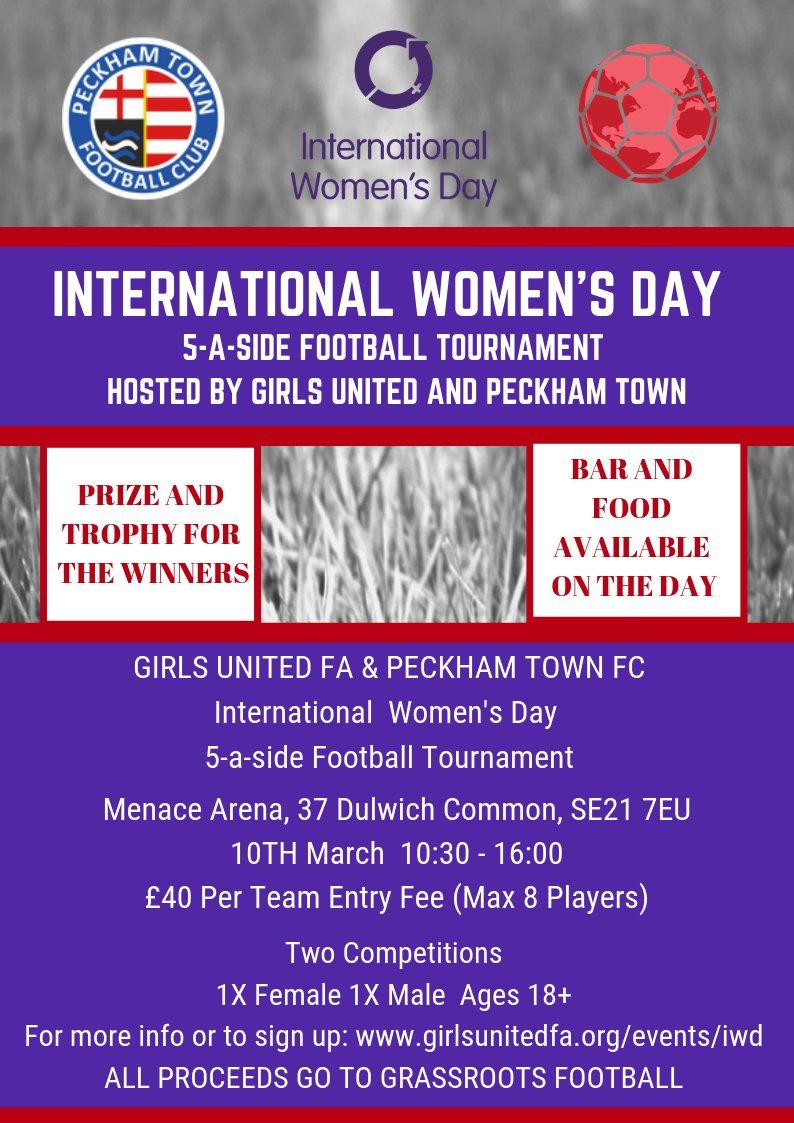 Girls United are a non-profit organisation who offer the chance for girls in low-income areas to play football in a safe place.
They also aim to use football as an opportunity to coach leadership and life skills, which will benefit the girls outside of football.
Find out more about the tournament and the brilliant work of Girls United here: www.girlsunitedfa.org/events/iwd – and on Twitter @girlsunitedfa.
Peckham Town have been on the go since 1982 and run a staggering twenty-one different teams.
You can find more info on them at www.peckhamtownfootballclub.com and @PeckhamTownFC on Twitter.
DATE: March 10th, 2019
LOCATION: Menace Arena, 37 Dulwich Common, SE21 7EU
TIME: 10:30am – 4pm
CATEGORIES: Women's (18+) and Men's (18+)
TEAMS: 5-a-side, max 8 players per squad.
KIT: The tournament will be played on grass, therefore appropriate footwear must be worn. This means moulded football boots or suitable trainers. You will not be allowed to play with blades. Shin pads must be worn.