After last weekend's cup win over Deportivo Galicia London Reserves, the Tons are heading back out west for a league clash with London Samurai Rovers FC.
This Saturday's opponents took their current form just this year, after a merger of two Japanese heritage sides: London Samurai and JL Rovers. 
They currently play their home games at London Tigers FC's brand spanking new ground in Spikes Bridge Park in Southall.
Pacesetters
Samurai have started the season in explosive fashion near the Middlesex County League Division One East and Central table, albeit having played two more matches than Clapton.
Along the way they have racked up thumping wins over The Curve and Wilberforce Wanderers, 4-0 and 5-0 respectively.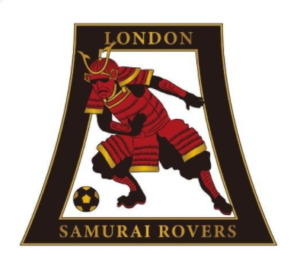 Rovers have also defeated hotly-tipped NW London and Stonewall to stake their claim to being the league's team to beat.
Indeed, their only dropped points so far have come in a narrow 3-2 loss away to Eastfield.
Samurai are also making good progress in the Jim Rogers President's Cup.
In fact, they will be taking on Clapton again in the quarter finals, having already knocked out Alpha & Omega and league rivals Eastfield (that's two teams by the way, not three).
Manager Hideyuki Miyahara told us:
Having now played eight matches and done lots of work in training, we are really coming together as a team. We have learned lots, even from the game we lost and are getting better and stronger all the time. We think this weekend is a really important match and will do our best to win.
Friendly fire
This will not be the first meeting between the two sides. A pre-season friendly on the 3G pitch next to the Stray Dog ended in a 1-0 Clapton victory. 
However, the scoreline doesn't tell the whole story. A classy Samurai side – described by Tons assistant manager Stu Purcell as 'playing a lot of tippy-tappy football' – dominated on that occasion.
Only goalkeeping heroics from Vlad Bendovskyy and sub Dan Anfossy (as well as some slack finishing) kept Clapton in the game. Eliot Crosbie drilled in a late winner.
Reflecting on last week's fine win at Deportivo Galicia Reserves, Ocran said: "It was a professional win last weekend.. I was able to rotate slightly and the strength of squad was evident in the result.
"We played our way into the game and the turning point was the red card despite a few contentious decisions (the less said the better). But another 4 goals away from home and into the QF of another cup sounds like a good away day to me."
Saturday's match will serve as a good marker for how far these two teams have come since then. It will also be a test of how seriously they can be considered as title contenders.
Ocran added: "London Samurai will be another stern test having locked horns in pre season. They are a good technical side who have a similar playing philosophy to ourselves.
"We have a few missing this week due to injuries and commitments outside of football but we do have a squad which we believe in and we have no qualms bringing them into the match day squad.
"It's vital we stay within touching distance of the teams at the top. Our success in the cup competitions leaves us with games in hand so we have the chance to get back in the mix and make the table look more healthier from our perspective."
London Samurai Rovers FC vs Clapton CFC is on Saturday, November 24th at 2pm. Spikes Bridge Park, Spikes Bridge Road, London UB1 2AR. Admission is free. Join the Facebook event here.