Occasionally in football, a draw can feel like a win, a win can feel like a defeat and there's even a case to put a positive spin on the odd defeat.
Rarely, though, can you come away from a 5 – 0 loss with any sense of accomplishment.
Saturday's trip to the Essex coast provided that very scenario for Clapton. The players came through a gruelling fitness test against a Holland side two divisions higher and much further progressed in terms of preseason..
This weekend we take the extremely narrow hop over to Stratford to play West Essex at the London Marathon Community Track.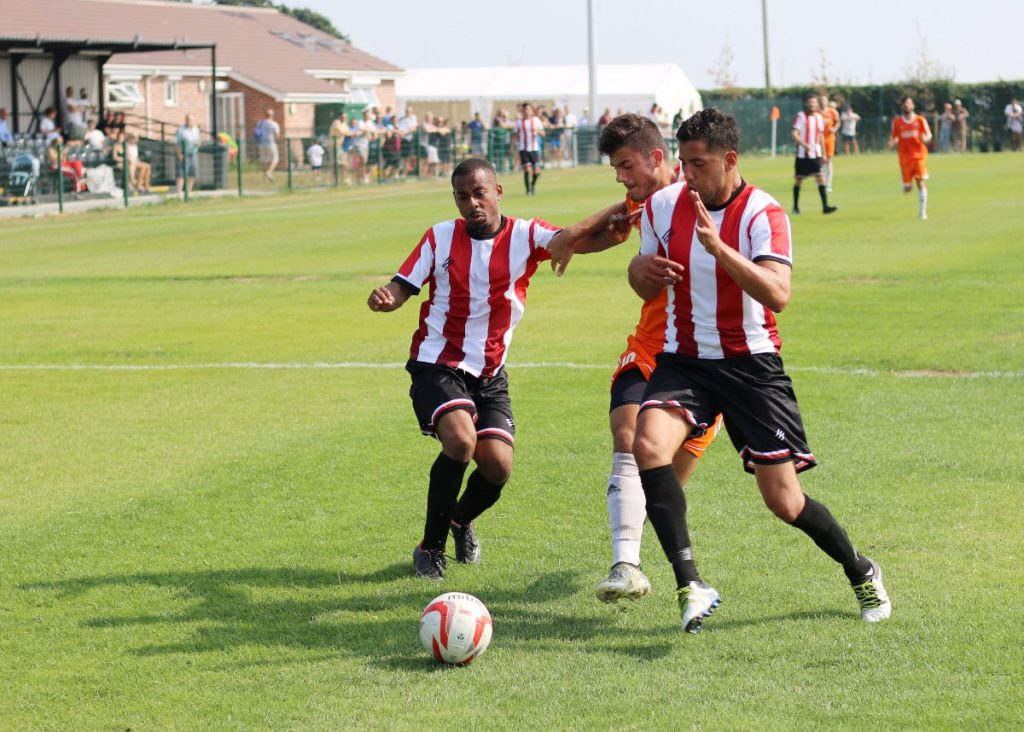 If the Holland game was mostly about fitness, our Sunday opponents from the Essex Senior League should represent a further step up in quality.
West Essex finished a very respectable 7th in their debut season in the ESL, having gained promotion directly from the Middlesex Counties Football League.
Clapton, on the other hand, have virtually no previous form to go from, with just a few training sessions under the players' belt so far.
Romelle Pile was arguably our stand out performer from Saturday; The right-back made at least three crucial interventions, covering a defence that had two colleagues playing out of position at the back.
The Tons will undoubtedly be stronger this week, however, with more players to pick from and a further training session in which to gel.
Geoff Ocran told us: "We still have a few players to look at so there will be a few changes to the squad."
The gaffer added: "Saturday was a good eye opener for some of our players regarding the fitness levels and consistent decision making needed to play at that level."
Situated (literally) in the shadow of West Ham United's London Stadium, the Community Track should provide both teams with easier playing conditions.
West Essex general manager, Dan Reading, said his team has also been feeling the heat.
He told us: "All our opponents have pushed us hard and the performances have been good despite the challenges of playing in what might turn out to be the hottest summer in 4 decades"
Dan went on to tell us that his squad has survived the usual Step 5 summer merry-go-round and have managed to recruit in areas they needed to strengthen.
"We can't wait to get started now and we're absolutely delighted that we'll be signing off preseason against Clapton CFC.
"We'll miss seeing those fans in the ESL, so it's great to have the chance to say farewell and wish them success in the MCFL which is a competition we obviously have very fond memories of."
Despite the result at Holland, there were a few stand-out performances, with Elliot Crosbie among those who caught the eye for Clapton.
A surer back line should provide Geoff Ocran's midfielders and forwards the additional time and assurance to get forward with more confidence.
It's likely the manager will be looking more toward performances than the result, but the chance to go up against a quality Senior side in West Essex will be enough incentive for everyone to step up build on last week.
Geoff added: "It will be another test and another chance for the players to play in front of the fans."
* West Essex play Clapton CFC on Sunday, July 29 at the London Marathon Community Track, E20 2ST. Kick off is 1pm. Entry is £5, under 16s free.
The ground is serviced by a number of nearby stations, including Stratford, Stratford International, Pudding Mill Lane and Hackney Wick.
As with the Mile End Stadium, there won't be refreshments within the site, but there are plenty of pubs, cafes and restaurants nearby.