And the winners of the Football Supporters' Association #LockdownHeroes award for non-league are… Clapton CFC!
We're humbled that the FSA jury picked us for the award in recognition of our Hardship Fund, Clapton Against Coronavirus.
This trophy was won by all our members. They wouldn't fit in a photo even if we didn't have social distancing. Hundreds of them live in countries all around the world.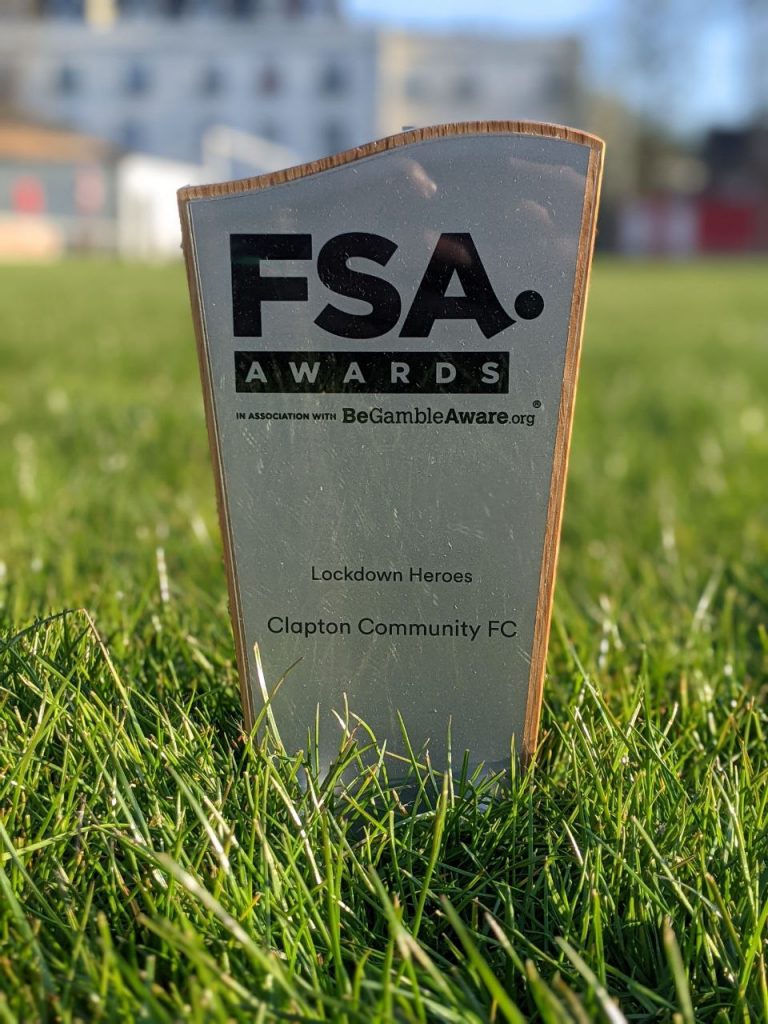 The idea of the scheme is simple. Members who can afford it pay in, those who need some short-term cash can take out. Since March 2020 over £12,000 has been donated and distributed.
The club has also given away hundreds of free face masks to local schoolteachers and charities.
Our special thanks go to the members who devised and run the scheme, everyone who has donated and everyone who spread the word and helped make a success of the fund. We hope it made a difference.
The hardship fund is still active, and if you are fortunate enough to be in a position to help bolster it, the gofundme page to donate is here.
Members watching our live streams of behind closed doors games may wish to donate the money they would have spent attending a game.
For more information on the fund, including how to request funds, click here.
Our fellow nominees were Gosport Borough FC for their 'Feed A Family In Need' project and FC United of Manchester's FoodHub, both making a difference to their local communities.
Other award winners included Marcus Rashford, Dons Local Action Group and Fans Supporting Foodbanks.
It's great that the FSA recognises efforts like these and we're proud to be mentioned, let alone to win such an honour.
For the full list of award winners, see the FSA website.