The first international online FIFA tournament for fan-owned and antifascist clubs all-around Europe takes place this weekend.
Two players each for eight fan-owned football clubs from six different countries will contest the inaugural Alerta Cup this weekend live on Twitch.

There will be teams representing Quartograd, Borussia Leer, Futbalova komunita Kozmos, IFC Rostock, Independiente de Vallecas, NK Zagreb 041, St. Ambroeus and, of course, Clapton CFC.
The tournament is being held as a fundraiser for SeaWatch and their amazing work on the front lines of Europe's refugee crisis. If you can, please donate here via Betterplace.

The matches will take place on the evening of Saturday, 6th and Sunday, 7th of March and you can watch the live stream on the Alerta Cup Twitch page.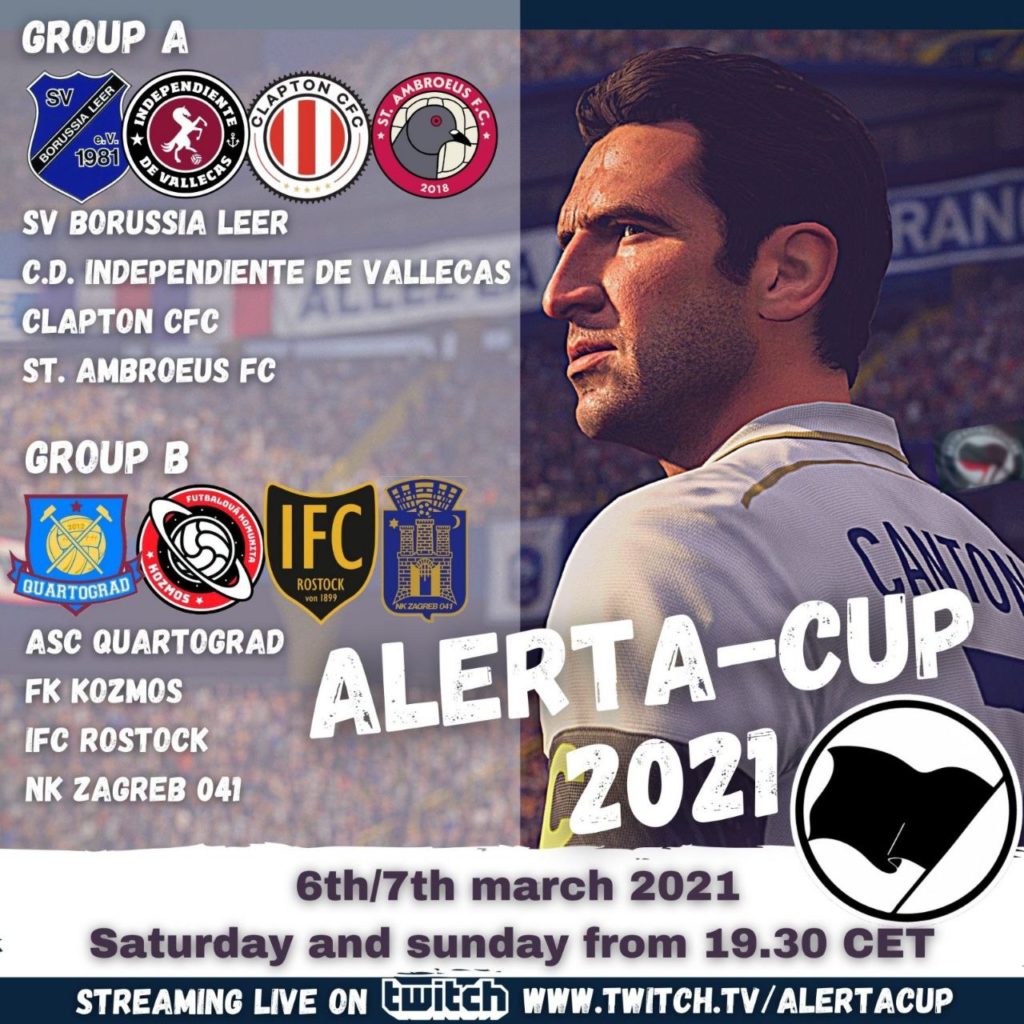 Group A
1 SV Borussia Leer
2 C.D. Independiente de Vallecas
3 Clapton CFC
4 St. Ambroeus
Group B
1 ASC Quartograd
2 Futbalová komunita Kozmos
3 IFC Rostock
4 NK Zagreb 041

The fixture list
SATURDAY
~ 19:30

Group A 
P1 vs P1 Borussia Leer against CDI Vallecas
P2 vs P1 Clapton against St. Ambroeus 
Group B
P1 vs P1 Quartograd against FK Kozmos
P1 vs P1 IFC Rostock against Nk Zagreb
~ 19:50
Group A 
P2 vs P2 Borussia Leer against CDI Vallecas
P1 vs P2 Clapton against St. Ambroeus

Group B
P2 vs P2 Quartograd against FK Kozmos
P2 vs P2 IFC Rostock against Nk Zagreb

~ 20:15 
Group A
P1 vs P1 Borussia Leer against Clapton
P1 vs P1 CDI Vallecas against St. Ambroeus
Group B
P1 vs P1 Quartograd against IFC Rostock
P1 vs P1 FK Kozmos against Nk Zagreb
~ 20:35
Group A
P2 vs P2 Borussia Leer against Clapton
P2 vs P2 CDI Vallecas against St. Ambroeus
Group B
P2 vs P2 Quartograd against IFC Rostock
P2 vs P2 FK Kozmos against Nk Zagreb
~ 21:00 
Group A
P1 vs P1 Borussia Leer against St. Ambroeus
P1 vs P1 CDI Vallecas against Clapton
Group B
P1 vs P1 Quartograd against Nk Zagreb
P1 vs P1 FK Kozmos against IFC Rostock
~ 21:20
Group A
P2 vs P2 Borussia Leer against St. Ambroeus
P2 vs P2 CDI Vallecas against Clapton
Group B
P2 vs P2 Quartograd against Nk Zagreb
P2 vs P2 FK Kozmos against IFC Rostock
SUNDAY
SEMIFINAL 1
19:30 P1 vs P1 Winner group A vs. 2nd place group B
19:50 P2 vs P2 Winner group A vs. 2nd place group B
SEMIFINAL 2
20:15 P1 vs P1 Winner group B vs. 2nd place group B
20:35 P2 vs P2 Winner group B vs. 2nd place group B
FINAL
21:00 P1 vs P1 Winner semifinal 1 vs. Winner semifinal 2
21: 20 P2 vs P2 Winner semifinal 1 vs. Winner semifinal 2