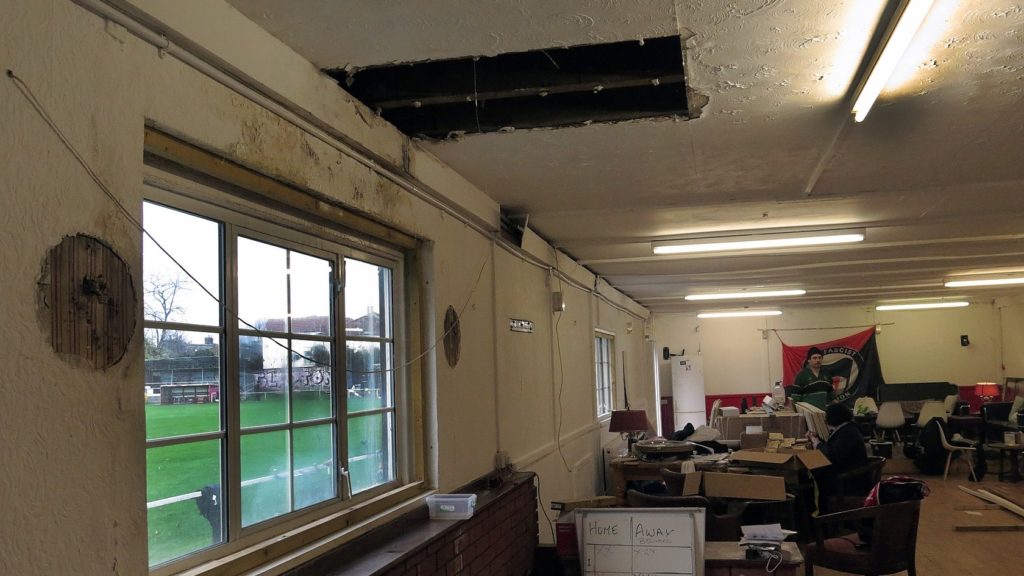 Clapton CFC und der Old Spotted Dog Ground Trust haben einen dringenden Spendenaufruf gestartet. Der Sportplatz braucht ein neues Dach im Wert von 15.000£.
Der von Mitgliedern geführte Clapton Community Football Club ist seit Juli Eigentümer des Old Spotted Dog Ground.
Ziel ist es, den ältesten Fußballplatz Londons so zu renovieren, dass sowohl die Herren- als auch die Damenabteilung die Saison 2021/2022 in unserem alten, neuen Zuhause beginnen können.
Der Sportplatz hat über die letzten zwanzig Jahre hinweg wenig Pflege erhalten, so dass freiwillige Helfer in den vergangenen Monaten viel getan haben, um den "OSD" auf Vordermann zu bringen.
Vieles wurde durch harte Arbeit erledigt, allerdings sind andere Aufgaben, wie die Überarbeitung des Platzes, mit hohen Kosten verbunden.
Diese Kosten wurden soweit von Vereinsseite gedeckt, jedoch haben wir jetzt eine dringende Bitte.
Wo ist das Problem?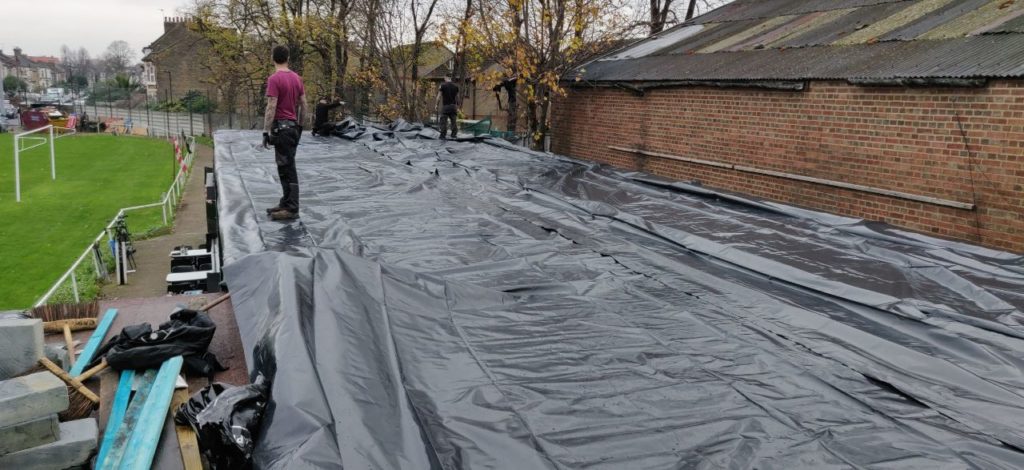 Vor der Übernahme des Old Spotted Dog Ground unsererseits hat ein Dachleck einen Teileinsturz des Vereinsheims verursacht.
Eine Anzahl an Volunteers hat versucht durch mehrere Methoden das Leck abzudichten, aber leider ist nun eine vollständige Neuerrichtung des Daches erforderlich inklusive neuer Stromversorgung.
Ohne die notwendigen Baumaßnahmen ist die neue Spielzeit im Old Spotted Dog Ground schwer realisierbar.
Warum ist es so wichtig?
Momentan können wir einen sicheren Aufenthalt im Vereinsheim nicht gewährleisten. Ein einwandfrei funktionierendes Klubhaus ist jedoch eine unabdingbare Verordnung der FA. Um für die Saison 2021/2022 bereit zu sein, muss die Inspektion der FA im Frühjahr 2021 ohne Probleme vonstattengehen.
Das heisst, wir können nicht zu lange auf Zuschüsse und Geldflüsse warten. Wir wollen schnellstmöglich für die Spieltage gerüstet sein und ein Vereinsheim vorfinden, welches ein warmes Willkommen für die Menschen aus unserem Viertel in Newham bietet – die Betonung liegt auf "warm"!
Wie kann ich helfen?
Solltest du in der Lage sein zu spenden, folge diesem Crowdfunding-Link.
Wenn du nicht spenden kannst, sage bitte jedem Bescheid, der uns helfen könnte – 'spread the word'.
Auf sozialen Medien kannst du unter @OSDGroundE7 auf Twitter and @ClaptonCFC auf allen anderen Kanälen taggen.
Wozu wird deine Spende verwendet?
Jeder einzelne Penny, den du spendest, wird für das neue Dach verwendet.
Sollten wir Spenden über die 15.000£ hinaus erhalten, werden wir noch in andere Baumaßnahmen investieren, mitunter in die Stromversorgung.
Fortschritte der Baumaßnahmen am OSD
Du kannst die Bauentwicklung auf der Old Spotted Dog Ground Trust website verfolgen.
Wir posten auch regelmäßig Fotos rund um die Bauarbeiten und deren Fortschritte auf unserer Flickr page. Der Old Spotted Dog Ground Trust ist zu 100% Teil von Clapton CFC und wir sind in vollem Umfang verantwortlich für den Sportplatz.
Vielen Dank im Voraus!
Übersetzt von Daniel Barthold