Last weekend we said farewell to the Jim Rogers President's Division One Cup, which the men's team won on April 13th 2019.
Great memories remain from that Saturday night at Uxbridge FC's ground, when Yacine Rabia thumped home the penalty shoot-out winner following a compulsive 2-2 draw with Hilltop.
It was Clapton Community FC's first ever silverware, followed at the end of the season with the Middlesex County Football League Division One Central & East title.
The Jim Rogers trophy has now been returned to the MCFL, still with a bit of last year's ribbon attached.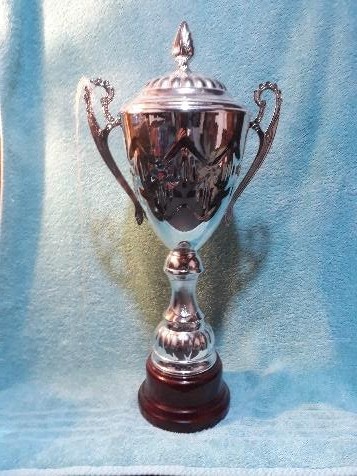 Five teams remain in this year's competition. AVA will play Harrow Buoys in one semi, the Wilberforce Wanderers waiting to see whether they will face Leatherhead Academy or South Kilburn in the other.
Meanwhile, we turn our eyes towards our current division's version, the Alex Smith Premier Division Cup as just London Samurai Rovers stand in the way of the final this season.
History of Jim Rogers Trophy
The competition was known simply as the President's Division One Cup until 2003, when Jim Rogers' name was added.
Division One of the Middlesex County Football League for a long time was a reserves division, and the President's Cup was the reserve division trophy, hence why so many reserves teams appear on the roll of honour.
It's testament to the expansion of the MCFL that there are now 65 teams competing across five divisions, and hardly any are reserves teams.
A few decades ago, there were just two divisions, one for first teams and one for reserve teams, with a total of 24 teams.
Roll of honour
There are some gaps in the list – these we believe are due to a shake-up of the cup competitions in those seasons.
2018/19 Clapton CFC 2 Hilltop 2 AET, 5-3 pens (at Uxbridge FC, att 427)
2017/18 Fire United Christian 2 New Hanford 1 (at Uxbridge FC, att 109)
2016/17 AFC United 2 Spartan Youth 0 (at Uxbridge FC, att 78)
2015/16 Mile End Park Rangers 2 Brentham 0 (at Uxbridge FC, att 142)
2014/15 Paddington Elite 4 Pitshanger Dynamo 0 (at Uxbridge FC, att 122)
2013/14 Not completed (weather)
2012/13 Pitshanger Dynamo 1 St Lawrence 0 (at Uxbridge FC. att 169)
2011/12 Imperial College Old Boys 1 LPOSSA 0 (at Uxbridge FC, att 176)
2010/11 Sandgate 1 Bethnal Green United 0 (at Harrow Borough, att 126)
2009/10 Stedfast United 3 Sporting Hackney 2 AET (at Yeading FC, att 109)
2008/09 Stedfast United 5 North Greenford United Social 0 (at Yeading FC, att 126)
2007/08 Hayes United 4 FC Assyria 0 (at Yeading FC, att 250)
2006/07 Signcraft 3 North Greenford United Social 2 (at Yeading FC, att 208)
2005/06 Bison 4 Fenerbahce 1 (at Yeading FC)
2004/05 Eastside 4 Harefield Ex-Servicemens 1 AET
2003/04 Samuel Lithgow 3 Brazilian FSSC 2 AET (at Yeading FC)
2002/03 Marsh Rangers 3 Actual Soccer 0 (at Uxbridge FC)
2001/02 Western Command 3 North Greenford United 2 (at Viking Greenford FC)
2000/01 Southall Town Reserves 4 Neasden 2000 Reserves 2 AET
1999/00 Willesden Constantine Reserves 1 Neasden 2000 0 (at Brook House FC)
1994/95 North Greenford United Reserves 3 Southall Reserves 1 (at Spelthorne Sports FC)
1993/94 Osterley Reserves 2 New Hanford Reserves 2 AET, 3-0 pens (at North Greenford United)
1990/91 Heathrow Club 2 Technicolor Sports Reserves 2 AET, 5-4 pens (at Hayes FC)
1989/90 Brook House Reserves 2 Osterley Park Rangers 1 (at Harefield United)
1988/89 Northfield Rangers Reserves 3 Harrow St Mary's Reserves 2 (at Harefield United)
1987/88 Graystone CMB 2 Harefield Town 0 (at Yeading FC)
1986/87 Evershed Social Reserves 2 Hanwell Town A 1 (at Northwood FC)
1985/86 Evershed Social Reserves 2 Technicolor Sports Reserves 0 after replay (at Yeading FC)
1984/85 Mill End Sports Reserves 3 Kenboro All Stars Reserves 1 (at Lucas CAV)