CCFC's Football v Homophobia game against Stonewall FC on Saturday was a proud day for all involved.
A record-breaking crowd of 618 at The Stray Dog saw the teams and fans come together to show there is no place for homophobia or transphobia in our game.
Players from both sides wore rainbow laces and armbands, and signed pledges to use their position in the game to stand alongside our LGBT comrades.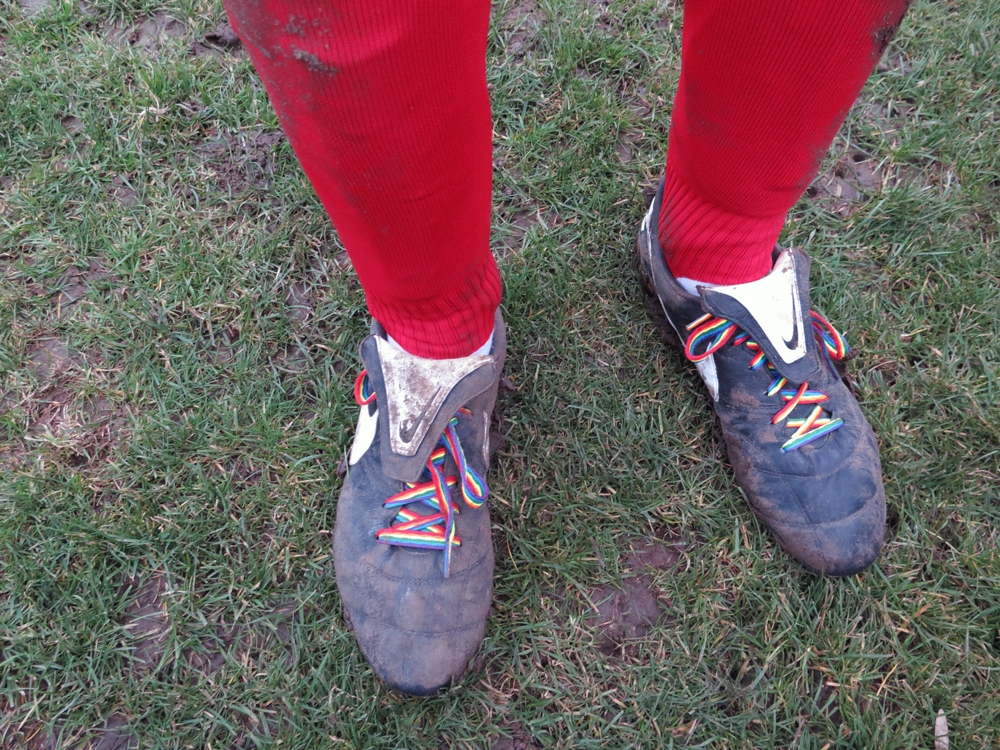 @ClaptonCFC @EliotCrosbie @StonewallFC
Let's have a good game today❤️🙏🏾 pic.twitter.com/fOTwd4Rwox

— Stefan Kilron (@SKilron) February 16, 2019
The Outside Project, the UK's first LGBTIQ+ Community Shelter & Centre, spoke to fans at half-time and outlined their amazing work and why it's needed now more than ever.
Tons fans dug deep and raised £500, covering running costs for nearly a month.
600+ attended #fooballagainsthomophobia @ClaptonCFC & @StonewallFC!
They did double the amount of swabs for @DKMS_uk & filled boxes for @EatOrHeat. #outsidercrew @iggypoptarts collected a massive £400 for the shelter!⚡️🖤❤️⚽️🏳️‍🌈 #homelessLGBTIQsolidarity pic.twitter.com/mO6KGirL60

— The Outside Project (@LGBTIQoutside) February 17, 2019
After the game everyone came together to tell homophobia where to go one last time, before retiring to the bar with both teams for some celebratory refreshments.
We're pleased to say we drank the outside bar and inside bar dry – thanks so much to the bar staff for coping with such big numbers of thirsty folk.
Thanks to everyone who helped out or donated and to Stonewall FC for their enthusiastic participation.
A well deserved victory today for @ClaptonCFC against our first XI. Final result 5-1. Huge thanks to The Tons for their hospitality and a great day, and their efforts in marking today's game as a football vs homophobia game.#sfc #lgbtq #lgbtsport

— StonewallFC (@StonewallFC) February 16, 2019
One last time – CCFC is and always will be a welcoming and inclusive place for everyone, regardless of their gender identity or sexual orientation, come join us.