Spare a thought for our beleaguered email and social media inbox monitors. They've made a monumental effort, replying to literally thousands of inquiries about replica Clapton CFC shirts. It is an unrelentingly repetitive and time consuming job.
For the person that opened the 5,000th email asking when CCFC away shirts would be back on sale (in case you missed it, they are now) they could've been forgiven, in that moment, for wishing a different design had won the away shirt vote back in June.
As it happened, possibly the most popular non-league football top in history, commemorating the Spanish Republic and those who travelled to defend it, did get through the members' poll. A kit that was supporter-designed and community-funded became an international news story, sending our various inboxes into meltdown.
Despite being a notifications nightmare, having the shirt so widely talked about in so many different places had the amazing result of re-founding historic links between our corner of East London with regions and neighbourhoods in Spain, and beyond.
Since then we have had some fantastic emails and messages from people with family connections to those events – whose parents and grandparents volunteered and fought for the Republic.
In September we received a handwritten letter from Alfred Head. Now resident in Nice in France, Alfred volunteered, as a teenager in North London, to help provide aid for Spain during the Civil War.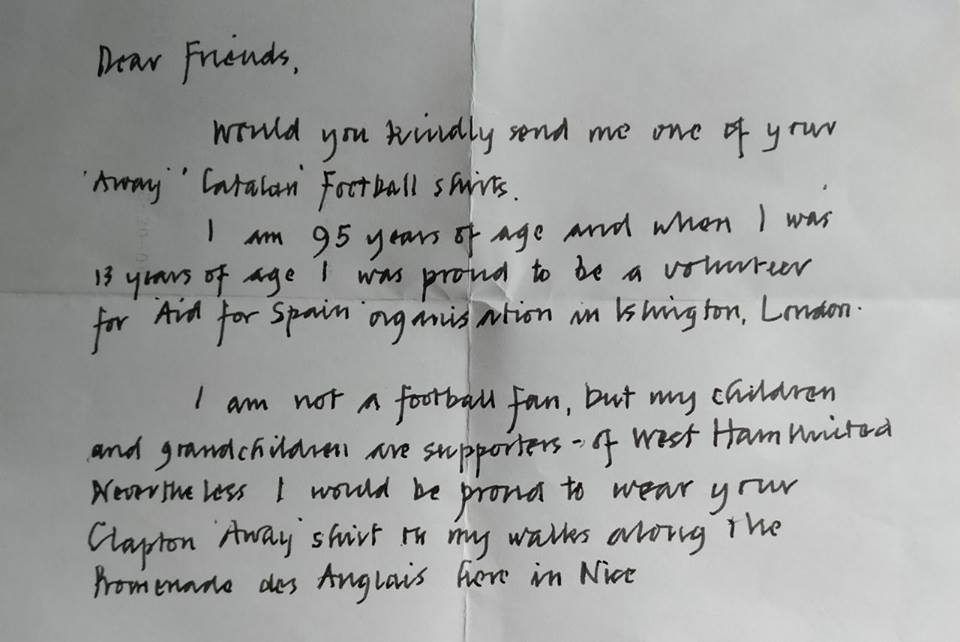 Voluntary Aid For Spain was a scheme where workers from Britain & Ireland could volunteer unpaid overtime, with goods equivalent to cost of hours worked being shipped to Republican Spain.
A follow-up letter, along with the photo of Alfred proudly wearing his Clapton shirt on the Nice seafront you can see at the top of this page, gave our club the gift of a direct link with the history we'd hoped to honour.
It was a great lift to our club volunteers to get that sort of approval from someone who has held these principles for over 80 years.
All the while emails continued to flood our inboxes from every direction, including a Facebook message from Mexico, with a familiar question, asking whether we had any CCFC away shirts left.
This message was from a neighbour of Virgilio Fernández del Real, one of the last surviving members of the International Brigades.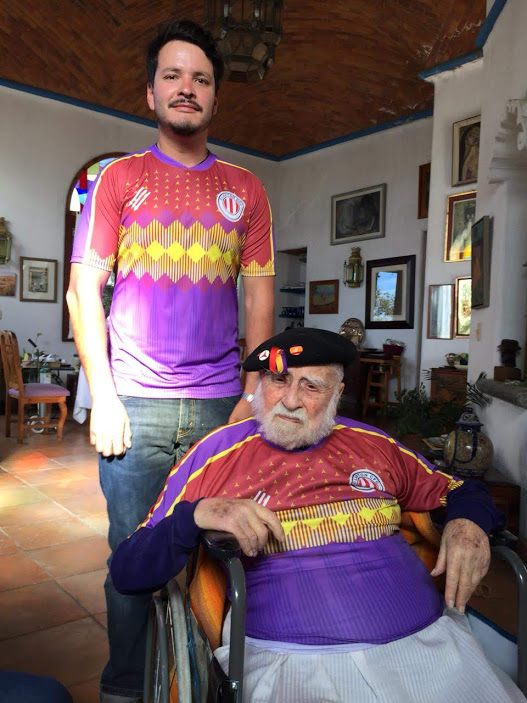 A very happy belated birthday to Virgilio Fernández del Real, who celebrated his 100th birthday yesterday! One of the last surviving members of the IB, Virgilio continues to advocate for human rights and internationalism. Felicidades! May you celebrate many more! pic.twitter.com/6FXY4hIvjk

— ALBA (@LincolnBrigade) December 27, 2018
Virgilio was a medic who spent the majority of the conflict, between 1936 – 1939, on the front lines of Madrid and Guadalajara. He participated in some of the most decisive battles of the Civil War, alongside volunteers from across Europe and America.
After 32 months of conflict, having been integrated into the 35th Division of the International Brigades, Virgilio was captured by Nationalist forces and interned in a concentration camp in France.
He later escaped and was exiled to Mexico, where he continued to work in medicine and campaign against fascism.
Virgilio turned 100 last Boxing Day. We were extremely lucky to be able to send him a gift from East London ahead of time. Our shared connection also made the news in Mexico.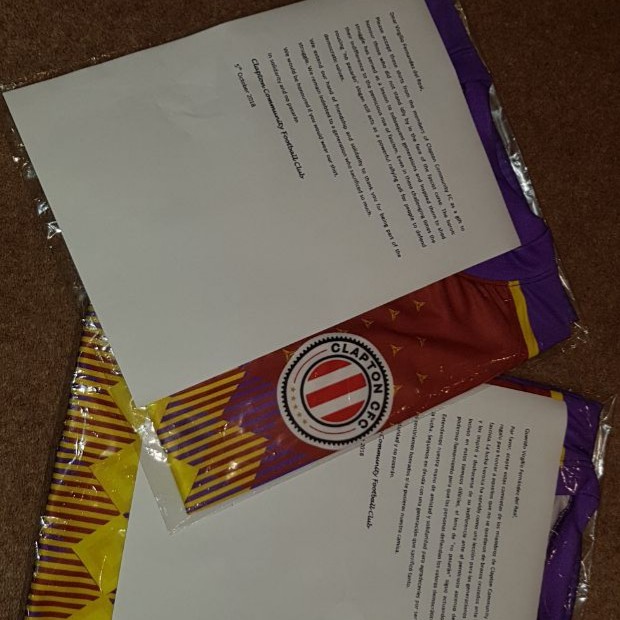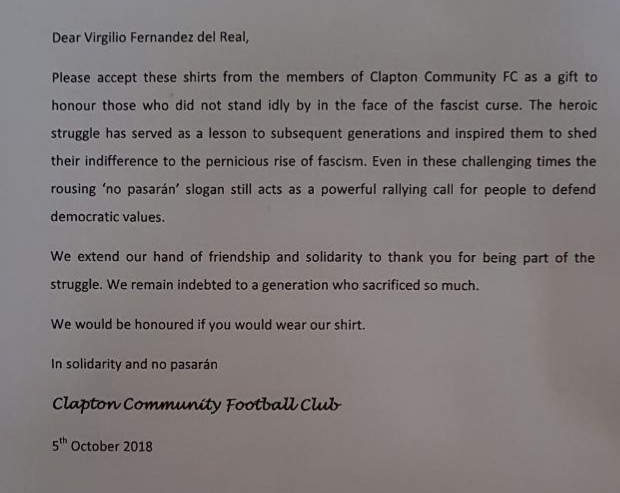 One of the main inspirations behind the idea to design an away shirt in the colours of the Spanish Republic was a modest plaque on a bench in West Ham Park, just metres from our historic home ground, the Old Spotted Dog.
The plaque remembers David Marshall, an International Brigader from Forest Gate who passed away in 2005.
David Marshall was born in 1916, and, while we have no idea if he had any interest in football, if he knew West Ham Park, he would have certainly been familiar with the Spotted Dog and the famous amateur team that played there.
Somehow, amid the thousands of emails and social media messages, our football club has become, in a small way, a link between international comrades.
Something that wouldn't have happened if it wasn't for our embattled inbox monitors.
FROM ALFRED
I am 95 years of age and when I was 13 years of age I was proud to volunteer for "Aid for Spain" organisation in Islington, London.
I am not a football fan, but my children and grandchildren are supporters of West Ham United.
Nevertheless I would be proud to wear your Clapton 'Away' shirt to my walks along the Promenade des Anglais here in Nice.
FROM KEVAN
My father left Liverpool as a 17-year-old and because they would not take him as a member of the International Brigade (too young), he made his own way across Europe and over the Pyrenees.
He was still not allowed to fight so he was a medical orderly throughout the conflict and then joined the RAF as a mechanic and fought throughout the Second World War fighting fascists. It was heartening and exhilarating to hear about your wonderful away kit choice.
I have become a member and you will have my wholehearted support.I have supported Liverpool for my whole life and always refused to buy a team kit of any kind. Repeat I have never had a team colours kit of any kind. I will wear yours with pride.
FROM JULIAN
I've just read about your new shirts. I was born in Clapton (Sach Road) in 1950 and my father fought against fascism in Spain in the civil war – he actually heard the famous "No pasarán" speech by La Pasionaria.
I would really like to buy a shirt which I will proudly wear! It represents where I'm from and what we believe in.
FROM TONY
My grand grandfather was 2 year in a concentration camp at south of France, Argelès-sur-Mer just becausse he was a Republican miner. That's why I can't understand that we don't learn from our past and we are doing the same with people under Mediterranean.
Salud y república!
FROM NATHAN BELL
I'm a touring musician. I know your shirt production has hit a wonderful, unexpected road block. I am impressed with your decision and I support you 100%. I doubt you want more advertising to cause more issues, but I'd be happy to mention it from the stage. After all, we win together. I wrote a song titled "Raise Your Fist" that has been quite well received in Scotland and Wales (in particular). The video is here.
⚽️ Nuestro 7 inicial contra el fascismo. ¡No pasarán! ✊

Gracias al @ClaptonCFC por las magníficas camisetas. Thank to @ClaptonCFC for the shirts. pic.twitter.com/4tdOLSOCL9

— AteneoRepublicanoVK (@AteneoVallekas) January 8, 2019
FROM SARA
My grandpa died because of Franco's regime (as a republican army captain he was dragged from jail to jail until he passed away) and my boyfriend's great-uncle died in Mauthausen (one of the few Spaniards that did, he just disappeared one night from his village). My uncle had to flee to France and started a new life. Grandpa's oldest brother fled to Mexico to escape the regime. Many others died in torture (mostly the women in the family).
Us Spaniards tend to be perceived rural and underdeveloped, but the II Republic was a pioneer in many things. The Republicans built schools to improve education for all; they designed a system of social welfare; women achieved voting rights; divorce; abortion; we had great thinkers, writers, artists. And I believe these ideals were passed on protected by fraternal bonds, and that luckily they have reached my present.
I want to thank you for doing this for the International Brigades and their memory, and mostly for the Spanish Republicans, who are still here, deliberately ignored by those in power.
FROM THE TOWN OF SEGOVIA
From this Castilian town, Segovia, Spain, we would like to thank you and best wishes for your solidarity gesture with the Spanish Republic.
Our grandparents, our parents, taught us to respect and love the International Brigades, who came to our country during war times to fight and die for democracy and against fascism. We will never forget this. From this town, thousands of km. far from you, for ever and ever.
"We are already CLAPTON C.F.C". From the heart, THANK YOU. No pasarán!
Do you have a personal story about the International Brigades or our away kit? Email comms@claptoncfc.co.uk