Clapton CFC defied the five-division gap to push Enfield Town hard but ultimately lost out in the Brian Lomax Supporters Direct Cup with late goals in both halves.
The Tons were missing player-manager Geoff Ocran – out with a minor knee injury – as they had their first shot at silverware in only their fourth ever game in front of a crowd of around 250.
Ocran fielded a familiar looking side, but had drafted in some extra experience with former Clapton FC players Louis Rene and Sherwin Stanley in the starting line-up and on the bench respectively.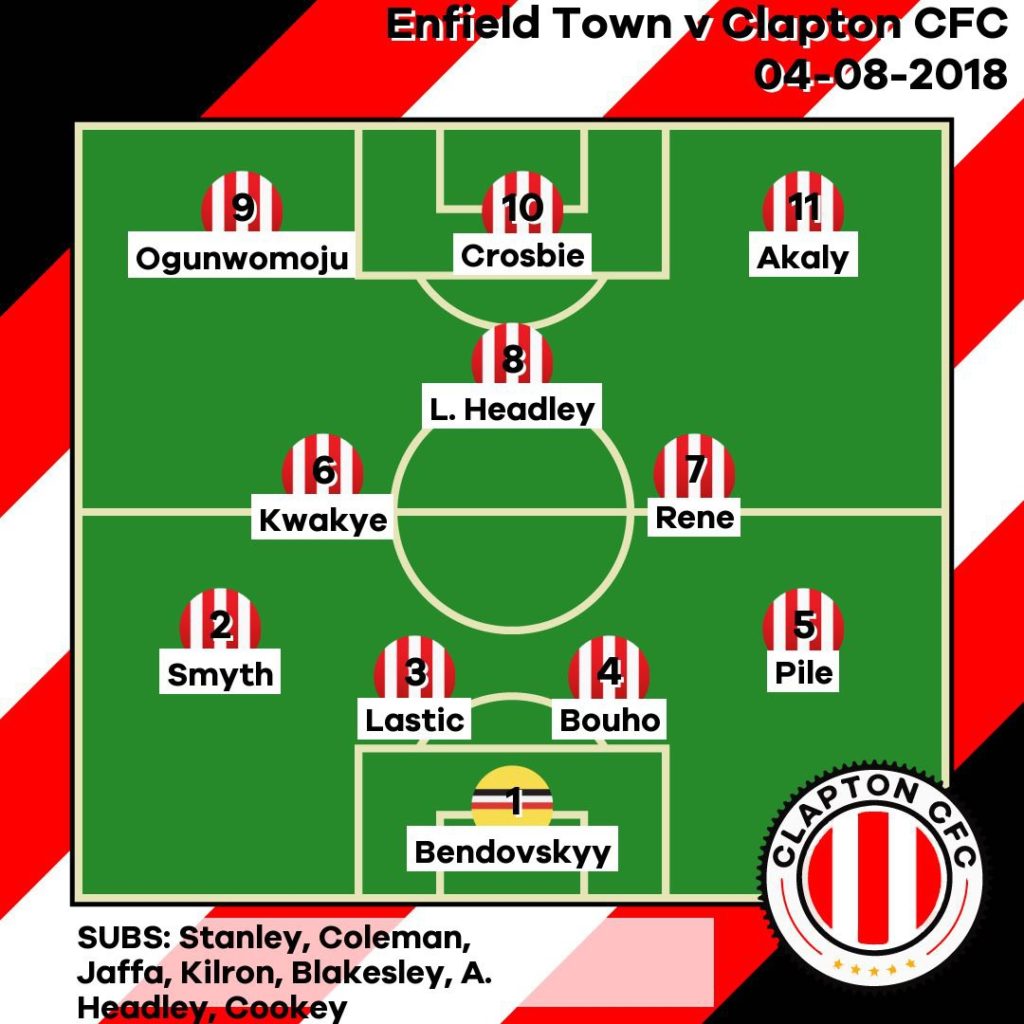 And his Tons side held their own in the first half against a strong Enfield XI – mainly under 23s but also studded with first teamers including striker Billy Bricknell, who scored 37 goals for Isthmian title-winning Billericay Town last year.
Clapton had their chances to pull off a shock win against the much higher opposition, notably through Eliot Crosbie and Liam Smyth, while at the other end goalkeeper Vlad Bendovskyy and his defence kept Enfield Town at bay almost through to half-time.
But Town eventually broke through in the 43rd minute through Jack Hockney, the first of a hat-trick for the young striker. And there was still time for them to squeeze in a second through a penalty from captain Ryan Blackman for a flattering half-time score of 2-0.
That was how it remained until the final moments of the second half, with Hockney scoring in the 82nd and 90th minutes as the Tons inevitably tired.
So Enfield Town lifted the Brian Lomax Supporters Direct Cup – the annual tournament for fan-owned clubs – for the fourth time, but admitted it was an "entertaining game against a lively and talented @ClaptonCFC team."
Here are some of the match photos from the game.
The goals from @ETFCOfficial 4 @ClaptonCFC 0 last night. A hat-trick for Jack Hockney and a penalty from Ryan Blackman. pic.twitter.com/lUjzOmUN4w

— Phil Davison #FBPE (@jancyclops) August 8, 2018
Barmy night supporting @ClaptonCFC against a classy Enfield outfit. @I_am_phillyb #wearetheclapton pic.twitter.com/ECxcbAYnlu

— Ray Verma (@_rayjv) August 7, 2018
Enfield have posted a good match report, which praised Clapton CFC again for 'coping admirably' in only their fourth game, and a photo gallery of match action.
Geoff Ocran told us after the game: "I felt we competed well for large spells and individually 1v1 stood up to challenge but with that level of football, the smallest error or lapse of concentration can punish you and that's what happened.
"Who knows what could have happened had we held out at 0-0 until half-time but that's football.
"It was an eye opener for some of the players in terms of sharpness and discipline required to play at that level and there was enough to take from the positives and negatives for us to work on."
On his own fitness, he added: "I had a graze on my knee which hadn't healed in time so I wouldn't have been able to run freely.
"Hopefully it heals up for Saturday which is an important game for us in our preparation for the league."
Defender Romelle Pile added on Twitter: "Well done to @ETFCOfficial on winning the @SuppDirect Brian Lomax Cup. @ClaptonCFC the way we are progressing it won't be long until we are winning silverware and I just wanted to thank the fans again for their amazing support as always you all are the best. #WeAreTheClapton"
A massive thanks to Supporters Direct, for inviting our club to take part in such a prestigious match, and for our brilliant hosts at Enfield Town.
Attendance
250.