Clapton CFC are a fan-owned, fan-operated football club, and that comes with some pretty decent perks.
Clapton CFC fans will never be treated like customers. We'll never be blindsided by the decisions of a malevolent owner. And we don't have to pull on a replica shirt that costs £80 but the workers who made it receive slave wages.
That's why we were so proud to unveil our 2018/19 home and away kits at our launch event on Friday, August 3, giving you the first chance to buy your very own replica Clapton shirt for £25 each.
The Clapton CFC home kit – red-and-white stripes, black shorts, black socks – is a new twist on a classic, with a wide stripes and black trim. So far, so traditional.
However, our away kit is something a little more out there and was chosen by club members from a field of 16 contenders.
Commemorating the 80th anniversary of the end of the Spanish Civil War, it is inspired by the flag of the Spanish Republic and is adorned by the three-pointed star of the International Brigades, who travelled to Spain attempting to hold back the fascist tide of General Franco.
Both were lovingly made by Rage Sport, an independent Italian sports clothing manufacturer producing kits for grassroots football clubs that are invested in fighting racism, fascism and inequality.
"Rage Sport is inspired by the ideals and principles of solidarity, equality and freedom," says Maurizio Affuso, who supports grassroots club RFC Lions Ska Caserta.
"It was born as a coherent alternative for all the clubs who wear material from multinational brands which shamelessly exploit the life of men, women and even children, with no respect or humanity.
"Rage Sport will always be there for the Clapton fans because like them we believe in a new way of doing football and because we strongly believe some battles can be fought both on and off the pitch."
All of Rage Sport's kits are made in Italy, with material sourced from companies that pay their workers properly and fairly. And unlike most football clubs, the design isn't from a template but completely unique and customised.
Maurizio added: "The design and the final production of the kit kept us busy for a couple of months.Everything has been decided with the members of the club, from the shape of the neck, to the colours, to the material.
"It has been great working with them to produce the kits and meeting all their needs."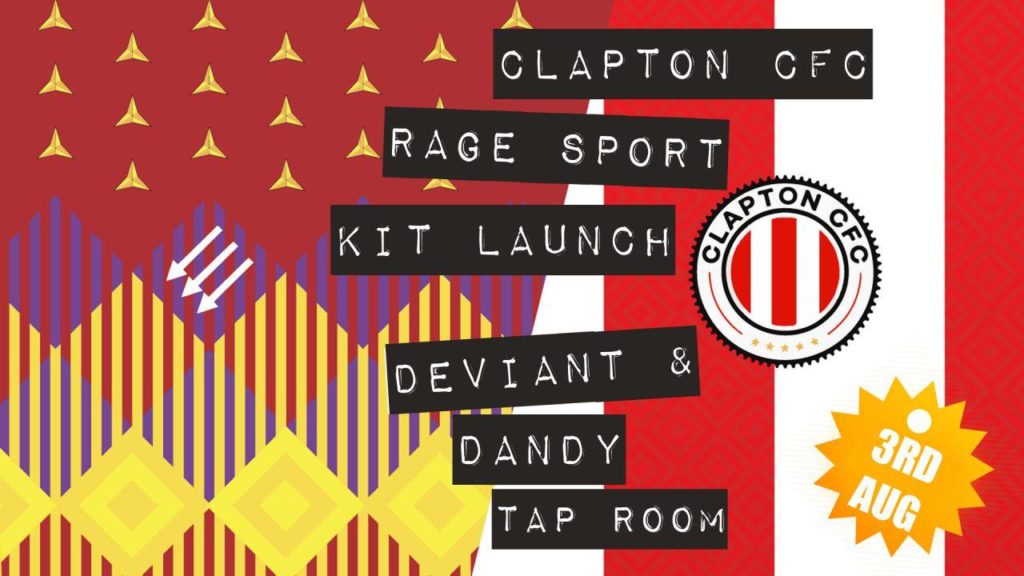 So how dID you get hold of one?
Launch event: Your first opportunity to grab a Clapton home and/or away shirt was at our launch party at the Deviant and Dandy Brewery. The first very limited batch – 30 home and 30 away shirts – sold out within hours.
Online: Unfortunately we are unable to offer online sales at the moment. Our volunteers are exhausted from months of work  We may be able to reinstate online orders if we get a new influx of volunteers.
At games: Once the next batch comes in and the league season starts, we'll have shirts and other merch available to buy at home games too.
Prices: Replica shirts (Home/Away) £30. This was £25, until we became liable for VAT.