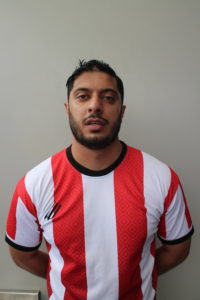 Name

Sham Darr

Position

Midfielder

Height

5ft 10in

Current Team

Clapton CFC men's development, Clapton CFC men's first team

Age

36
Clapton CFC player/joint assistant manager/coach
Previous clubs: Dagenham & Redbridge, Borehamwood, Enfield 1893, Waltham Forest, Ilford, London Apsa, Wadham FC.
Twitter: @shamacle
Q&A
Full Name Shamrez Darr
Place of Birth Leytonstone
Home Hornchurch
Day job Train driver.
Favourite player Roberto Baggio, Alessandro Del Piero, Bergkamp, Cristiano Ronaldo.
Favourite team, apart from CCFC Manchester United.
Most memorable match played in For Waltham Forest vs Great Wakering and scoring the winner in the FA Cup. Favourite ground played at Stamford Bridge
Biggest high in football Six months trialling with Leicester City and Leyton Orient. And being on the bench as youth team player with the 1st team for Thurrock vs Luton Town in the FA Cup
Lowest point in football Constant injuries in my 30s.
Likes and hobbies Socialising with family & friends. Music. Watching crime thrillers
Dislikes Racism, sexism, homophobia, Tories
Favourite charity Children with Cancer
Favourite country visited Dubai and Jamaica
Favourite food Caribbean food
Favourite music/performers R&B, hip hop, Michael Jackson
Favourite TV shows Line of Duty, Power, Narcos, El Chapo
Favourite film Matrix, Dark Knight, Forrest Gump.
What you love about football Highs and lows of the game in 90 minutes.
What you hate about football Ticket prices for Premier League games and the lack of funding for grass roots football.
Biggest influence on you Mum.
Footballing ambition Win the double with Clapton CFC and get us to the Essex Senior League.
Who you would most like to meet Sir Alex Ferguson.
| Date | Home | Results | Away | Time |
| --- | --- | --- | --- | --- |
| 2020-09-12 15:00:16September 12, 2020 | Enfield Borough | 6 - 0 | Clapton CFC men's first team | 15:00:163:00 pm |
| 2020-09-05 15:00:33September 5, 2020 | Clapton CFC men's first team | 1 - 2 | Hilltop FC | 15:00:333:00 pm |
| 2020-08-01 15:00:26August 1, 2020 | Chadwell Heath Spartans | 0 - 3 | Clapton CFC men's first team | 15:00:263:00 pm |
| 2020-03-14 14:30:49March 14, 2020 | Clapton CFC men's first team | 1 - 1 | Cricklewood Wanderers | 14:30:492:30 pm |
| 2020-03-07 14:00:39March 7, 2020 | Clapton CFC men's first team | 1 - 1 | London Samurai Rovers | 14:00:392:00 pm |
| 2020-02-29 15:00:42February 29, 2020 | Yeading Town | 1 - 3 | Clapton CFC men's first team | 15:00:423:00 pm |
| 2019-11-09 15:00:39November 9, 2019 | PFC Victoria London | 2 - 3 | Clapton CFC men's first team | 15:00:393:00 pm |
| 2019-11-05 19:45:44November 5, 2019 | Clapton CFC men's first team | 1 - 0 | NW London FC | 19:45:447:45 pm |
| 2019-11-02 13:30:44November 2, 2019 | Runwell Sports | 2 - 1 | Clapton CFC men's first team | 13:30:441:30 pm |
| 2019-09-28 15:00:20September 28, 2019 | Indian Gymkhana FC | 5 - 4 | Clapton CFC men's first team | 15:00:203:00 pm |
| 2019-09-07 15:00:47September 7, 2019 | Hillingdon FC | 0 - 3 | Clapton CFC men's first team | 15:00:473:00 pm |
| 2019-08-31 15:00:01August 31, 2019 | Wivenhoe Town | 5 - 1 | Clapton CFC men's first team | 15:00:013:00 pm |
| 2019-07-20 14:00:04July 20, 2019 | Clapton CFC men's first team | 1 - 2 | Sporting Hackney | 14:00:042:00 pm |
| 2019-07-06 14:00:04July 6, 2019 | Clapton CFC men's first team | 3 - 2 | Wanderers FC | 14:00:042:00 pm |
| 2019-05-11 15:00:27May 11, 2019 | FC Roast | 0 - 3 | Clapton CFC men's first team | 15:00:273:00 pm |
| 2019-05-04 13:00:18May 4, 2019 | Catholic United | 5 - 1 | Clapton CFC men's first team | 13:00:181:00 pm |
| 2019-04-20 15:00:08April 20, 2019 | Clapton CFC men's first team | 6 - 5 | The Curve FC | 15:00:083:00 pm |
| 2019-04-13 19:45:25April 13, 2019 | Hilltop FC | 2 - 2 | Clapton CFC men's first team | 19:45:257:45 pm |
| 2019-04-08 19:30:41April 8, 2019 | CE Júpiter | 5 - 0 | Clapton CFC men's first team | 19:30:417:30 pm |
| 2019-04-06 15:00:33April 6, 2019 | Hereford Palace FC | 1 - 4 | Clapton CFC men's first team | 15:00:333:00 pm |
| 2019-03-30 14:00:35March 30, 2019 | Eastfield FC | 4 - 6 | Clapton CFC men's first team | 14:00:352:00 pm |
| 2019-03-25 19:45:06March 25, 2019 | Barkingside FC | 0 - 0 | Clapton CFC men's first team | 19:45:067:45 pm |
| 2019-03-23 15:00:07March 23, 2019 | Ware Sports | 1 - 3 | Clapton CFC men's first team | 15:00:073:00 pm |
| 2019-03-16 14:00:25March 16, 2019 | FC Star London | 1 - 3 | Clapton CFC men's first team | 14:00:252:00 pm |
| 2019-01-19 13:30:18January 19, 2019 | Clapton CFC men's first team | 1 - 1 | London Samurai Rovers | 13:30:181:30 pm |
| 2019-01-12 14:00:08January 12, 2019 | Stonewall FC | 4 - 0 | Clapton CFC men's first team | 14:00:082:00 pm |
| 2018-12-08 14:00:01December 8, 2018 | The Curve FC | 1 - 2 | Clapton CFC men's first team | 14:00:012:00 pm |
| 2018-12-01 14:00:45December 1, 2018 | Clapton CFC men's first team | 1 - 1 | Eastfield FC | 14:00:452:00 pm |
| 2018-09-22 14:00:19September 22, 2018 | Clapton CFC men's first team | 4 - 5 | Hutton FC | 14:00:192:00 pm |
| 2018-09-15 15:00:52September 15, 2018 | Ealing Town FC | 1 - 2 | Clapton CFC men's first team | 15:00:523:00 pm |
Alec Smith Premier Division Cup
| Season | Club | POTM | Goals | Assists | Yellows | Reds | Apps | Win Ratio | Draw Ratio | Loss Ratio |
| --- | --- | --- | --- | --- | --- | --- | --- | --- | --- | --- |
| Men's first team - 2020/2021 | Clapton CFC men's first team | 0 | 0 | 0 | 0 | 0 | 0 | 0 | 0 | 0 |
| Men's first team - 2018/2019 | Clapton CFC men's first team | 0 | 0 | 0 | 0 | 0 | 0 | 0 | 0 | 0 |
| Men's first team - 2019/2020 | Clapton CFC men's first team | 0 | 0 | 1 | 0 | 0 | 1 | 100.00 | 0.00 | 0.00 |
| Men's first team – 2021/2022 | Clapton CFC men's first team | 0 | 0 | 0 | 0 | 0 | 0 | 0 | 0 | 0 |
Anagram Records Trophy
| Season | Club | POTM | Goals | Assists | Yellows | Reds | Apps | Win Ratio | Draw Ratio | Loss Ratio |
| --- | --- | --- | --- | --- | --- | --- | --- | --- | --- | --- |
| Men's first team - 2020/2021 | Clapton CFC men's first team | 0 | 0 | 0 | 0 | 0 | 0 | 0 | 0 | 0 |
| Men's first team - 2018/2019 | Clapton CFC men's first team | 0 | 0 | 0 | 0 | 0 | 0 | 0 | 0 | 0 |
| Men's first team - 2019/2020 | Clapton CFC men's first team | 0 | 0 | 0 | 0 | 0 | 0 | 0 | 0 | 0 |
| Men's first team – 2021/2022 | Clapton CFC men's first team | 0 | 0 | 0 | 0 | 0 | 0 | 0 | 0 | 0 |
BBC Essex Premier Cup
| Season | Club | POTM | Goals | Assists | Yellows | Reds | Apps | Win Ratio | Draw Ratio | Loss Ratio |
| --- | --- | --- | --- | --- | --- | --- | --- | --- | --- | --- |
| Men's first team - 2020/2021 | Clapton CFC men's first team | 0 | 0 | 0 | 0 | 0 | 0 | 0 | 0 | 0 |
| Men's first team - 2018/2019 | Clapton CFC men's first team | 0 | 0 | 1 | 0 | 0 | 1 | 0.00 | 0.00 | 100.00 |
| Men's first team - 2019/2020 | Clapton CFC men's first team | 0 | 0 | 0 | 0 | 0 | 1 | 0.00 | 0.00 | 100.00 |
| Men's first team – 2021/2022 | Clapton CFC men's first team | 0 | 0 | 0 | 0 | 0 | 0 | 0 | 0 | 0 |
FA Vase
| Season | Club | POTM | Goals | Assists | Yellows | Reds | Apps | Win Ratio | Draw Ratio | Loss Ratio |
| --- | --- | --- | --- | --- | --- | --- | --- | --- | --- | --- |
| Men's first team - 2020/2021 | Clapton CFC men's first team | 0 | 0 | 0 | 0 | 0 | 0 | 0 | 0 | 0 |
| Men's first team - 2018/2019 | Clapton CFC men's first team | 0 | 0 | 0 | 0 | 0 | 0 | 0 | 0 | 0 |
| Men's first team - 2019/2020 | Clapton CFC men's first team | 0 | 0 | 0 | 0 | 0 | 0 | 0 | 0 | 0 |
| Men's first team – 2021/2022 | Clapton CFC men's first team | 0 | 0 | 0 | 0 | 0 | 0 | 0 | 0 | 0 |
Friendly
| Season | Club | POTM | Goals | Assists | Yellows | Reds | Apps | Win Ratio | Draw Ratio | Loss Ratio |
| --- | --- | --- | --- | --- | --- | --- | --- | --- | --- | --- |
| Men's development team 2021/22 | Clapton CFC men's development | 0 | 0 | 0 | 0 | 0 | 0 | 0 | 0 | 0 |
| Men's first team - 2020/2021 | Clapton CFC men's first team | 0 | 0 | 0 | 0 | 0 | 0 | 0 | 0 | 0 |
| Men's development team 2020/21 | Clapton CFC men's development | 0 | 0 | 0 | 0 | 0 | 0 | 0 | 0 | 0 |
| Men's first team - 2018/2019 | Clapton CFC men's first team | 0 | 0 | 0 | 0 | 0 | 0 | 0 | 0 | 0 |
| Men's first team - 2019/2020 | Clapton CFC men's first team | 0 | 0 | 0 | 0 | 0 | 0 | 0 | 0 | 0 |
| Men's first team – 2021/2022 | Clapton CFC men's first team | 0 | 0 | 0 | 0 | 0 | 0 | 0 | 0 | 0 |
Hackney & Leyton League Division 3
| Season | Club | POTM | Goals | Assists | Yellows | Reds | Apps | Win Ratio | Draw Ratio | Loss Ratio |
| --- | --- | --- | --- | --- | --- | --- | --- | --- | --- | --- |
| Men's development team 2021/22 | Clapton CFC men's development | 0 | 0 | 0 | 0 | 0 | 0 | 0 | 0 | 0 |
| Men's development team 2020/21 | Clapton CFC men's development | 0 | 0 | 0 | 0 | 0 | 0 | 0 | 0 | 0 |
Jim Rogers President's Division One Cup
| Season | Club | POTM | Goals | Assists | Yellows | Reds | Apps | Win Ratio | Draw Ratio | Loss Ratio |
| --- | --- | --- | --- | --- | --- | --- | --- | --- | --- | --- |
| Men's first team - 2020/2021 | Clapton CFC men's first team | 0 | 0 | 0 | 0 | 0 | 0 | 0 | 0 | 0 |
| Men's first team - 2018/2019 | Clapton CFC men's first team | 0 | 0 | 0 | 0 | 0 | 0 | 0 | 0 | 0 |
| Men's first team - 2019/2020 | Clapton CFC men's first team | 0 | 0 | 0 | 0 | 0 | 0 | 0 | 0 | 0 |
| Men's first team – 2021/2022 | Clapton CFC men's first team | 0 | 0 | 0 | 0 | 0 | 0 | 0 | 0 | 0 |
Middlesex County Football League Division 1 Central & East
| Season | Club | POTM | Goals | Assists | Yellows | Reds | Apps | Win Ratio | Draw Ratio | Loss Ratio |
| --- | --- | --- | --- | --- | --- | --- | --- | --- | --- | --- |
| Men's first team - 2020/2021 | Clapton CFC men's first team | 0 | 0 | 0 | 0 | 0 | 0 | 0 | 0 | 0 |
| Men's first team - 2018/2019 | Clapton CFC men's first team | 0 | 0 | 1 | 0 | 0 | 6 | 16.67 | 16.67 | 0.00 |
| Men's first team - 2019/2020 | Clapton CFC men's first team | 0 | 0 | 0 | 0 | 0 | 0 | 0 | 0 | 0 |
| Men's first team – 2021/2022 | Clapton CFC men's first team | 0 | 0 | 0 | 0 | 0 | 0 | 0 | 0 | 0 |
Middlesex County Football League Premier Division
| Season | Club | POTM | Goals | Assists | Yellows | Reds | Apps | Win Ratio | Draw Ratio | Loss Ratio |
| --- | --- | --- | --- | --- | --- | --- | --- | --- | --- | --- |
| Men's first team - 2020/2021 | Clapton CFC men's first team | 0 | 0 | 0 | 0 | 0 | 0 | 0 | 0 | 0 |
| Men's first team - 2018/2019 | Clapton CFC men's first team | 0 | 0 | 0 | 0 | 0 | 0 | 0 | 0 | 0 |
| Men's first team - 2019/2020 | Clapton CFC men's first team | 0 | 0 | 0 | 0 | 0 | 3 | 33.33 | 33.33 | 33.33 |
| Men's first team – 2021/2022 | Clapton CFC men's first team | 0 | 0 | 0 | 0 | 0 | 0 | 0 | 0 | 0 |
Career Total
| Season | POTM | Goals | Assists | Yellows | Reds | Apps | Win Ratio | Draw Ratio | Loss Ratio |
| --- | --- | --- | --- | --- | --- | --- | --- | --- | --- |
| Men's development team 2021/22 | 0 | 0 | 0 | 0 | 0 | 0 | 0 | 0 | 0 |
| Men's first team - 2020/2021 | 0 | 0 | 0 | 0 | 0 | 0 | 0 | 0 | 0 |
| Men's development team 2020/21 | 0 | 0 | 0 | 0 | 0 | 0 | 0 | 0 | 0 |
| Men's first team - 2018/2019 | 0 | 0 | 2 | 0 | 0 | 7 | 14.29 | 14.29 | 14.29 |
| Men's first team - 2019/2020 | 0 | 0 | 1 | 0 | 0 | 5 | 40.00 | 20.00 | 40.00 |
| Men's first team – 2021/2022 | 0 | 0 | 0 | 0 | 0 | 0 | 0 | 0 | 0 |