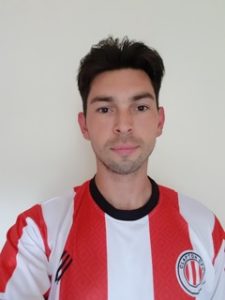 Name

Phil Blakesley

Position

Midfielder

Height

6ft 3in

Current Team

Clapton CFC men's development, Clapton CFC men's first team

Age

35
Previous clubs My most recent club in London were called Wojaks
Twitter: @I_am_phillyb
Q&A
Place of Birth Lincoln
Home Stoke Newington, Hackney
Day job Account manager/Football coach for Arsenal in the Community
Favourite player The original Ronaldo (R9) and now Messi
Favourite team, apart from CCFC Arsenal
Most memorable match played in Trial game for a scholarship where I scored a 40-yard volley
Favourite ground played at Emirates
Biggest high in football Acquiring scholarship to USA. Goal of the season/top assister winner. Signing for Clapton CFC.
Lowest point in football Missing a penalty in a cup final.
Likes and hobbies Apart from anything to do with football; reading, films, keeping fit, socialising, visiting hot countries. Dislikes The cold and fascists.
Favourite charity St Joseph's Hospice (I raised over £1,000 earlier this year for them).
Favourite country visited Colombia – I am half Colombian, so am slightly biased 😉
Favourite food Italian or Mexican.
Favourite music/performers Nas.
Favourite TV shows The Wire, Peep Show, Match of the Day.
Favourite film Quentin Tarantino films or Goodfellas.
What you love about football Passion, community, team spirit.
What you hate about football Losing or injuries. Biggest influence on you My mum, sister and brother in law.
Footballing ambition Back to back promotions with Clapton – chipping in with a few assists and goals along the way 😉 An FA cup match would be special too.
Who you would most like to meet Tony Robbins.
| Date | Home | Results | Away | Time |
| --- | --- | --- | --- | --- |
| 2021-09-18 15:00:37September 18, 2021 | Cricklewood Wanderers | 1 - 2 | Clapton CFC men's first team | 15:00:373:00 pm |
| 2020-02-22 14:00:34February 22, 2020 | Clapton CFC men's first team | 2 - 3 | Brentham FC | 14:00:342:00 pm |
| 2020-02-15 14:00:10February 15, 2020 | Clapton CFC men's first team | 2 - 0 | Larkspur Rovers | 14:00:102:00 pm |
| 2019-04-27 15:00:12April 27, 2019 | Clapton CFC men's first team | 3 - 2 | London Samurai Rovers | 15:00:123:00 pm |
| 2019-04-20 15:00:08April 20, 2019 | Clapton CFC men's first team | 6 - 5 | The Curve FC | 15:00:083:00 pm |
| 2019-04-13 19:45:25April 13, 2019 | Hilltop FC | 2 - 2 | Clapton CFC men's first team | 19:45:257:45 pm |
| 2019-04-08 19:30:41April 8, 2019 | CE Júpiter | 5 - 0 | Clapton CFC men's first team | 19:30:417:30 pm |
| 2019-04-07 11:00:40April 7, 2019 | Clapton CFC men's first team | 2 - 6 | U.E. Sant Miquel | 11:00:4011:00 am |
| 2019-04-06 15:00:33April 6, 2019 | Hereford Palace FC | 1 - 4 | Clapton CFC men's first team | 15:00:333:00 pm |
| 2019-03-25 19:45:06March 25, 2019 | Barkingside FC | 0 - 0 | Clapton CFC men's first team | 19:45:067:45 pm |
| 2019-02-23 14:15:36February 23, 2019 | Clapton CFC men's first team | 3 - 0 | Chipperfield Corinthians | 14:15:362:15 pm |
| 2019-02-09 12:15:33February 9, 2019 | NW London FC | 2 - 1 | Clapton CFC men's first team | 12:15:3312:15 pm |
| 2019-02-02 14:00:37February 2, 2019 | Clapton CFC men's first team | 6 - 1 | The Wilberforce Wanderers AFC | 14:00:372:00 pm |
| 2019-01-12 14:00:08January 12, 2019 | Stonewall FC | 4 - 0 | Clapton CFC men's first team | 14:00:082:00 pm |
| 2019-01-05 14:00:33January 5, 2019 | Clapton CFC men's first team | 1 - 3 | FC Star London | 14:00:332:00 pm |
| 2018-11-24 14:00:50November 24, 2018 | London Samurai Rovers | 5 - 1 | Clapton CFC men's first team | 14:00:502:00 pm |
| 2018-10-06 14:30:49October 6, 2018 | Clapton CFC men's first team | 4 - 4 | FC Roast | 14:30:492:30 pm |
| 2018-09-22 14:00:19September 22, 2018 | Clapton CFC men's first team | 4 - 5 | Hutton FC | 14:00:192:00 pm |
| 2018-08-25 15:00:50August 25, 2018 | Clapton CFC men's first team | 5 - 2 | Wanderers FC | 15:00:503:00 pm |
| 2018-08-11 15:00:24August 11, 2018 | NW London FC | 1 - 3 | Clapton CFC men's first team | 15:00:243:00 pm |
| 2018-08-07 19:30:53August 7, 2018 | Enfield Town | 4 - 0 | Clapton CFC men's first team | 19:30:537:30 pm |
| 2018-08-04 13:00:02August 4, 2018 | Sporting Hackney | 2 - 4 | Clapton CFC men's first team | 13:00:021:00 pm |
| 2018-07-21 15:30:26July 21, 2018 | Holland FC | 5 - 0 | Clapton CFC men's first team | 15:30:263:30 pm |