It is with much sadness that Clapton Community Football Club have learned that Mike Fogg has passed away aged 85 after a short illness.
He grew up in the war years in Shottery, Warwickshire and did his National Service in the Royal Navy. A keen footballer, he played for Shottery St. Andrews and Stratford Town. His father, Ted Fogg had been one of that club's founders.
Mike was a life member of Clapton FC/CFC and served as chairman of the club for 14 years during the 1980s and 1990s.
Together with fellow life member Martin McShea, Mike was a signature to the 99-year lease on the Old Spotted Dog in 1992.
The lease on the ground had run out and thanks to their campaign, London's oldest senior football ground was saved when it looked likely to become housing.
Michael was managing director of Pusser's Rum, the suppliers of the original traditional daily Royal Navy 'tot'.
He famously presented Aldershot Town with a flagon of rum at their first competitive game as a reformed club – to be opened only when they reached the Football League.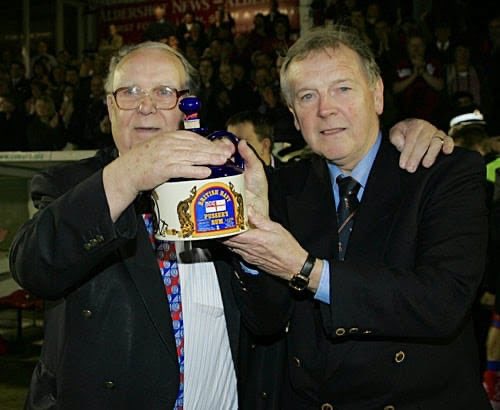 16 years later he was the Shots' guest of honour as the celebratory rum was opened upon their promotion.
At the Museum of Rum in France, it is proposed that the section on naval rum be named the Michael Fogg Room.
He also attended another important first competitive game – CCFC's league debut at Ealing Town in 2018.
He presented the core of the Clapton Football Archive which is held at the Bishopsgate Institute in East London.
He made a special appearance with his wife Jayne at the open day there in October (where the top picture above was taken).
Mike was a special man, a great chairman and totally dedicated to Clapton. Our thoughts are with his family.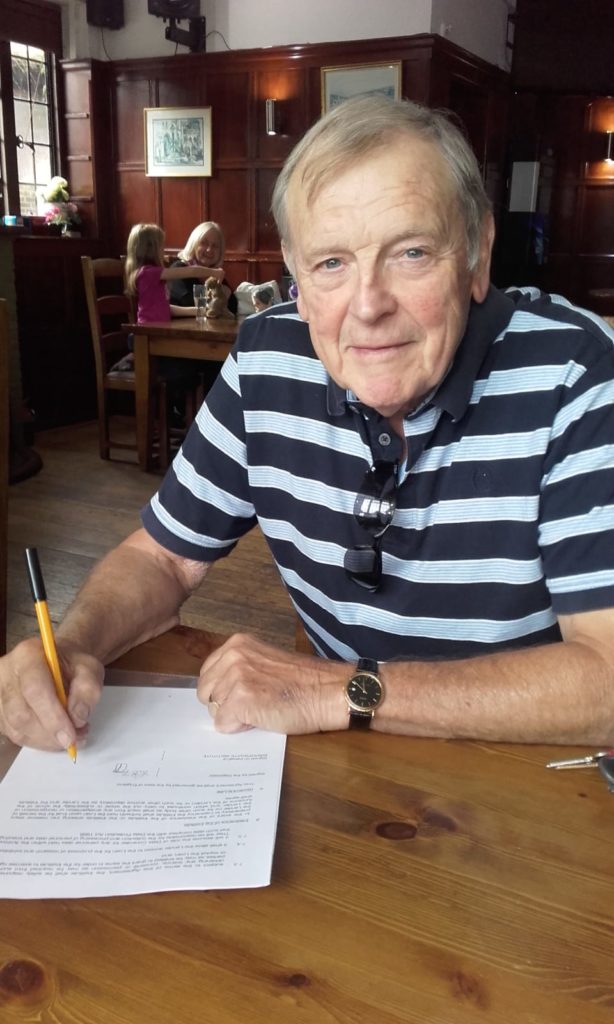 He is survived by Jayne and his three children, six grandchildren: Toby, Joel, Adam, Marcus, Ella and Alexandra and by his stepdaughter Victoria and her children, Conor, Saoise and Erin.
A full tribute will follow in due course. There is much to write about when it came to Mike's love for and commitment to our great old club.
Michael Fogg: October 19th, 1934- May 9th, 2020.
Tributes
Martin McShea
I had the honour of knowing Mike for over 40 years.  We enjoyed a journey together to try and save our famous old club from extinction.  This journey started in February 1975 when it became known that the club wished to cease playing after the Centenary year of 1978.  His contribution was enormous, especially during the Centenary year and beyond.  We did not always agree on policy issues, which was no bad thing, because we knew that our primary focus was on saving the club and we trusted each other.  I have lost a good friend. – Martin McShea. Life President. Hon. Secretary 1975-87.
Chris Tymkow
Mike Fogg's contribution to Clapton FC and its history was huge. Not only did he broker the lease of the Old Spotted Dog Ground in the 1990s, saving it at a time when the ground was in danger of being developed for housing, he also guarded the club's old minute books until they were deposited at the Bishopsgate Archive. This was a piece of history in itself. Mike had got the minute books from Life President Martin McShea in 1996, who had in turn been handed them twenty years earlier by former club Chairman Bill Tingle. It was in August 2016 when I had the honour of collecting the minute books from Mike at the Sugar Loaf Inn, near Chalfont & Latimer station. A few pints later, a rucksack full of football history was heading back to East London. In early September the books, dating from 1901 to the late 1950s, were deposited at the Bishopsgate Archive after another trip back to the Sugar Loaf, where Mike signed the Archive agreement – with a pint or two to celebrate of course! Mike regularly kept in touch with various club members after that and was there to support Clapton Community FC in our first league match, away to Ealing Town in September 2018. A gathering of happy Tons had a great chat with Mike and John Sharpley in the bar after the game, when Mike presented some further items for the Archive including a signed team photo from the 1970s. Mike also made it to the Jim Rogers Cup Final in Uxbridge, thrilled to be among a crowd that sang the whole night through – though less thrilled about the prospect of driving back to Chesham late at night! Mike's illness, indeed, was limiting his ability to follow the Tons. But if he couldn't make a match, Mike avidly followed every kick of it on Twitter. He would often email his thoughts the following week. Delighted whenever we won, Mike was always supportive and insightful about the games we lost. And he absolutely loved our match day magazines. Members met Mike again at the Archive Open Night last year, when with his wife Jayne Mike renewed his acquaintance with some of the gems of Clapton history, and even brought a few more along to add to the collection, including a wartime match programme from 1945. Mike was happy that so much irreplaceable football history had found a home where it would be kept safe and also made accessible to others interested in football history. Farewell to a Life Member, and a Clapton legend.

Paul Caulfield

I remember him saying that item one at the first committee meeting he attended – in the late 70s or early 80s – was the winding up of the club. The fact that it is still here 40 years on, is testament to Mike. He took some personal risks in helping the club battle Grand Met Estates in the 80s and 90s while working for GME through his association with Pusser's Rum. Mike was active in involving Lord Peter Nelson and Michael Gliksten (ex Charlton chairman) among others, in the club's battle to keep the 'Dog, and if other clubs in the area had shown similar tenacity, there would still be a few east London derbies. Like many non-League chairmen, he had a quiet commitment to the club he served. He was always there, always dignified – even when the players weren't – and very skilled in motivating other committee members to get games on or tidy the terracing. His death is a great loss to the club, and to football in general.
Andrew Barr
It was so very sad to hear the news about Mike at the weekend. He was very well loved and respected, not only by all of us at Clapton but throughout the London non-league football community. Mike led the club wholeheartedly and faultlessly through difficult times when we had no security of tenure at the Old Spotted Dog were constantly threatened with eviction. Will miss our chats & reading his long emails. Legend, a word used too freely today. But Mike is a true Clapton legend. His memory, and his contribution, will not be forgotten at the Spotted Dog.
Steven
I knew Mike in the 90s, when I was involved with the club. Mike was always very positive about the future even though there was no money. As well as being a good leader, he was great at entertaining our visitors. Mike also had a tough side but that was important sometimes for ensuring things were done and done well.
Jack
When Mike came to our first league game away at Ealing Town FC, along with fellow life member John Sharpley, seeing how enthusiastic he was about what we had achieved was overwhelming. That these men who have both given so much to Clapton over the decades were giving their blessing to Clapton Community vindicated the hard work that we had gone through in setting up the new team. I hope that we continue to honour the famous name of Clapton Football Club which Mike and others did so well to establish and maintain.
We are inviting anyone who would like to share their memories to do so. Comment below or email comms@claptoncfc.co.uk