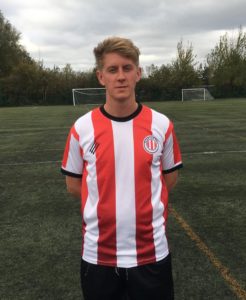 Name

Ben Kadler

Position

Midfielder

Height

5ft 9in (175cm)

Current Team

Clapton CFC men's first team

Age

30
Previous clubs: Stockport County and Macclesfield Town back in the day. But mostly local clubs around Manchester
Sponsor: Available.
If you want to sponsor a player for the season for £25 and include a message of support here and in the programme, get in touch with us at: fundraising@claptoncfc.co.uk tell us who you're after and what you want to say and we'll be in touch with payment details.
Q&A
Full Name: Benjamin Kadler
Place of Birth: Stockport, just South of Manchester
Place where you live: Canonbury, London
Day job: Doctor at the Royal London Hospital
Favourite player: Of all time? Ronaldinho
Favourite team, apart from Clapton CFC: Manchester United
Biggest high in football: Playing for this club. I've never played for a team with a fan base before and it's great
Lowest point in football: Our under-18s team went to a football tournament in Sweden and lost 14-0 in our first match… Games were 20 minutes long, so it was brutal
Likes and hobbies: Mostly playing sport and going to the pub
Favourite charity: I don't have a favourite, but I'm all for wildlife conservation
Favourite country visited: South Africa
Favourite food: Pies
Favourite TV shows: I'm a sucker for trashy TV – Made in Chelsea and Love Island… I know I know
Favourite film: Victoria – a real nail-biter
What you love about football: It's a huge part of our culture, it brings people together and has become a medium for education and charity work – all good stuff
What you hate about football: When it gets too competitive. It needs to be fun
Footballing ambition: Stay injury free forever and absolutely boss it at my kids' sports day
Who you would most like to meet: Sir David Attenborough – what a guy!