Tons member Colin Yates shares his unique method for overcoming a very different type of lockdown.
The Bundesliga re-starting this weekend has offered a small crumb of comfort for many of us football fans suffering lockdown withdrawals.
A lot of you will have already selected a German team to root for in the hope that any football will plug the gap between now and whenever things get back to normal. 
What we won't have on BT Sports (or whichever reputable streaming platform you use), however, are the smells, sounds and general feeling of the match day buzz.
Whether you're a player or spectator, there is an almost indescribable texture to football that can never be transmitted through pixels.
Clapton member, Colin Yates, has adapted and perfected a visualisation technique, used by professional players and coaches, that has helped him manage a serious neurological condition for over 20 years.
"I developed this football game that you play in your mind, in response to a very real problem" Colin writes.
"I have a neurological condition that eventually leaves you unable to control your body, but your mind remains completely active, for an indeterminate time".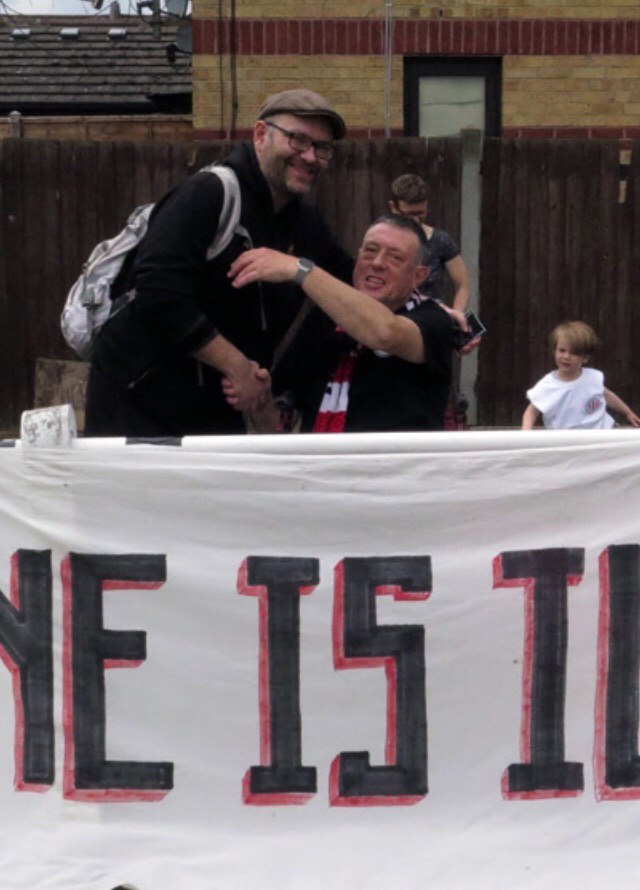 Having spent a considerable time in a very real lockdown, Colin turned to practising elements of self-hypnosis and mindfulness to get through long periods of invasive treatment.
"Much of the development I did was during long stays in St Bartholomew's Hospital.
"Like virtually everything I've managed to do in my head for the last 20 years it's all copied, bits & pieces all cobbled together.
"As a self-confessed football obsessive, Colin, who grew up supporting QPR, used the 90 minutes of a match to apply these techniques.
"I play an entire game from the point of view of any position/player on the pitch in real time.
"To start off take a deep breath and just imagine gently passing a ball to one other nearby player and receiving it back again. You can go from there as far as you wish.
"It's based on visualisation training used by elite athletes & their coaches… You can imagine details like weather conditions, state of the pitch..
"The big difference is that they mainly use it to mentally practice a particular action or response.. I play the entire game.
"On Saturday I played a game (in my head), KO 3pm, playing in midfield for Clapton. The match ended at 4:55 with a 3-1 win..
"Over the last week I've also practised penalty taking & direct free kicks, I ran the line (assistant referee) for half of a women's team game and played in some games that were abandoned".
Colin recommends setting an alarm to act as a final or half-time whistle, while filling in details such as crowd noise and playing sounds to help steer how the game develops.
Having developed these abilities to keep his mind active and as a means to manage pain as a result of his condition, Colin believes it is an important skill for anyone to learn.
Most of us have been forced into a sudden change of lifestyle as a result of the pandemic, with the loss of important outlets such as football making the current situation even more difficult. 
Whether it is based on football, or different skill, these concentration and visualisation techniques, Colin says, have been invaluable to his experiences of overcoming a very personal lockdown.