Clapton CFC are delighted to contribute to a brilliant new exhibition on the history of Newham's Black football pleyers.
The exhibition at Canning Gallery curated by Neandra Etienne will focus on celebrating the life of Jack Leslie, John 'Charlo' Charles and Walter Tull.
As part of Black History Month, it will also include other Black footballers who were born in Newham or have played in the borough.
CCFC have loaned the Ed Hall-designed Walter Tull trade union banner and the unofficial blue plaque for the exhibition.
There will also be an opportunity to see the new Newham heritage Jack Leslie plaque before it is installed in Canning Town.
John 'Charlo' Charles' son Mitch Charles has also provided some photos.
The Canning Gallery is at 11 Brunel Street, Canning Town, E16 1EB.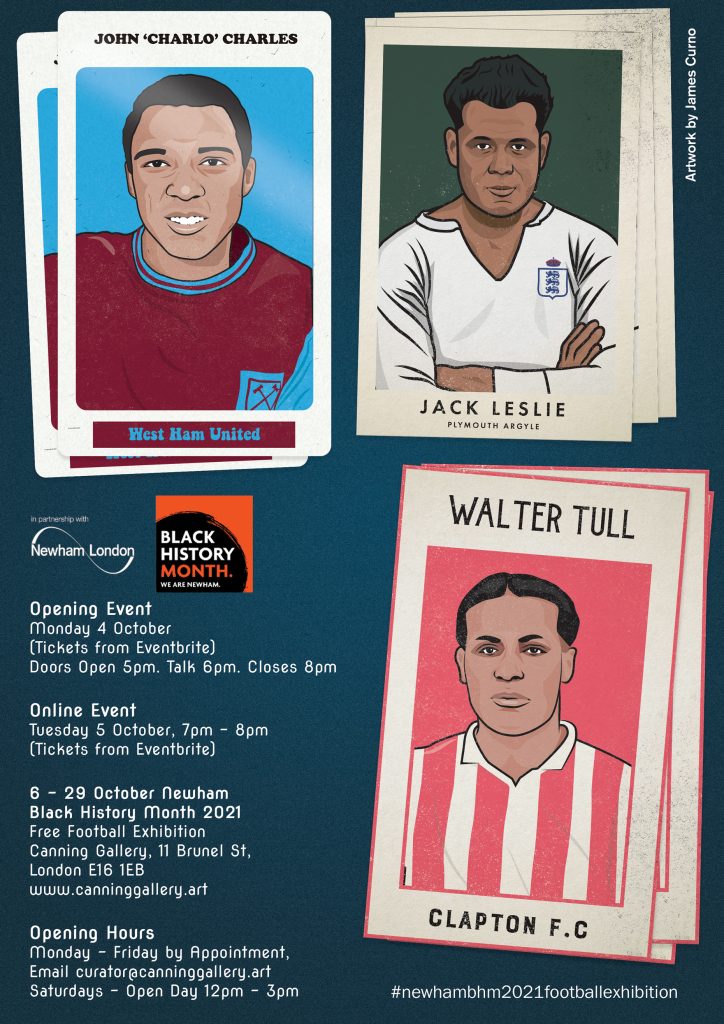 Launch event
This launch event is on Monday October 4, 6-8pm (doors open at 5pm).
You need to book a free ticket in advance from Eventbrite.
It will include an introductory talk with guest speakers including:
The Jack Leslie Campaign
Phil Vasili, Walter Tull biographer
Bill Hern & David Gleave, authors of Football's Black Pioneers
Mickey Ambrose, co-chair of FA Equality Now
There will be an opportunity to purchase books and art work from the exhibition.
Online talk
If you can't make the launch event in person, there will be an online talk on Tuesday, October 5, 7-8pm.
Guest speakers include:
The family of Jack Leslie
The Jack Leslie Campaign
The family of Walter Tull
The family of John 'Charlo' Charles
Clapton CFC
Phil Vasili, Walter Tull biographer
Bill Hern & David Gleave authors of Football's Black Pioneers
The event will be on this link, booking not needed just join and watch on Zoom.
Exhibition
You can visit the exhibition from October 6 to 29, admission free.
No booking is required to visit on Saturdays, it's open from 12-3pm.
Monday to Friday you'll need to book an appointment: email curator@canninggallery.art
Black History Month
There are load of other events as part of Newham's Black History Month – there's a full list here.
Canning Gallery