By CCFC Community and Outreach Committee
On Saturday, October 20, Clapton CFC will celebrate the legacy of the Tons' very own Walter Tull as part of Fare Network's #FootballPeople action week.
We are delighted to link up with Fare, an organisation that aims to tackle discrimination in society through football's 'inclusive power' and we share their mission to combat 'racism, far-right nationalism, sexism, trans- and homophobia and discrimination against disabled people.'
This year we were lucky enough to win two grants from Fare.
One is to create a visual memorial to Tull's legacy – part of which will be at Saturday's game.
The second is to put together a learning box on his life. Hackney Museum hope to make this part of their excellent ongoing schools learning programme on migration and black history in East London.
With both we hope the club can play a part in educating young people in East London about his story.
Tull's Life
Tull's father, Daniel, was the son of a slave in Barbados. Daniel migrated to the UK in 1876 and worked as a joiner in Folkestone, where he met Walter's mum, Alice.
By the age of just 9, both Daniel and Alice had died, and he ended up in an orphanage next to Victoria Park in Bethnal Green.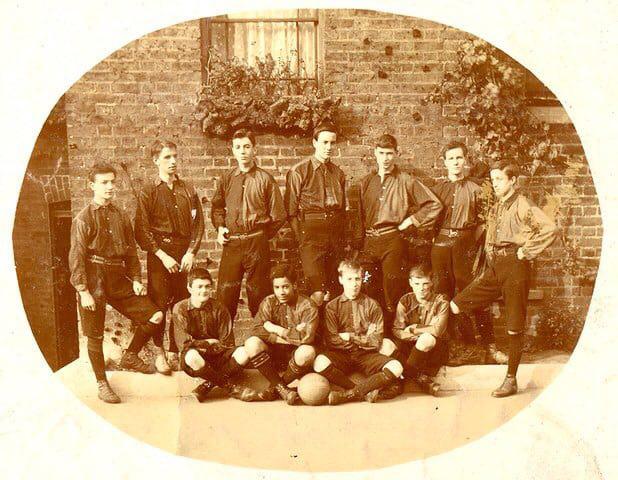 While living at the orphanage, Walter showed his football prowess and was subsequently picked up by Clapton FC in 1908.
In his only season there he led the Tons to win three trophies – the FA Amateur Cup, the London County Amateur Cup and the London Senior Cup. Impressed by his form, Tottenham Hotspur took Tull on a tour of South America in the summer of 1909 – making him the first black professional footballer to play in the region.
During that first of many firsts in his short life, he showed enough during the tour for Tottenham to sign him for the following season, where he was once described "the best forward on the field."
Tull was not the first black footballer to play in the UK. That first goes to Andrew Watson, who captained Scotland against England in 1881.
And it was goalkeeper Arthur Wharton who became the world's first black professional football player in 1894-95.
Tull became the world's first outfield professional footballer in 1909, playing for Spurs and then Northampton Town, after which he enlisted in the 'Footballers' Battalion' of the army on the outbreak of World War I.
While fighting in Italy, he became the country's first black officer despite a 'colour bar' that excluded people of colour from being officers.
After many years at the front, Walter was killed in action in 1918, aged 29.
Tull's Legacy
We are rightly proud of Walter Tull at Clapton CFC.
For the role he played in bringing home the silverware, including the FA Amateur Cup – remembered today by the star emblazoned alongside four others on CCFC's badge – but also as a person of colour in our community at a time of institutional racism.
Tull's dad was pulled to the UK through the colonial legacy of his father's enslavement in Barbados. Walter suffered racial abuse while playing in front of tens of thousands for Tottenham as a footballer.
He served for many years in and died for an Imperial army that would not and, even today, does not officially recognise his contribution because of the colour of his skin.
Today, colonialism and its racist legacy continues to shape daily life for so many people of colour who give service to this country – from the treatment of the Windrush generation to the NHS nurses who can no longer afford to pay the migrant health charges for their family to stay in the UK and use the healthcare system.
A century on from his death, Walter's experiences as a person of colour in a systemically racist society remain as instructive as they were then and remind us to strive to make our community truly inclusive.
At CCFC, the Community and Outreach committee has also been working with a primary school teacher who has taught their class elements of Tull's life.
Asked to imagine Tull's experience as the first black lieutenant, they produced diary entries in World War One. We share two below:
Dear Diary
I'm in the trenches now and it is as muddy and as cold as Antarctica. I've seen people get rotten feet called trench foot. The spam, the biscuits and bread were not as exotic and as scrumptious as the papaya and the banana I had in Argentina. The hole we lived in was like being buried in a grave yard. I heard explosions and machine guns. 400 of our men were killed and only 79 of us stayed alive. I had a uniform which contains a khaki jacket, boots and also very strongly heavy. I was happy that I had been promoted to an officer to help my country but also melancholy to leave my football dreams behind.

By Cayon, age 9.
Dear Diary,

It's my turn to go in the trenches and then it what feels like seconds after this I'm being sent into the battle of The Somme. It's disgusting in there, it's all muddy and you're all squashed with another group of men. It feels like you're in a coffin because you're so crammed in a massive place that feels so small because there are so many men in the same spot.

I met a young boy that lied about his age to come to the battle and in the first hours of the trenches he copped it. I've been secretly going to the Germans safe house and stealing their guns and ruining the vehicles, I've also been killing a few of the powerful ones so hopefully the battle of The Somme's will be a bit easier. When we go in to the battle I will be in the front line so I might be one of the ones that cop it next time.

The battle has started! I'm praying that I don't die.

Yes I've have done it! I survived the battle!

It's my birthday today but I've got shellshock. My ears are ringing and I'm shaking and can't move one bit. I'm having terrible flashbacks of when I was in the battle. Men's heads getting blown off…bombs and my friend's dead body. It's because I'm going to The Somme's again. It's time for the second Somme. They're telling us to retreat but this time I'm going forward with my rifle. These maybe my final words but I'm going forward to fight for my country!

By Heidi, age 9
We hope you'll join us in celebrating Fare's #FootballPeople action week and Walter Tull's story.
For more on Fare's action week, search #FootballPeople on Twitter
For all things Walter Tull, see Clapton CFC member Phil Vasili's book, 'Walter Tull – 1888 to 1918, Footballer and Officer' (London League Publications).
There is also a small exhibition, 'Walter Tull: His Life and Legacy', showing at Folkestone Museum until 31 January 2019.